Uber rival Bolt set to join the race to get to the top of Dublin's taxi app market
The $1bn company has emerged as a key player in Europe's competitive transport app game.
BOLT, THE ESTONIAN ride-hailing company, is drawing up plans to launch its taxi app services in Dublin.
The company is hiring a country manager that will be based in the capital to "launch Bolt's taxi operations in Dublin", according to a company job listing.
The manager will be responsible for overseeing drivers, logistics and navigating regulation.
"Bolt is currently researching the possibility of opening its operations in Ireland," a spokesperson for the company said when asked about the ad. She declined to comment any further on questions around the shape an Irish launch may take.
Bolt, formerly known as Taxify, has been aggressively expanding around Europe and has become a notable headache for Uber, launching in the key London market last year where the US company has scuffled with regulatory bans.
Similar to Uber, Bolt has ventured beyond ride-hailing and taxi operations with services like food delivery and e-scooter hire.
Headed up by chief executive and co-founder Markus Villig, the company has raised over $240 million from several venture capital firms as well as German carmaker Daimler and Chinese ride-hailing giant Didi Chuxing.
Its $67 million series D round last year valued the company at over $1 billion.
Irish launch
If launched successfully in Dublin, Bolt would be entering a competitive market for taxi services but one with limitations.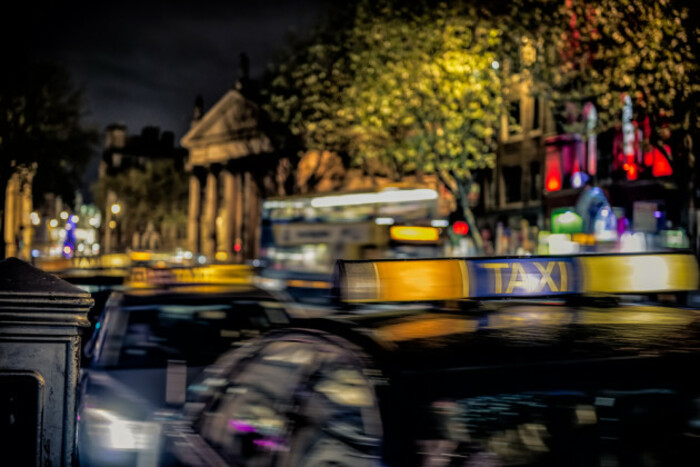 Source: Shutterstock/massimofusaro
The model of ride-sharing with regular drivers made famous by Uber does not operate here. Users of the Uber app in Ireland can only book fully-licensed taxi drivers.
Uber has lobbied the Irish government for years to loosen up regulations that would allow the operation of its core business model and has pitched limited trials to get the ball rolling but to no avail.
Despite challenges on that front, the company has launched its food delivery unit Uber Eats in some Irish cities.
Should Bolt launch taxi operations in Ireland, it could follow a similar model to Free Now, the taxi-hailing app owned by BMW and Daimler, a Bolt investor.
It too uses fully-licensed taxi drivers. The company claims to have carried 16 million passengers in Ireland in 2018. It has a considerable presence in the country has been active in the market for several years, under different brand names.
There are also several Irish-founded taxi booking apps on the market including Lynk and the still relatively new player Flag.
Get our Daily Briefing with the morning's most important headlines for innovative Irish businesses.