'My cancer gave me a life check': Bobby Kerr on why he left Insomnia Coffee
It was hard for the businessman to step away from the company he spent 20 years building.
TIMING IS EVERYTHING for Bobby Kerr. He got into the coffee trade at the right time. Fortunately, he was diagnosed and treated for cancer in time.
And now he has left his business, at what he feels is the best time.
During the week he revealed that he has sold his share in Insomnia, one of the biggest coffee chains in Ireland which employs hundreds of people.
It was a big step for Kerr, who has spent two decades of his life building up the company. He confesses he's been largely married to the business for a long time, obsessing over it when during its formative years.
"I remember being late for my second daughter's communion because I was fixing a broken coffee machine on Baggot Street. I was an hour late, and I remember thinking 'This isn't good'," he tells Fora.
"My wife was very tolerant, but I'm not proud of that. In the early days when I was trying to keep the lights on, family wasn't neglected but the business came first. Many sacrifices were made."
The 57-year-old is now trying to take a more zen view. Stepping back from Insomnia will allow him to spend more time with his wife and four daughters, and was one of the reasons for stepping back.
His concedes that his illness likely played a part. After being prompted to get a check up by his daughter, Kerr revealed live on his Down to Business show on Newstalk that he was receiving treatment for cancer of the head and neck.
To put it mildly, it was an emotional broadcast.
"Did you know 35,000 people hear the dreaded words every year 'we have the results of your biopsy, you need to come in and see me'. Well folks, it's 34,999 and one other – me."
Luckily the disease was caught early and successfully treated, but it prompted a rethink.
Kerr led his business for years, first when he set it up as Perk in 1998 and then afterwards when it morphed into Insomnia, until 2010 when he transitioned from chief executive to chairman.
He stepped back from some of his business activities after his battle with cancer and there were question marks over his role at Insomnia.
A hard slog
In an interview with the Sunday Business Post in July, he was asked if he would be involved with the company for much longer.
"I think, for the next couple of years, yes. In the next five, I'm not sure. But let's see how we go between now and then," he said.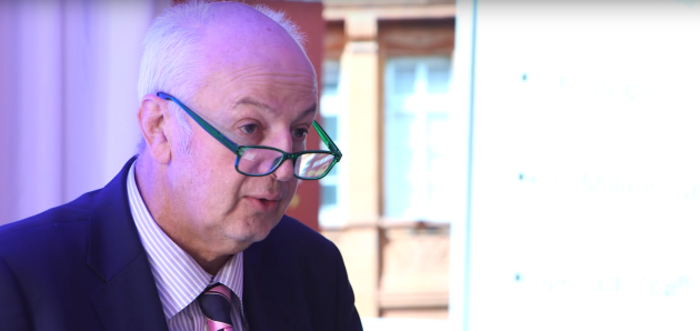 Source: Escher Group/Youtube
So why the sudden change of heart? Kerr pauses before answering, and then says: "Having cancer contributed to my decision, I would say it did. It made me look at what I wanted to do for the next number of years. It gave me a life check.
"It is very difficult to leave it behind, but you can stay too long as well. I never intended that this business would be second generation, that my kids would work in it.
"When I started off I remember taking IR£58 in my first shop the first day we opened and I thought: 'This is the biggest mistake I've ever made.'
"Now we have 150 shops, and every penny has always gone back into the business. I nearly went bust a few times, and put in the hard slog. There's a time to take your money off the table."
Kerr isn't saying much when asked how much he got from the sale, but it was unlikely to be chump change.
In 2007, an Icelandic company called Penninn paid €8 million to buy about half of Insomnia. Then the firm had about 40 of its outlets in Ireland. Now it has well over 100 units spread across Ireland and the UK and made a €1.6 million profit in 2016.
Kerr holds about a third of the shares in the company, so he probably pocketed at least a few million quid.
The only snippet he gives away is when asked if the deal was at a higher value than the one in 2007.
"It certainly was," he says. "I'm not going there, but I'm very happy with what I got."
European dreaming
Kerr repeatedly insists he is delighted with the arrangement to cash out now, but he has mixed views looking back on that Penninn deal.
"When we sold half the business to the Icelandics in 2007, it was totally unexpected. We were looking to see how we could grow the business, and the plan was that they (Penninn) could bring us across Europe. But it was short-lived, they went bust."
Although the Insomnia shareholders bagged a few million quid from the sale, and were then able to buy back their shares at a knockdown price, Kerr singles it out as a low point.
"We were buying back (their stake) in the darkest hours of the recession. We regained control, but it was a very different time for the business."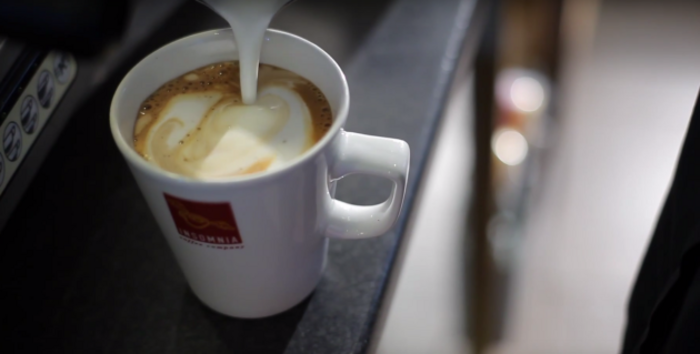 Source: Vodafone Ireland/Youtube
That was putting it mildly. It was the trough of the crash. The company was still paying a lot of boom-era rents and suffered more than most with the drop-off in consumer spending.
People viewed coffee as a bit of a luxury buy and were slower to spend on a cuppa when they were struggling to pay the bills.
[embed id="embed_2"]
Insomnia had a lot of paper losses on its books after a revaluation of its business led to it taking a hefty €12 million impairment charge.
While the business stayed afloat and is now profitable, the European expansion dreams were parked as the company fought it out to stay afloat in Ireland.
Although things are much-improved and Insomnia has since moved across the water, for a moment Kerr seems to express regret that it didn't make it outside of Ireland and the UK. Then, he quickly bats this suggestion away.
"No, Insomnia is big enough for me. Sometimes strange things happen along the way, but the business is on a much more solid base now."
The windfall from the sale gives Kerr freedom to pursue other interests. Alongside his two radio shows on Newstalk and spending time with his family, investing is on the cards.
Living
One of the original 'Dragon's' on RTÉ's Dragon's Den, Kerr got a taste for buying into small companies and startups who are trying to get up and running.
He knows how tough it can be, having started Perk at 38. While he had plenty of corporate experience, including a spell as the managing director of coffee firm Bewleys, in many aspects he was still at sea when striking out on his own.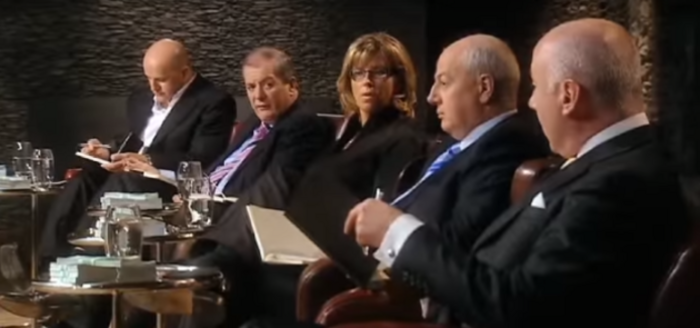 Source: Youtube
"When I left I was staggered by what I didn't know, even though I'd run a big business. It's very different, being the head of a big corporate (compared to) being Joe Soap with a coffee shop."
The hope now is that he can pass on some of his hard-earned knowledge to the next Joe Soap trying to build something new.
"I have a two-year, non-compete, so that'll keep me out of the coffee business, but I'm interested in food and hospitality as well," Kerr says.
"I still have a huge interest in small businesses. Not in a real hands on way, but I will invest significantly in a lot of small businesses. I love the buzz."
One thing is for sure: there's going to be no sipping martinis on some Caribbean island. Kerr is staying active.
"If you're of the disposition of being busy and active, that doesn't really leave you. I couldn't play golf all day," he says.
"Broadcasting is something that I will do, but I don't want to do that full-time. I'm happy where I am with two shows."
"Life is for living," he enthuses, and he sounds like he means it. He'll now have extra time to do just that.
Sign up to our newsletter to receive a regular digest of Fora's top articles delivered to your inbox.