'This is the most fun business on the planet, the most difficult but the most fun'
How Bobby Healy plans to put food delivery drones in Irish skies in 2020 with Manna.
IT'S A WEEK until Christmas and Dublin is looking like anything but a winter wonderland as torrential downpour and heavy winds batter the city.
But these are exactly the types of conditions that Bobby Healy has to contend with at Manna, his drone food delivery startup.
Sitting in a café in Dundrum musing the year that he has had, the company is fresh off another bit of news just before year's end, closing an additional investment of $3 million led by Dynamo VC with Peter Thiel's Founders Fund and Declan Ryan's Irelandia Aviation also backing the venture.
It brings the total funding that the former chief technology officer of Cartrawler has raised this year to $5.2 million and the startup is gearing up to finally put drones in the sky in March 2020.
"This is the most fun business on the fucking planet. The most difficult but the most fun," Healy says.
It hasn't been without difficulties. Manna had initially planned to launch in Dublin in December but looking out the wind- and rain-battered windows, it's clear that would have been foolish. The company needed to carry out more trials at its testing base in Wales in these very conditions before actually launching.
"In my view, we hadn't done enough test flights that we were satisfied with the performance of the aircraft so we basically put the pause button on," Healy says. "We want to do far more test flights in much tougher conditions."
The startup has been testing its drones over the last year near the Welsh town of Pontypool about 40km north of Cardiff where there are large open spaces to zoom around in.
Earlier in December, Manna's drones were flying in 110 km/hr winds and the "pissing rain".
Source: Manna
With a renewed game plan, Manna plans to carry out its first deliveries in early March with two food brands – one Irish and one international. This will be done through the startup's partnerships with Flipdish and one of the "very well-known online food platforms", Healy tells Fora.
Manna, he adds, will be replicating the results in Wales in a segment of Dublin in a controlled environment, delivering burgers, pizzas and maybe even a salad.
Ambitious
If that sounds audacious, it's because it is. Drone delivery has been high on the agenda in the tech and e-commerce world ever since Amazon revealed its plans back in 2013 but a litany of hurdles has prevented mass adoption, whether it's regulation or societal acceptance and privacy concerns.
Healy says that Manna's drones have been built and designed to be as friendly to its environs as possible – emitting no CO2 and being largely silent as it whizzes through the air.
The other main barrier is worries over privacy. Just how comfortable are you with a drone flying over your house and dropping three-in-ones in your neighbour's garden? Healy says that Manna needs to make a clear statement to users in these areas.
"We're not flying over your house recording everything, knowing who you are, learning about you, collecting data on you."
He insists that Manna drones don't collect any data related to the customer other than GPS coordinates.
While the drones are decked out with three GPS units, the navigation system has its flaws and is anything but perfect. In those cases, it uses the method of dead reckoning, where previous steps are re-traced to determine positioning.
"We do have computer vision-based tech on board that if everything fails and everything shuts down, we can point a camera down and we can find out where we are based on looking at the ground," Healy explains.
"There is a camera there for safety, it's not used until all the hardware fails and it doesn't record anything," he says.
"We're going to need to sit down with the local communities that we plan to operate in for the trials and say, here's what we're doing, meet them all, have town halls and invite them all to see the aircraft and make an undertaking that we have no personal data, we never will."
Average payload for one of these battery-powered drones is two kilos with a typical journey being two miles each way. A drone is capable of doing five deliveries an hour, assuming each delivery takes just a couple of minutes. Healy expects there to be a fleet of about 100 drones in use next year.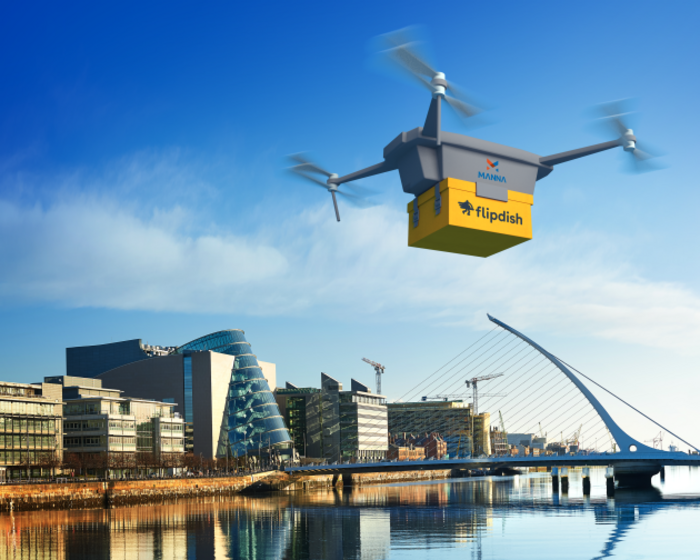 The initial Dublin venture will be in an area of about 30,000 people but Healy is avoiding any specifics beyond that.
Pencilled in after that are launches in two small- and medium-sized towns over the summer with eventual test flights on the west coast of Ireland to really test the drones' mettle against the elements.
"We don't need to go and do loads of volume initially," he says. Rather it needs to prove things "in the wild" in 2020 and ultimately ramp things up in 2021.
Regulation
Manna has been consulting with the Irish Aviation Authority for the past three years, keeping the regulator abreast of its plans, while at the same time staying up to speed with the various regulations and standards that are being implemented at an EU level.
It's the primary reason why Manna's launch is happening in stages but it's also a huge compliance cost for a company and one that will eventually need more funding in the form of a series A round that Healy says Manna will close by the second quarter of 2020.
"That will be to (deal with) all the additional overhead we need to become essentially an airline. If you look at our team (of 19 people), nearly a third of them, all they're doing is testing QA documentation, process stuff that wouldn't exist normally in a startup," he adds.
Some might be quick to disregard Manna's ambitions as fanciful. For Healy, the economics add up. Drones will provide quicker delivery – in about two to three minutes – than cars and bikes.
Manna's business model will be a charge per delivery, which is yet to be determined.
"The average consumer pays, across Europe, €3.50 per delivery and about $5 in the United States. We can run the operation for a fraction of that cost, for about a euro per delivery," he says.
Manna provides and manages the drone, which is docked at the restaurant or a central location where multiple restaurants in the vicinity can access it.
All of these factors will eventually drive profits up for restaurants, he claims, as more and more customers will have access to deliveries at a cheaper rate.
He argues that human riders, a common sight in many major cities with Uber Eats and Deliveroo bags strapped to their backs, aren't viable either and have a human cost.
One report earlier this year in Cape Town showed that more than 70 delivery drivers on motorcycles died over a one year. Closer to home, riders in Amsterdam accounted for 116 accidents that required an ambulance.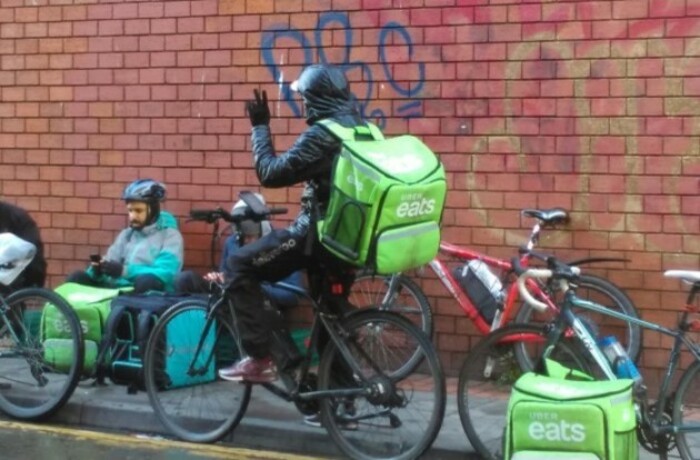 Source: Fora
It's a familiar turn of events. As demand and business grows, riders – paid per delivery – are forced to cycle or drive faster to make ends meet, putting their well-being at risk.
"Using the road with young people in the dark and the rain to deliver a relatively low-value, not-critical item is an insane use of human capital," Healy says.
"The biggest (issue) that people don't realise is the human cost of using the roads for delivery. It's a dangerous game."
Mission statement
Whether it's regulators, local communities or restaurants, 2020 will be busy for Healy in convincing the market that drone delivery's time has truly arrived.
All going according to plan – and with the expected series A round in the bag – Healy's vision will have really taken shape by this time next year.
"Some people call it product market fit but it's more hardening the entire process, the entire platform and the company and engaging with the local politicians, the local communities and all that because we aim in early 2021 to be taking on a huge amount of capital to go heavily after the entire Irish market and Europe."
Operations will remain split between Ireland and Wales with most work staying this side of the Irish Sea but all the employees may not be in Dublin at Manna's UCD base.
"It would be unlikely that will be in Dublin because Dublin is totally fucked for R&D. The infrastructure is not here, the property market is not here."
It isn't simply a case of pointing a finger at the cost of living as the sole reason, he adds.
"Actually what it does is, it constrains the supply of (talent such as) programmers. And what happens then is the FDI companies, that have infinite amounts of resources, take all the property and (at a startup) your tenured staff goes down."
It means the average life-cycle of a skilled employee is narrowing.
"That's not viable. You cannot build a business with that level of turnover so we'll probably be in Waterford or Limerick but it sure as hell won't be Dublin."
Get our Daily Briefing with the morning's most important headlines for innovative Irish businesses.