'Three years ago, we hadn't an arse in our trousers': This Waterford gin maker has raised €1m
Blackwater Distillery is moving into a new facility in Ballyduff.
A WATERFORD-BASED DISTILLERY that makes gin for Aldi has secured just over a million euro to relocate into a bigger facility.
Newly filed documents show that drinks producer Blackwater Distillery has secured €750,000 in funding from a trust managed by outsourced services company First Names.
Speaking to Fora, Blackwater founder Peter Mulryan said the investment is part of a wider funding round that includes a €200,000 grant from EU local development programme LEADER and backing from a consortium of private investors.
"That brings the whole project to €1.1 million, which is considerable considering we hadn't an arse in our trousers three years ago," Mulryan said.
Source: Blackwater Distillery
The money will be put towards building and kitting out a new micro-distillery in Ballyduff, Waterford, which is expected to open by the end of next summer.
"It'll be a bespoke micro-distillery with a visitor area," Mulryan said. "We're currently in Cappoquin in west Waterford, but we'll leave there and move everything."
The new distillery will help Blackwater increase its output eight-fold.
"We're getting new stills and we're moving into the whiskey business too so it's expansion all round," Mulryan said
Innovation
Founded in 2012, Blackwater Distillery currently employs five people but Mulryan said that figure will "easily double" by the end of 2018.
As well as producing Boyle's gin for Aldi, the Waterford firm makes Blackwater No 5, a London dry gin, Woulfe's Irish Vodka and other products. It attracted social media attention last month for its limited edition Barry's Tea-infused gin.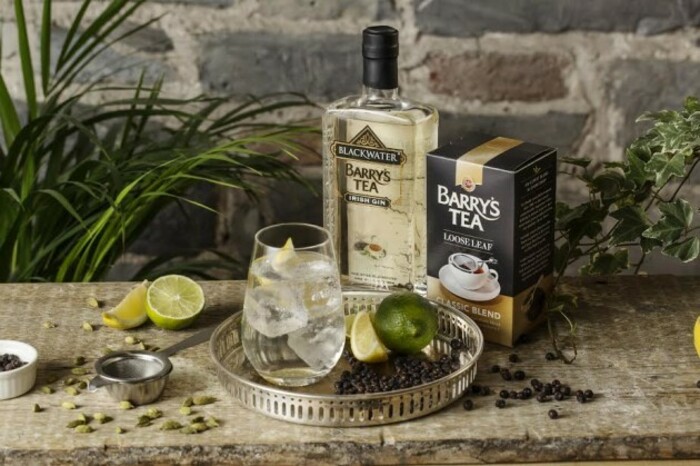 Source: Blackwater Distillery
Mulryan said those kinds of concoctions will help give the company an edge over its competitors.
"We're just going to keep innovating because the category is getting more crowded," he said. "It's up to us to keep ahead and to keep innovating and to keep doing interesting things."
Last month, Blackwater was one of five outfits shortlisted for the 'international gin producer of the year award' at the International Wine and Spirits Competition in London. The award went to Hernö Gin.
"The Swedes won, we didn't. To get down to the last five is very, very nice. That does us a lot of good internationally. It's opened up markets for us," Mulryan said.
The company currently exports to Finland, Canada, France, Germany, the UK and parts of the Middle East.
"Australia's next – then the world," Mulryan said.
According to its most recent set of accounts, Blackwater Distillery declared a profit of more than €119,200 in 2016.
Sign up to our newsletter to receive a regular digest of Fora's top articles delivered to your inbox.