'Rare' crop maker Beotanics wants to make a healthy sweetener as it puts €1m into its HQ
The company is building a new research and development facility at its Kilkenny headquarters.
NICHE CROP MAKER Beotanics has invested €1 million in a new research and development facility at its Kilkenny headquarters.
The company yesterday announced the expansion at its Stoneyford base, which will include a lab for developing plant-based products and a research and development greenhouse.
The investment, a mixture of company and bank funding, will allow Beotanics to increase its current crop production capacity and develop new products. 
Beotanics was spun out from Fitzgerald Nurseries in 1990 by Pat FitzGerald and his wife, Noirín. It sources and produces unusual crops for food producers. It originally made ornamental plants only before introducing edible products in 2006.
The new facilities will allow the company to start producing other crops, like yakón – the sweet root of a daisy-like plant – and wasabi, which has found an "ideal climate" in Ireland, according to Pat FitzGerald.
"Wasabi is getting a lot of interest around the world at the moment. People are realising there are a number of health benefits as well in eating wasabi as green."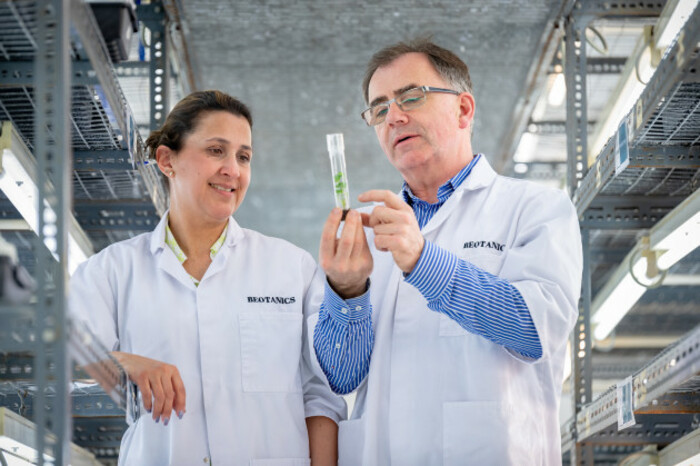 Source: Dylan Vaughan
Beotanics is planning to market yakón to food producers as a healthier sugar alternative, which may benefit people with low tolerance to sugars fructose or sucrose.
"People with low (sugar) tolerance or diabetes, if you take concentrated fruit sugars it's still going to create these spikes. We're working on yakón as a potential sweetener to avoid this to a greater degree," FitzGerald said.
The product will come as a water soluble powder, a flour or a syrup, and the company hopes to introduce it to the food manufacturing market for use in confectionery products.
The company is also looking at adding taro root – another edible root of a tropical flower – to its line of products.
"A big barrier in the past to (taro root and yakón) has been that local communities have been able to produce them for themselves in small quantities. In large-scale agriculture they have been challenging to commercialise," FitzGerald said.
The company is also researching the potential for it to enter the plant-based proteins market.
Last year, Beotanic recorded sales of €4.5 million, which Fitzgerald forecasts will remain stable this year. The company employs 43 people and the new facility in Stoneyford will add 10 more to the payroll.
Get our NEW Daily Briefing with the morning's most important headlines for innovative Irish businesses.