Farmers who started 'illegal' gorse fires may have their state subsidies docked
A recent spate of gorse fires have caused havoc in rural areas around the country.
THE GOVERNMENT HAS said that any farmers found to have submitted land that was burnt illegally may have their EU-funded Basic Payment Scheme grant reduced.
A recent spate of gorse fires in various parts of rural Ireland have caused havoc across the country.
Over a third of Ireland's largest forest in Cloosh Valley, Co Galway, was destroyed by gorse fires in recent weeks.
While some of the fires were attributable to prolonged periods of dry weather, others are thought to have resulted from farmers burning gorse bushes in order to cleanse the land so it can be reused.
Burning land during the designated closed season (31 March – 31 August) is deemed to be illegal.
Today the Department of Agriculture has announced it will conduct investigations into all recent incidents of possible illegal burning of land.
As a result of this investigation, the department said that any farmers found to have submitted illegally burned land as part of their applications for the EU's Basic Payment Scheme may have those payments reduced in addition to other penalties.
However, farmers who have included such land in their applications have been given a chance to amend their applications before 31 May – the closing date for grant amendments.
"Inclusion of illegally burnt land in the 2017 Basic Payment Scheme application may result in reduced payment and penalties under this scheme and the other area-based schemes," the Department said in a statement.
"Where it is identified, as part of the current investigation, that lands were burnt during the closed season this may result in such land being inspected by Department officials."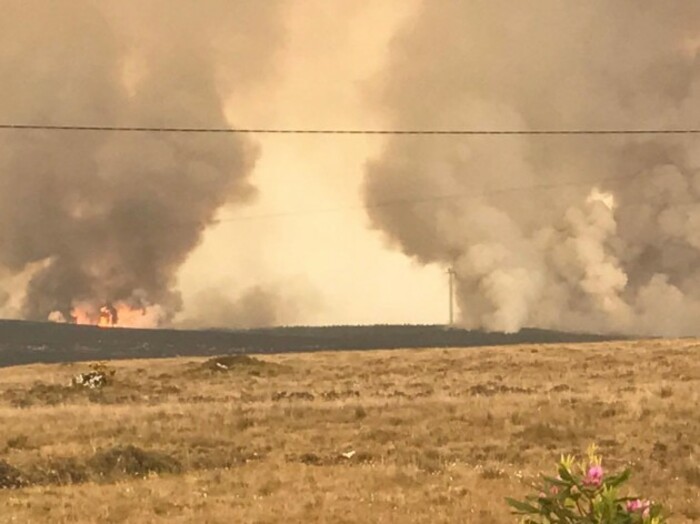 Source: Jason Healy
Junior Agriculture Minister Andrew Doyle said his department will use the most up-to-date technology and satellite imagery techniques to investigate all incidents of potential illegal land burning.
"(We) will not tolerate incidences of illegal burning of land and will take all necessary actions to ensure compliance with the conditions of the various EU funded area-based schemes, including reducing payments and penalties where applicable."
TheJournal.ie has contacted the Irish Farmers Association (IFA) for comment on the matter.
Crucial payments
Many Irish farmers are heavily reliant on EU subsidies such as the Basic Payment Scheme.
Last year the Teagasc National Farm Survey showed that nearly two-thirds of farm income came from government sources.
EU subsidies, known as direct payments, are given to farmers by the Irish government to help them financially support their business.
In 2015, direct payments doled out to those involved in cattle rearing and sheep farming represented more than 100% of their total income.
Reporting by Cianan Brennan and Killian Woods.
Sign up to our newsletter to receive a regular digest of Fora's top articles delivered to your inbox.
read more on