Bank of Ireland and AIB are using a new blockchain platform to verify their staff's credentials
The solution was built by Deloitte to track and manage educational and regulatory qualifications.
BANK OF IRELAND, AIB and Ulster Bank are collaborating with Deloitte and the Institute of Banking on a blockchain-based education platform for the financial services industry.
The platform allows for the verifying and tracking of educational and regulatory credentials and qualifications, using blockchain tech for security and the managing of this information on a decentralised ledger.
Bank employees will have access to a digital wallet that holds their credentials while it will assist firms in complying with the Central Bank of Ireland's regulations for meeting certain standards for senior staff in financial institutions.
It has been built using the Ethereum blockchain by Deloitte's EMEA blockchain lab, a Dublin-based development hub that's building solutions using the technology for clients.
Mary O'Dea, chief executive of the Institute of Banking, which provides training programmes, said that more than 23,500 people hold designations with the organisation.
"(It's) all about sustaining the highest professional standards for the benefit of the customers who are served by the financial services industry," she said.
It is currently in a pilot phase until the end of the summer with a full roll-out expected by mid-2020 for Institute of Banking members.
The group involved in the platform said that it is the first of its kind in the European financial services industry.
It added that the platform's premise has potential in other parts of the education sector to verify and track qualifications. In Singapore, for example, a government-supported project is using the tech to verify certificates from several universities and institutions.
Blockchain Week
The Irish banking platform has been announced during Blockchain Ireland Week, a series of events held by government agencies and tech companies. This included the announcement of a masters course in blockchain in DCU to address skills shortages.
Speaking during an event earlier this week, finance minister Paschal Donohoe said his department is keeping a close eye on ongoing developments and the need for regulation in the burgeoning technology.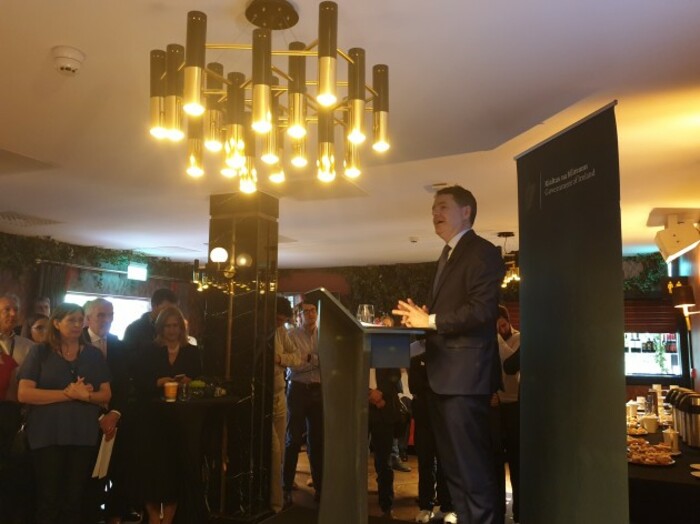 Source: Fora
"We're actively and constantly monitoring developments in this technology and in regulations globally so that any policy changes and debates in policy will be done so in a way that's balanced and is careful," he said.
The Department of Finance launched a working group in early 2018 to examine blockchain and cryptocurrency. These efforts are led by Mai Santamaria at the department.
Speaking at the same event, Santamaria said the group is taking a measured approach to bridge the gaps between blockchain developments and the traditional world of financial regulation.
"A few months back, I heard someone saying that the department's working group maybe didn't have enough teeth," Santamaria said.
"When you're building something, when you have something that's quite new, it's not teeth that you need," she added.
"What you need are eyes and ears and a brain a lot of time, to be able to read, time to actually listen to people telling you (about it) and for that, you don't necessarily need teeth when you're building it and that's very important."
Get our NEW Daily Briefing with the morning's most important headlines for innovative Irish businesses.