Why Avoca's products will never wind up on supermarket shelves
The company's new US owner is learning about 'experiential retail' from the Irish outfit.
YOU'LL NEVER FIND luxury retailer Avoca's food stocked in third-party supermarkets because they can't give customers the "complete experience".
That's according to Donal O'Brien, president of US multinational Aramark's northern Europe unit.
The company, one of the largest food services companies in the world, snapped up the Irish, family-owned business in 2015 in a deal reported to be worth more than €60 million.
At the time of the sale, Simon Pratt – whose parents founded Avoca four decades ago – said the company wouldn't be cutting corners under its new corporate owners.
"We will not be exchanging butter for margarine on our scones," he said at the time.
According to O'Brien, who was speaking this week at Retail Ireland's 'experiential retail' summit, Avoca's continued focus on 'experiences' and quality products – for a premium price – has influenced other parts of the Aramark group, which provides everything from cleaning to retail and canteen services.
Aramark's north Europe operation generates sales of about $1 billion every year. Some of its big food services clients include JPMorgan Chase, LinkedIn, the Irish government and Guinness Storehouse.
It also runs facilities for retailers like sporting brand Nike, managing more than 240 of its European stores.
"What we are finding is that we have to bring more and more 'real' retail experiences into these environments," O'Brien says.
"That's why we're very interested in retail and especially experiential retail. That's why we were led to look at Avoca."
Food sales
It's fair to say that Donald and Hilary Pratt, who founded Avoca in the early 1970s, were pioneers of so-called 'experiential retail' – offering unique or quirky experiences to encourage customers to spend more time and money in shops.
When the Pratts acquired a centuries-old woolen mill in Wicklow, they attracted customers by offering them something to eat and a cup of tea or coffee.
"That's how the food side of the business started," O'Brien says.
Today, Avoca's famous woolen products account for just 10% of the business, while food and food-related products like cookbooks make up 80%, he says.
O'Brien adds that the food end of the business helps increase the firm's average 'dwell time', a measurement of how long a customer spends browsing a shop.
According to O'Brien, most Avoca customers stay for about 30 minutes – but 40% of them spend for up to an hour and a half in any of its 12 outlets.
"During that dwell time, people have to walk through the store and then spend more money. That's the secret sauce and the reason why we have the retail and the food experience," he say.
"Simon Pratt, who runs the business, explains it like this: People are prepared to give us one and a half hours of their discretionary time. Our job is to make that a treat, a memorable experience, and more importantly, take as much money as we can before they leave the front door."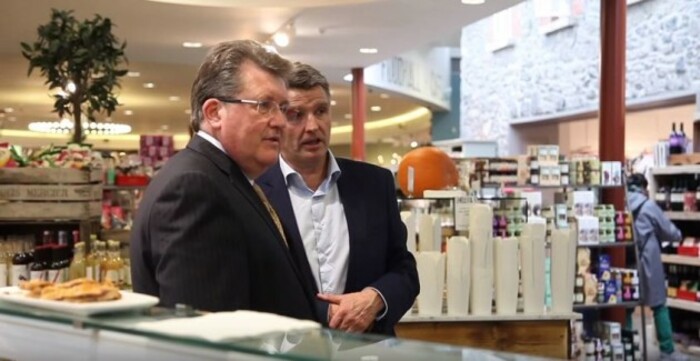 To help make shopping in Avoca more of a 'treat', the firm has invested in training its staff to be more welcoming to customers.
"We get in the Gaiety School of Acting to teach staff how to look people straight in the eye and ask them an open question. People react to that in a positive way," O'Brien says.
It has also favoured out-of-town "destinations" with free parking over busy, high-street retail space. And it has closed off its distribution chain, which means Avoca produce can't be bought outside its stores.
"The experience of going to the store is part of our whole magic. We don't want to see our products put on a supermarket shelf somewhere else where you don't get that complete experience."
O'Brien says the company is approached every day with offers from third-party retailers looking to stock Avoca products on their shelves.
"We resist that because we feel that (exclusivity) is very, very important. We feel that that's the promise that we give back to our customers. Thankfully, they vote with their feet and they like it that way."
Millennials
Avoca's core customer base is made up of females and families. O'Brien believes that's because the fancy retailer is seen as "accessible".
"It's not overly exclusive and it's not too snooty. Mums feel that they can go in there after they're down with the kids on the soccer field and get a cup of coffee."
However, the future of the chain is being shaped by much sought-after 'millennials' – people who belong to the smartphone generation.
"Millennials are, to some extent, cash-strapped, but they do have certain traits that are proving hugely important to us as we develop the brand out," O'Brien says.
"They have a great sense of community, they want to be politically correct and very eco-aware. That informs us hugely on the type of product ranges that we've got to bring into what we do."
To satisfy millennial shoppers, Avoca has trumpeted its mill heritage and introduced 'craft' elements to its food business by rolling out in-store butcher shops and bakeries.
"If you go back to my time, good was stack it high and sell it cheap," O'Brien says. "The thing (millennials) appreciate is quality. They are prepared to pay a justifiable premium as long as you're delivering back on what they know is good."
While some might dismiss millennial tastes as a bit of a fad, O'Brien believes those shoppers are having a much more significant impact on wider society.
"If you look at what's happening, power is being transitioned to these people," he says. "If we take Leo (Varadkar), he's an older millennial. He's 38 years old and he's the prime minister of the country.
"They're in power, they're starting to develop their own rationale. If you look at the narrative in Ireland, how it's changed since Leo has come in, that's representing a huge part of our customer base. We have to respond to that."
Sign up to our newsletter to receive a regular digest of Fora's top articles delivered to your inbox.