Drugs don't always work for this common heart condition. AuriGen thinks it has the solution
As part of our weekly Startup Spotlight series, we profile the medtech company.
IRREGULAR HEARTBEAT IS a "very common condition" but, according to John Thompson, there is a gap in treatments that needs to be plugged.
Thompson is the co-founder and chief executive of Galway-based medtech startup AuriGen, which is developing a device that he believes can address the issue.
AuriGen was born from the Bioinnovate programme at NUIG, an initiative that helps budding medtech entrepreneurs hone an idea into a business.
The programme has played host to startups like Loci Orthopaedics and Kite Medical.
Thompson began his medical career as an anaesthetist before venturing into the business side of things at Pfizer where he was medical affairs lead for the European market and eventually embarked on his own business.
Alongside co-founder Tony O'Halloran, he began plotting out ways a device could provide a new treatment for atrial fibrillation, or an irregular heartbeat as it's more commonly known.
Thompson explains that the condition can be common in people with a history of cardiac issues, such as a heart attack, or it can be brought on by ageing, which can lessen the effectiveness of existing treatments.
"The problem with the condition is that it's not benign," he says. "It dramatically increases your risk of stroke, increases your risk of heart failure, increases your risk of dementia and premature death."
The condition is currently treated by medications that temper the irregular heartbeat.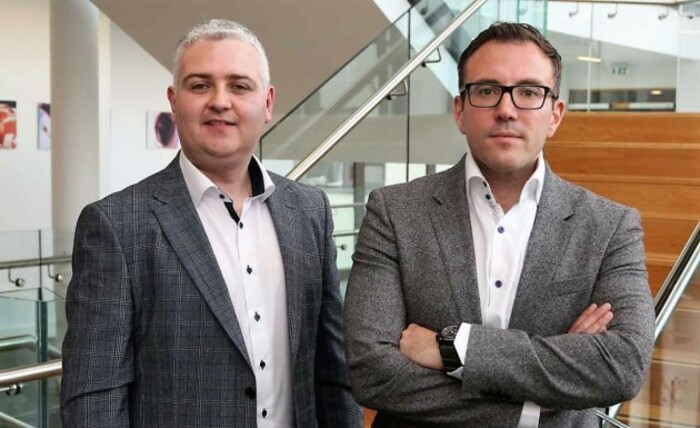 Source: AuriGen
"The medications work quite well in certain types of the disease but unfortunately as the disease progresses, the medication becomes less and less effective."
Another treatment is cardiac ablation, a procedure to help stable the heart's rhythm. It involves scarring tissue in the heart that's causing the irregular beat.
"Unfortunately for patients with longer (atrial fibrillation), who have had it for a long time, this procedure doesn't work very well," he explains.
Research
"We looked at a lot of data that had been coming out … to try and understand what potential avenues hadn't been explored."
Through this research, Thompson focused on one particular area of the heart called the left atrial appendage, which is a small protrusion from the left atrium.
"For many year it's been known that that's where most of the stroke risk is associated," he says.
He explains that "blood gets caught in there … the blood can pool and clot and form a kind of a thrombus, a big clot" and this can cause a stroke.
AuriGen's device tries to prevent this happening. The tiny device, just 2cm in width and length, is introduced to the body via a vein and travels to this area of the heart.
"Once it's in position, you press a button which activates an electrode system, which causes the ablation," he explains.
"(This) electrically isolates the structure. That's detected by a sensor that we have, which is a biophotonic sensor, a light sensor. That looks at real-time changes in the tissue to detect when the structure is fully electrically isolated.
"Everything is removed except for the plug so everything is removed through a little hole in the centre of the plug, which closes over and the plug is kept in place to reduce the risk of any stroke because blood can't get into the left atrial appendage."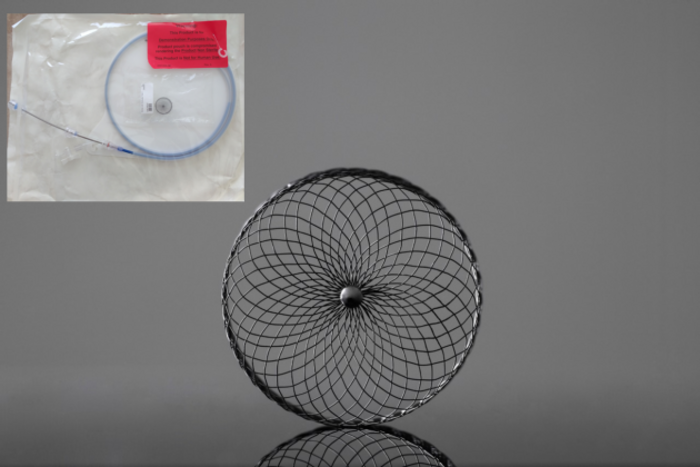 Source: Aurigen
The whole procedure should take less than an hour, he says.
"You can reduce the patient's stroke risk but also reduce their risk of getting atrial fibrillation. That could never be done before."
Trials
The startup has carried out acute and chronic pre-clinical trials thus far.
It is now preparing documents and meetings with US authority the Food and Drug Administration (FDA) with a view to starting human trials next year.
AuriGen will be carrying out trials on both sides of the Atlantic. In Europe, the regulations around medical devices are about to get much stricter when a raft of new rules come into force in 2020.
[embed id="embed_3"]
While the changes have been a cause for concern for many in the industry, Thompson believes they will "harmonise" Europe with the expectations of the FDA in the US.
"In the past, the (European) requirements tended to be a little bit less onerous than the FDA, so many companies would be able to launch in Europe before the US. Now with the harmonisation, the trial requirements will be very similar between Europe and the US," he says.
"The trial that we do for the US will be the same trial that we do for Europe."
Running trials is expensive business. AuriGen has raised total funding of around €12 million from various sources, including €2.5 million from the EU's Horizon 2020 that it secured last June.
It also recently received €5.9 million from the government's disruptive technologies innovation fund to further its route to commercialisation.
Thompson adds that the company is investing in more staff. It has five employees with three coming on board soon while it is "looking to plan those first human studies".
Get our NEW Daily Briefing with the morning's most important headlines for innovative Irish businesses.