Galway's Loci Orthopaedics wants to spare people from crippling thumb complaints
As part of our weekly Startup Spotlight series, we profile the medtech company.
FOR AN APPENDAGE used in most basic tasks, the humble thumb has received surprisingly little attention when it comes to potentially debilitating arthritic problems.
That's according to Brendan Boland, the chief executive of Loci Orthopaedics, a Galway medtech startup looking to dramatically improve treatment for the condition.
It has developed an implant that is placed in the basal joint, at the bottom of the thumb, to overcome arthritic complaints.
A graduate of UCD School of Medicine, Boland had been practising for a number of years until he entered the Bioinnovate programme in NUIG for medical entrepreneurs with the aim of developing a treatment or device for an "unmet clinical need".
There he met his co-founder, Gerry Clarke, and the two started looking at all areas of orthopaedic medicine, from knees to hips and spines, before finding an opportunity in the tiny but significant thumb joint.
"By unmet clinical need, I mean something that affects a large population, (it) affects them significantly on a day-to-day basis," Boland explains.
Arthritis in the basal joint is caused by the wearing down of cartilage. According to the British Society for Surgery of the Hand, the form of arthritis can be particularly common in women over 55.
Boland describes the opportunity as the "perfect storm of demographics and market".
"That population is growing in number, the actual market size, so from a commercial point of view the market is attractive: it is a market that a startup has the potential to get into," he says.
With the help of Bioinnovate and Clarke's engineering background, Loci started cobbling together prototypes of an implant.
Thumb and related joint mobility is vital to maintain because it provides about 40% of hand function on a daily basis, Boland says.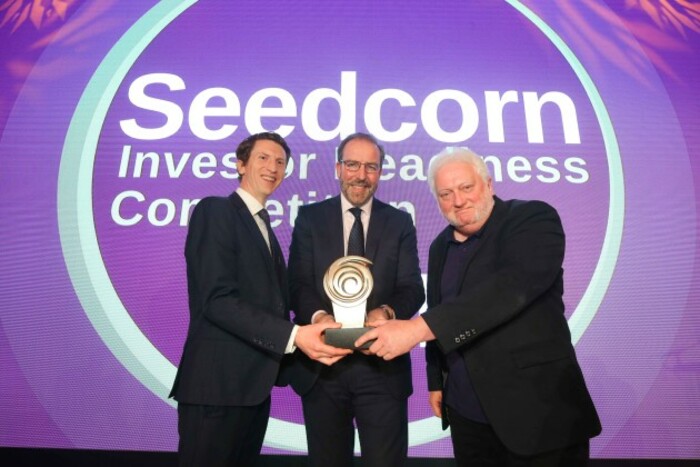 Source: Kelvin Boyes/Press Eye
"It allows you to do everything from doing up the button of your shirt, typing, texting, holding a steering wheel, picking up a cup, all of these things," he says.
"Out of all the areas of orthopaedic medicine, this was the one that stuck out like a sore thumb, no pun intended."
Funding
Loci Orthopaedics was spun out of NUIG in 2017 and grabbed a seed round of €2.75 million during the summer.
The money will be used to bring the implant, called the InDx, into clinical trials, and eventually seek regulatory clearance in the US.
"The current treatment options aren't great. They're associated with high failure rates, lengthy recovery times and then we started talking to the surgeons in more depth about it," Boland explains.
For added expert advice, the startup is working with hand surgeons from Stanford Univerity, Brown University and KU Leuven.
Boland describes the InDx as the "first evidence-based implant ever to be designed for this joint" and one that mimics the hand's natural motions and rotations.
"Unlike any other implant which tried to work despite the natural motions of the joint, this is the first one that works with it. That's where we felt that a startup would have a good opportunity to get into the market."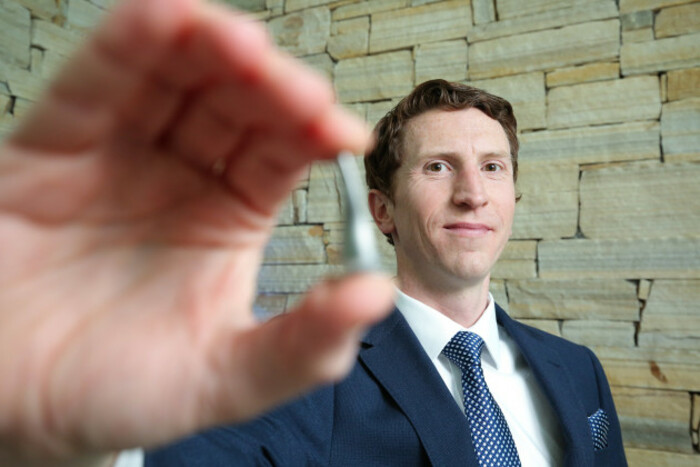 Source: Photo by Kelvin Boyes/Press Eye.
The largest orthopaedic companies don't have major products in the area, he says.
By comparison, Boland explains that it would be next to impossible for a startup like Loci to get into a market for implants or replacements for hips or knees – two markets that are very well established.
US market
Loci aims to break into the US first and foremost as it is the most attractive market, and because the FDA's approval process is less complicated than the regime in Europe, Boland says. The firm will eventually also target EU approval.
"The US is a much bigger, more defined market, particularly for orthopaedic extremities and upper-limb orthopaedics. Our primary commercialisation for the product would be US first."
Boland says he's noted a couple of products emerging in the US market that are similar to Loci's, but he says this is just greater validation of its idea.
"(This is) reflecting the growth in the market itself and in the area and how patients are becoming less tolerant of poor hand function," he says.
The first trials for Loci's implant are due to kick off in about a year.
"It's a very expensive undertaking, so generally most startups are limited to reasonably small numbers," Boland says. "We would hope that our first clinical trial will be in about 12-14 months."
As a result of the cost of trials, medtech startups are prone to gobbling up any initial funding quickly. With that in mind, Loci's founder expect seek a larger, series A round in 18 months' to two years' time.
Currently the team remains slim at three full-time staff, relying heavily on sub-contracting work. All of the device's manufacturing and assembly, for example, is carried out by third-party outfits in Ireland.
Boland says the company expects to increase to about a dozen staff within the next three years, although that also presents a challenge in competition with med-tech giants Medtronic and Mylan, both of which have large operations in Galway.
"Hiring can be difficult in Galway because there's a lot of competition in medtech to get young, good engineers," he says.
Get our NEW Daily Briefing with the morning's most important headlines for innovative Irish businesses.