Higher costs took their toll on profits at one of Ireland's biggest food processing firms
But turnover soared last year at the Waterford-based Arrow Group, which owns the Dawn brand.
PROFITS SLIPPED AT one of the largest meat processors in Ireland last year – but turnover soared after the firm behind the Dawn brand secured some "key customer wins".
Arrow Group Limited, the company behind Dawn Farms and Dawn Foods, registered an after-tax profit of €26.3 million last year – a decrease on the €32.9 million it raked in for 2016.
Despite the dip, turnover increased by €45.9 million during 2017 as total group sales topped €545 million. The Waterford-based group is run by brothers, John, Michael and Peter Queally, who are among Ireland's richest business figures.
According to a note in the directors' report, the spike in turnover was driven by "some key customer wins in 2017″, however increased raw material expenses and labour costs hit the group's profits.
Last year was a busy 12 months for the group, which bagged a contract worth up to €850 million over the next seven years to supply Subway stores across Europe.
Dawn Farms also revealed plans to launch a new €25 million 'meat innovation' hub in Naas. The accounts showed the group boosted its investment in research and development from €5.9 million to €7.5 million last year.
During 2017, Dawn Meats also acquired Dunbia's Republic of Ireland operations as part of a tie-up with the UK firm. At the time, farmers voiced their opposition to the deal, which they said would lead to further consolidation in the Irish meat industry.
However, the acquisition received clearance from the competition watchdog.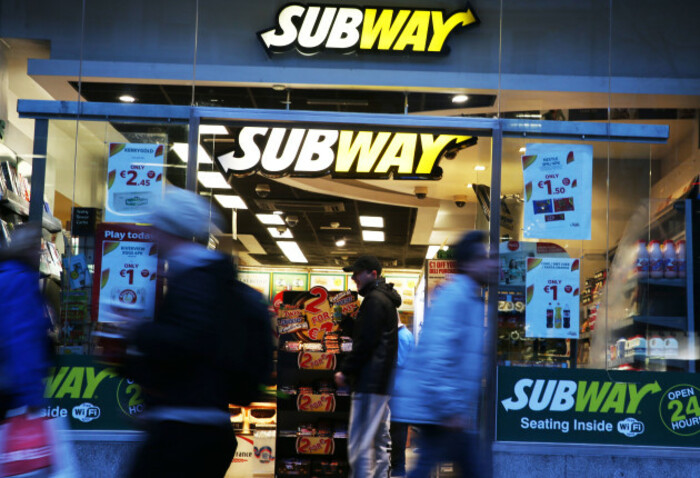 Source: Leon Farrell/RollingNews.ie
Staff increase
The average monthly number of staff working at the group increased by 120 to 1,910 last year, while the average wage paid by the firm stood at around €35,000.
Further details contained in the directors' report noted that a dividend of €9 million was paid during the year to shareholders. The firm is closely held by members of the Queally family. No dividend was paid in 2016.
The report also stated that a division of the group involved in retail packaging has closed down since the end of 2017.
Forecasting possible risks to the business, Arrow Group's directors said that they still are not certain how the UK's decision to leave the EU will affect their operations.
They said exchange rates, labour costs and availability and potential tariffs were all identified as Brexit-related risks, but the directors are confident the group can weather the storm.
"Our customer base is spread across the UK, the eurozone and beyond so we as a group are well positioned to face challenges and avail of opportunities that might arise."
Sign up to our newsletter to receive a regular digest of Fora's top articles delivered to your inbox.