Why Dublin company Anam is making a big play for the African market
As Ireland looks to grow business ties on the continent, the mobile tech company is expanding from Nairobi.
AFTER OPENING AN office in Kenya last month, Dublin-based Anam, which builds tech for mobile operators, is preparing a greater push into the burgeoning African market.
The decision to open the base in Nairobi was driven by the company landing several significant contracts in Africa, including a deal with French mobile network Orange, which has extensive operations in the region.
Anam develops mobile network solutions to help operators manage and filter application-to-person (A2P) messages, like promotional texts, and protect against fraud and spam.
Chairman Darragh Kelly said Anam chose Nairobi during an Enterprise Ireland trade mission to Africa, which was seeking to boost the activities of Irish companies there. Anam, after visiting a few cities, found the Kenyan capital to be a good central location to service the wider market.
The latest move complements Anam's Malaysian office that opened last year to serve the Asian market after the company raised €2 million from investors.
Kelly told Fora that it has been securing customers in Africa and Asia over the last two to three years but in recent times, Africa has become particularly busy with opportunities.
Its various deals and partnerships now see it working with over 20 mobile operators in 19 African countries.
"There's still opportunity and requests for tender and bids in Asia but it's certainly Africa that would appear to be, in the last 18 months, at a larger scale," Kelly said.
"Operators are coming under pressure more to focus on how they can drive their revenue and certainly A2P messaging is a space in Africa that seems to be taking off."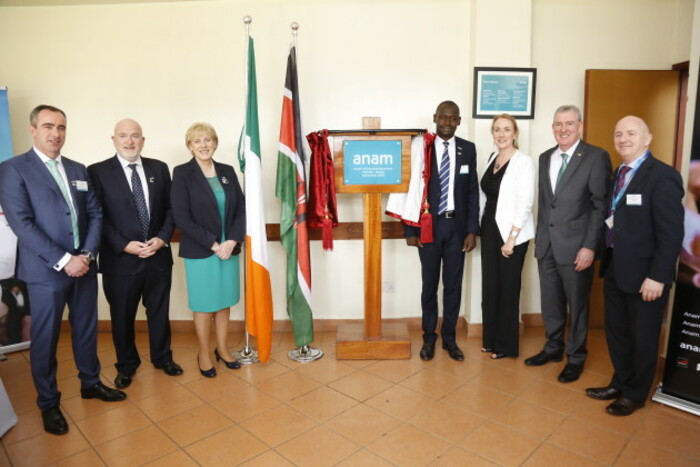 Source: Anam
African operations are being headed up by Stephen Bannon, a former Digicel executive who joined Anam two years ago. He is joined by business development manager Stephen Ohito.
Kelly added that the company will look to hire between five to 10 people over the coming year but already has reps dotted around the continent for dealing with customers face to face.
"If an opportunity comes up in the Ivory Coast, rather than having that person based out of Nairobi, they might be in the Ivory Coast for a certain number of months."
Kelly said Anam is well-funded at this point to "internally and organically" finance the African expansion. Further down the line, the company has eyes on the South American market, he added.
"The challenge is that it is very far away. You have your chicken and egg situation. You'd like to land one or two customers before you can set up or make a commitment or investment to set up an office there. Certainly, we're following leads and opportunities in that region."
Get our Daily Briefing with the morning's most important headlines for innovative Irish businesses.