This US agri-giant is starting a Dublin accelerator to help startups and wants nothing in return
Early-stage companies don't need to hand over equity to sign-up to Alltech's 12-week course.
AGRIBUSINESS BEHEMOTH ALLTECH is set to launch a new accelerator programme called 'the Pearse Lyons Accelerator' geared towards agri-startups in Dublin in the new year.
The company, which was founded by Irishman Pearse Lyons and has specialised in the production of food for human and animal consumption, was established in 1980 and now has annual revenues of around $2 billion.
The accelerator programme will be designed to educate agri-focussed startups on the cusp of releasing their product about the best methods to generate sales and tap into international markets. Startups will also get access to free co-working space at Dublin-based Dogpatch Labs.
At the end of the 12-week programme, the companies will get the chance to pitch at Alltech's annual symposium held in Kentucky that is attended by 3,500 people from the agricultural industry.
Unlike other accelerator models, Alltech will not be taking any equity from startups that secure a spot on the accelerator programme, but will be providing €15,000 to each of the 10 companies chosen.
Alltech head of innovation Aidan Connolly told Fora that the company isn't asking for equity in return for the €15,000 in funding because it sees that could possibly scare away possible candidates for the programme.
"Many of them are concerned that when they address accelerators or incubators, that immediately somebody is trying to take something from them and that becomes a barrier," he said.
"We just want to be seen within our business to be a thought leader and help our customers get new technologies that help them to be more efficient and sustainable."
The €15,000 on offer to successful applicants for the accelerator will probably not be the main draw for startups, according to Connolly, which is just meant to make it easier for startups globally to locate in Dublin for the duration of the 12-week programme.
"Companies that have expressed an interest say they want access to Alltech's footprint across the world, secondly they like the idea of pitching at our symposium to 3,500 potential customers, investors and distributors."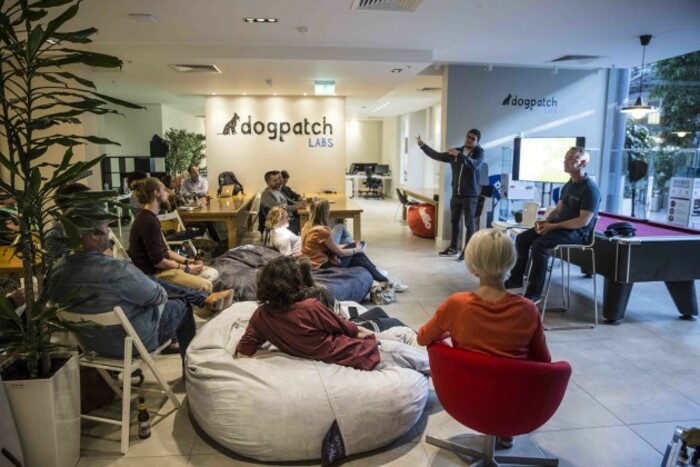 Source: Dogpatch Labs
Funding
For this programme, which is being run in collaboration with co-working space Dogpatch Labs, Alltech is specifically looking to take on startups that can transform agriculture and are active in areas like drones tech, the internet of things and the use of genomics research in food production.
At the end of the accelerator programme, Alltech will consider investing in startups that have proven to be a right fit and invest up to €200,000 in an individual early-stage company, according to Connolly.
"We do have money set aside to invest in companies as appropriate and of course they have to be a fit for our business.
"If it is appropriate for us to invest, we will invest. If it is appropriate for us to take equity, of course we would take equity.
"For many of the startups, they don't want the equity or someone investing, they want the other help we can offer and so it seems to be easier and cleaner to start off that way, but we have made it clear that equity is an opportunity in the future."
Source: YouTube
Staying in Dublin
Alltech has a foothold in 130 countries worldwide, but Connolly said that it has no intentions to launch other accelerators in different regions right now.
"Our intent is to have one accelerator only and that one would be the best and biggest it can be and based out of Dublin. We don't see moving it from Dublin for the foreseeable future.
"I'm from Ireland and the founder is Irish, but the directors are from all over the world. So we have Irish heart within the company, but it is very much global. We see the accelerator as being a global venture."
He added that the programme will not take on more than 10 companies per 12-week programme over its five-year lifespan and forecast over 100 applications for the inaugural accelerator starting next year.
Applications for the close on 11 December and more information can be found on the Alltech website.