Nearly a decade after its bailout, AIB wants to turn its customers into 'fans'
But one of the bank's retail execs says people may need to pay extra for face-to-face services.
NEARLY A DECADE after it was bailed out, AIB is looking to repair its reputation through evangelistic staff, 'warmer' branches and soft seating for its customers.
Speaking at a Retail Ireland event in Dublin, AIB's head of retail transformation, Mark Gould, said the company is on a mission to turn a chunk of its customer base into 'fans'.
"Customers are great, but customers often come looking for discounts, customers often complain," he told the conference. "What we really want to do is turn customers into fans because fans seek you out as a brand.
"Fans are supportive of you, they'll forgive the occasional mistake as long as you put it right."
Gould – who has previously worked for retail heavyweights like B&Q, Barnes and Noble and Primark – said it's difficult for a retail bank to differentiate from its competitors.
"If you ask most Irish consumers what's the difference between banks, most people tell you they're all the same."
He said AIB is looking to create a more distinct 'experience' by modernising its branches and opening outlets for longer.
"We've now transformed about two-thirds of the AIB retail estate," he said, which means about 130 branches have been given some sort of a makeover.
Gould said the company is moving away from a "cold, institutional-type environment to one that's much warmer, with soft seating in many of the branches". The idea is to create "a less formal atmosphere".
"A visit to the bank in the past was typically about a formal meeting," he said. "Now it's much more about a side-by-side discussion."
He summarised the bank's more 'cuddly' approach by paraphrasing a poignant quote from the American poet, Maya Angelou: "Customers will forget what you said, they'll forget what you did, but they'll never forget how you made them feel."
Extra charges
Interestingly, at a time when banks are rolling out self-service and closing branches – AIB's Northern Irish unit shut 15 outlets this year – Gould said many customers still clearly value face-to-face interactions.
About half of all AIB branches offer self-service terminals, but the move has generated a mixed response from customers.
Speaking to Fora on the fringes of the Retail Ireland event, Gould acknowledged that cutbacks in traditional banking services has posed a challenge for AIB's 'retail transformation' rollout.
"A little bit like self-service checkouts in retail, there are certain things that don't add a lot of value to a customer or many groups of customers," he said.
"Paying a cheque over the counter is very expensive. You need to employ somebody to handle and process it. Some customers tell us they really value that over-the-counter experience."
Gould said that other industries simply charge customers more money if they want to avail of the face-to-face experience instead of self-service.
"At the moment, financial services doesn't really do that, but ultimately I think it's going to come," he said.
"If we want to give customers choice, self-service should be cheap or free. If they want the assistance of a person to do the same thing, there has to be some recognition that there's more cost involved."
[embed id="embed_3"]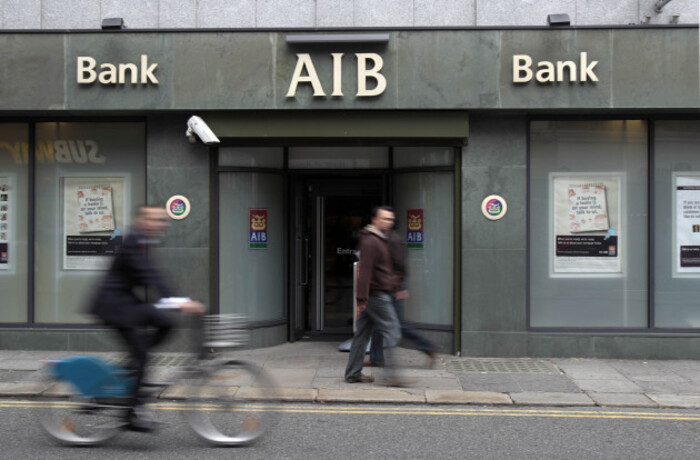 Source: Niall Carson/PA Archive/PA Images
Reputation
While developing customer loyalty is difficult for many industries, it's particularly challenging for the banking sector – which had its reputation shredded in the 2008 financial crisis, then further destroyed with the more recent tracker mortgage scandal.
"We do get feedback from customers, who say things like, 'I had a great experience in the branch, the lady was really helpful, but I would never recommend a bank,'" he said.
"The industry has a reputation. I think the motivation for improving on that reputation is the competition that is coming every day from the financial technology companies who are bringing some of the Amazon-style convenience and price differential into financial services.
"The incumbent organisations really do need to improve. They've recognised it and are peddling hard to make those improvements."
Citing an earlier speaker at the conference, Gould said cosmetics retailer Lush – which is renowned for its peppy, loyal workforce – is a blueprint for how staff can help propel a brand and generate legions of 'fans'.
"(Lush) fans are generally created by the staff in-store, who are also advocates of the brand," he said. "That's really the best way to create that branded customer experience. That grows profitability and grows the business."
Sign up to our newsletter to receive a regular digest of Fora's top articles delivered to your inbox.