Another exec at AIB is heading for the exit – this time its CEO Bernard Byrne
The bank has lost two finance chiefs in recent months and has moved to reintroduce bonuses to retain staff.
AIB BOSS BERNARD Byrne has announced plans to step down as chief executive and director at the bank.
According to a statement release by AIB, Byrne will remain as CEO of the group into 2019 until the board appoints his successor. 
Byrne joined AIB in May 2010 as chief financial officer and held several roles at the group before he was appointed as chief executive in May 2015. 
In a note released by Davy stockbrokers, it was said that the announcement of Byrne's departure was a "surprise".
They also noted that the announcement has come a matter of weeks after AIB chief financial officer Mark Bourke revealed his intention to step down from his role.
Bourke's decision to leave for a role overseas came shortly after Myles O'Grady, group director of finance, also left the bank.
Earlier this year, AIB said it wanted to give its executives deferred bonuses worth up to 100% of their salary – a move that required sign-off from Finance Minister Paschal Donohoe.
The bonus plan was designed to help retain key staff at the bank, according to Jim O'Hara, the chair of AIB's remuneration committee.
The move was blocked by Donohoe, but the Department of Finance has issued tenders in order to hire consultants to advise the minister on remuneration at rescued banks. This move is expected to lead to the return of executive bonuses.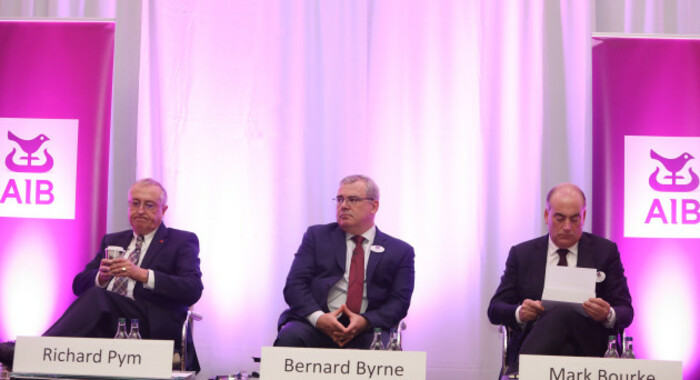 Source: Leah Farrell
Float
It was later revealed that Byrne will join Davy to succeed Kyran McLaughlin as head of capital markets in May 2019.
The outgoing AIB boss will also be appointed deputy chief executive, with McLaughlin due to remain as deputy chairman of Davy.
Byrne presided over AIB's return to the stock markets in Dublin and London – a move that raised €3.4 billion for taxpayers following the sale of State-held shares in AIB.
Commenting on Byrne's resignation, Donohoe said he was instrumental in the successful initial public offering of AIB last year. 
"Byrne can be proud of the many changes he introduced in the bank," Donohoe said. "He leaves the bank in a much stronger financial position as outlined in this morning's trading update.
"I would like to thank Byrne for his professionalism and dedication throughout his time in AIB and I wish him continued success in the future."
AIB group chairman Richard Pym said it was a very "grim" day when Byrne advised he planned to pursue an external opportunity.
"Bernard has been a great business partner to me and a good friend. He has produced exceptional results from the bank – not just financially and operationally but has also dramatically improved staff engagement and customer advocacy," Pym said. 
Byrne's departure has been announced alongside a new trading update by AIB, which showed the bank's non-performing loans dropped by nearly a third to €7.2 billion in the nine months to the end of September.
Net loans also increased by €500 million to €60.5 billion, which showed strong growth in new lending.
Update: This piece was updated to include details of Byrne's impending move to Davy in May 2019.
Reporting by Adam Daly and Killian Woods.
Sign up to our newsletter to receive a regular digest of Fora's top articles delivered to your inbox.