'A lot of sectors are in the doldrums': Why farms are being told to chase the tourist dollar
Teagasc says agri-tourism innovation – from tours to quad bikes – could 'breathe new life' into rural areas.
GLEN KEEN FARM in Louisburgh, Co Mayo, has been in Catherine O'Grady Powers' family since the 1600s.
She grew up there, and after a stint living in London she moved back to take over the sheep-rearing property in 1999 with her husband Jim.
However, after a few years the couple realised that their "idyllic dream" of starting a new life in the west of Ireland would be more of a grind than a joyous homecoming.
"We invested heavily in the farm without seeing any tangible results. I saw that the circle of farming had changed dramatically since I had grown up there," O'Grady Powers tells Fora.
"Sheep's wool had devalued so much over the years that it was a loss leader. Our dreams weren't shattered, but we knew we certainly had to change things."
In 2004, the pair starting looking at tourism as a way to revive the farm and spent a decade developing ideas and securing funding to get the project off the ground.
Today, Glen Keen offers farm tours, sheep-shearing and turf-cutting demonstrations, private hill hikes, and food and craft activities. It has attracted more than 50,000 visitors in the last four years.
"When I was growing up we used to get a lot of visitors stopping on the roadside taking photos of my uncles and my dad shearing sheep or cutting bogs. So I knew there could be something here with a tourism business," O'Grady Powers says.
Source: Glen Keen Farm
Diversification
The State's development agency for the agri sector, Teagasc, has been encouraging more farmers to follow O'Grady Powers' lead and innovate to maintain the viability of their businesses in the face of low incomes.
"A lot of the main sectors are in the doldrums at the moment – beef, tillage, sheep," the agency's rural development specialist, Barry Caslin, says.
"So more and more farmers are considering diversifying to boost profits – which can mean the difference between the failure and survival of some businesses.
"With the returns from most farming enterprises, young people are being turned off farming – and you can't blame them. They look at it as being long hours and antisocial work where they might be asset rich but cash poor."
The farm tourism industry has also been identified as a way to keep workers in rural areas, stemming the population drain towards large, urban centres. It could also benefit regions by luring tourists to less-visited parts of the country.
Teagasc has suggested farms add tourism elements to keep younger generations interested in rural businesses, while also attracting visitors who have an interest in "authentic, local experiences".
This could include bringing people into farms for tours or demonstrations, like Glen Keen, or diversifying into artisan food production, accommodation, or other activities alongside the existing farm business.
"It's an opportunity to open up farms to tourism and blend a new business with the existing enterprise, whether that's dairy or beef farming or whatever," Caslin adds.
"If farmers can integrate these projects as best as possible with the time they're allocating to the farm it can work very well. But it's very important that it doesn't compromise the existing business."
In Leitrim, John Molloy was forced to consider diversification after his beef farming business took a hit 10 years ago.
"Our cows came down with TB in 2008. We had about 120 cows and over the course of a year we lost 60 or 70," he says.
"I said to myself, 'I can't go through this again', so I looked into other avenues of interest and came up with quad bikes."
Molloy created an off-road track on his land, invested in a set of quad bikes and eventually set up Carrick Quads in 2013.
He says that Carrick-on-Shannon has seen an increase in visitors in recent years as a destination for hen and stag parties, which is a market that he has been tapping into.
Between the pre-wedding revellers and corporate groups, Molloy says he now has around 2,000 customers a year. Although this has brought an additional revenue stream to the farm, he says it hasn't come at the expense of his existing farming business.
"I like having the farm and I wouldn't let that go. We're all set up for it already so we can easily keep the two sides of the business going together," he says.
"The quads don't stop us from keeping livestock, we can use the land for both. We had a group biking there recently and the cows came through the track and it didn't bother anyone – the cows just kept going and didn't even look around."
Challenges
Both Glen Keen Farm and Carrick Quads received funding from rural development programme LEADER, which has a total budget of €250 million in grant aid for 2014 to 2020.
According to the Department of Rural and Community Development, 420 of the 1,484 projects approved under LEADER since 2014 relate to rural tourism, with projects receiving total funding of over €9 million.
The department added that a further 64 rural tourism projects seeking funding of over €3.4 million are currently at various stages in the approval process.
Although funding opportunities are available, there are still challenges starting a new tourism business in a rural farm location. O'Grady Powers admits that she was "a bit naive" when she opened Glen Keen Farm to visitors in 2014.
"We were very enthusiastic and opened to the public seven days a week, but we had to reduce that because it really wasn't sustainable," she says.
"We're in quite a remote area and we can't rely on passing traffic. So pre-booked visits and private visits are the model for a rural enterprise like ours."
But that enterprise continues to grow. O'Grady Powers said that 30,000 visitors came to the farm in 2017, with this year's final tally expected to be higher. Nearly three-quarters of these come from the US, while China is also a growing market.
"We're not making huge profits at the moment – this is only our fourth season – but it's really a long-term commitment to sustain Glen Keen and keep it for the future," she adds.
"The combination of tourism and agriculture is a great route for sustainability in our area where there aren't a lot of other enterprises."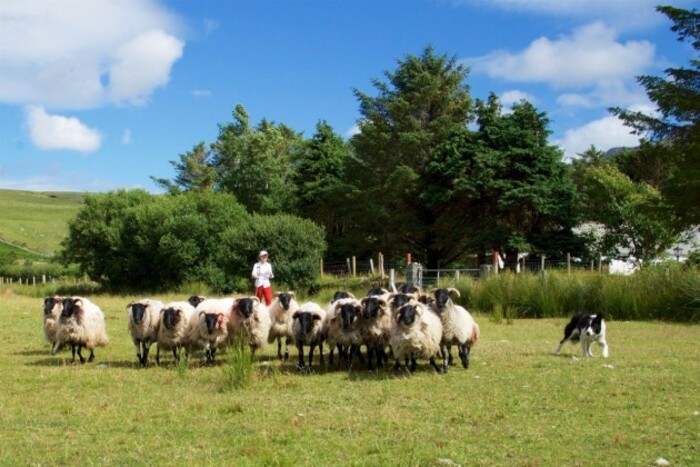 Source: Glen Keen Farm
According to Caslin, Teagasc has noted that the number of farms taking on agri-tourism projects in Ireland is starting to rise, but there's scope for further growth as the concept of agri-tourism "isn't something new".
"It's well-developed in other parts of the world – in the Alpine areas of Germany they've been doing it since the 1950s, 1960s. There's also good examples in England, France, Slovenia," he adds.
"I think we're catching up with Europe very well, but I think we could be doing an awful lot better because there's so much potential."
Like O'Grady Powers, Caslin agrees that agri-tourism is an important vehicle for "rural rejuvenation".
"Many farmers don't realise the value of what they're sitting on – and I'm not talking about beef or milk. I'm talking about the tourism potential. That's how we can rejuvenate rural areas," he says.
"Right across the country we hear that rural Ireland is not going to survive, that it's getting weaker, but there are opportunities to breathe new life into these areas and get some commercial activity going. I think agri-tourism is a catalyst for that."
Get our NEW Daily Briefing with the morning's most important headlines for innovative Irish businesses.