Despite a six-month storm of criticism, Aer Lingus stands by its new frequent flyer scheme
The carrier's Aerclub initiative has been panned by many long-term fliers since it was brought in.
AER LINGUS MAINTAINS that most members of its new frequent flyer programme are satisfied – despite heavy criticism of the scheme in the six months since it was launched.
In November of last year, the airline phased out its Gold Circle loyalty programme – which the carrier's boss said was "over rewarding" some customers - and migrated members to a new system called Aerclub.
Gold Circle – which dated back to 1987 – was based on a model whereby passengers could accumulate points from every eligible journey taken and use them to buy upgrades or flights.
Aerclub is based on how much a passenger spends per ticket, rather than how many miles they fly. It has four membership tiers: green, silver, platinum and concierge.
Members must earn tier credits to advance. For example, to go from green to silver tier and gain access to fast-track and lounge, passengers would have to buy six transatlantic fares or two business-flex.
The upper three tiers – which enjoy benefits like executive lounge access and priority boarding – account for less than 4% of Aerclub's 500,000 membership base.
As a result, a large number of ex-Gold Circle members complained about being given the lowest tier status when they were moved to the new programme, despite racking up thousands of points under the old scheme.
The airline has been bombarded with negative comments on social media following the changeover.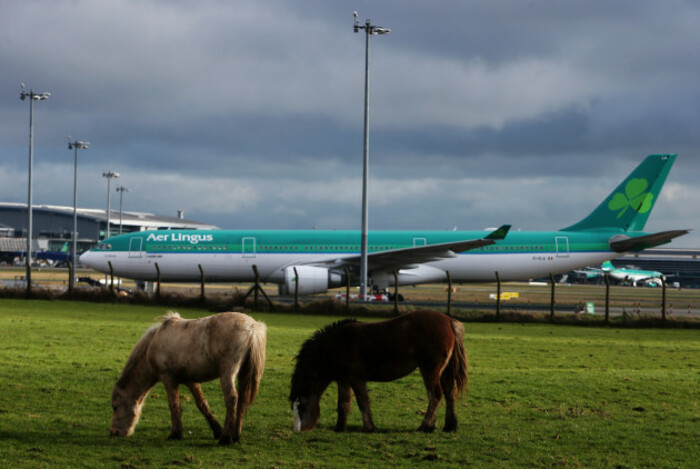 Source: Brian Lawless/PA Archive/PA Images
Aer Lingus told Fora that Aerclub tier status was "determined by the member's frequency of travel over the previous 12 months" before the November 2016 launch.
"Ahead of the launch of Aerclub, members were encouraged to use their existing Gold Circle points and any remaining, unused points were converted into Avios points," it said, referring to a separate points that can be spent on flights, but don't give access to lounges and other perks.
However, since first reporting on the issue in January, Fora has been contacted by a number of aggrieved passengers who said that this was not made clear to them, especially in correspondence with Aer Lingus's customer service team.
One passenger said she was told in a phone call that her points balance would be reflected in her Aerclub account.
"At no point during 2016 was there any communication from Aer Lingus telling me that the Gold Circle points balance would become unavailable (under Aerclub) or that the points would not transfer," she said.
"I am annoyed that Aer Lingus said I would be able to use the Gold Circle points and/or that they would be transferred to my new Aerclub account. It seems I can do neither."
It's not just ex-Gold Circle members that have been frustrated by the new system.
A customer who joined Aerclub earlier this year told Fora that tier credits she earned through transatlantic travel have failed to appear in her account months after completing the flights.
"I flew return to Newark in February with Aer Lingus and am still waiting for the points," she said.
"They offer silver tier after six transatlantic flights. I've done four and will do two next month. So I should qualify after that, but how can I qualify if they don't add points?
"I was delighted when the new system came in, but it would be good to have it operating efficiently."
[embed id="embed_2"]
'Teething problems'
Aer Lingus admitted that there have been instances where points collected were delayed in appearing in members' accounts.
"We continue to work to resolve such issues," it said.
Customers have also complained that there has been a poor response from the airline's customer service.
Nevertheless, Aer Lingus said that its internal research showed that Aerclub members were satisfied with the programme, adding that it had a high 'net promoter score' – a barometer that measures users' satisfaction.
Aer Lingus said it cannot reveal the score itself, citing commercial sensitivity.
Earlier this year, Aer Lingus chief Stephen Kavanagh acknowledged that there were "teething problems" with the switch to Aerclub but added the airline was "over-rewarding (some Gold Circle members) because they weren't earning".
"My job is not to keep everybody happy," he said at the time. "My job is to reward those customers that actually deliver margin."
"Not everybody will be happy with where they end up in terms of tier status, but I do want to make sure is that the communication (with members) is honest, it's quick and it's responsive."
Sign up to our newsletter to receive a regular digest of Fora's top articles delivered to your inbox.
read more on