A-TechSYN's drones are getting ready for take off from Clare
In our weekly Startup Scout series, Fora picks out promising companies that are emerging from Ireland.
Founder: Gökhan Çelik
Elevator pitch: drones for asset inspections and law enforcement
Status: generating revenue from clients in Turkey and Ireland
Funding: bootstrapped but now on the hunt for VCs
FOR MANY YEARS, Gökhan Çelik held roles in his native Turkey in large companies such as Siemens. While occupying mainly managerial positions, Çelik is a software engineer at heart and was feeling the itch to work on technical projects of his own.
"I wanted to get into a business where I can use my technical skills more and I wanted it to be something that can last for my son, for generations."
This was around 2013, just as drones, or unmanned aerial vehicles (UAVs), were on the cusp of exploding in popularity while companies such as Amazon were revealing ambitious plans for drone deliveries.
Çelik and the company first started working on an autopilot product, a piece of software for others' aircraft that guides it through the skies.
These were the origins of A-TechSYN, initially in Turkey, until the founders were wooed by IDA officials into moving the company's headquarters to Shannon.
The company had already been plotting a move to the UK in order to gain access to the European market.
Çelik said he wanted to base the startup somewhere that was English-speaking and with a strong pool of software skills to draw from.
"We were looking to expand into Europe, and the world, but the US is too far away and too expensive," he said. "I wanted somewhere that I can be closer to the Turkish market but also be a European market product.
"(Ireland) is at the cross-section of Europe, UK and the US. It just seemed to make sense."
Hardware
At this time, the startup began looking at ways to expand its remit beyond drone software. The time had come to build its own drone.
"We started building and designing our own aircraft and we went out to our customers with them and they advised us to build something unique and then we came up with the idea that we could do a vertical take off and landing drone."
A-TechSYN went on to build this aircraft that looks strikingly different from the quadcopter design that is usually associated with drones.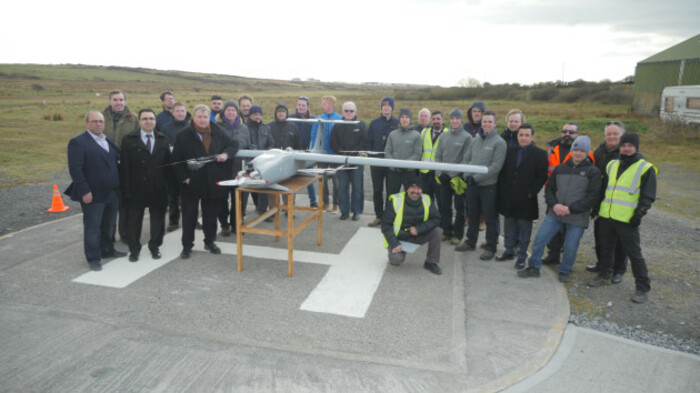 Rather, it resembles more of a mini-airplane with its five metre wing span. It weighs 55kg, carries a payload of 5kg and can fly for up to six hours.
"This is like a cross between small drones and big military drones," Çelik said.
By building its own drone – hardware and software – Çelik said the company has greater control over development and how the technology can be used.
"We don't need to go out and ask other companies to partner up."
The company is working with the University of Limerick, which is using the drones at its robotics department for research and development.
Back home in Turkey, it has deals in place with law enforcement agencies who are using the drones.
Çelik said some of the primary use cases for its drones are inspections of oil and gas lines and offshore wind turbines as well as search and rescue missions, providing a cheaper alternative to helicopters.
"Ireland is an island so it has a lot of sea around it and our planes are especially good for inspection, geographical inspections or security or any type of patrolling and imaging, especially on the sea because of the high flight time (of our drone)."
Regulation
Those big ideas are well and good but the regulation of drones remains a major barrier to execution.
As it stands, UAVs must remain within line of sight of the owner or operator, which presents a significant challenge to Çelik's plans.
He said the Irish Aviation Authority (IAA) is generally open to discussions with stakeholders and is confident that permits for out-of-sight use will be granted.
Source: A-TechSYN
"Basically it's more about showing (the IAA) what we can do and then building up some trust and then getting to the next level of flight."
Another Irish company, Manna, is hoping for a similar good relationship with Irish authorities as it tries to launch drone food deliveries.
A-TechSYN remains bootstrapped but Çelik said the time has come for the company to raise outside investment.
"In total we have done more than $10 million of revenue in the last six years but we never raised money," he said.
"At this stage we need investment in the company so we can stay ahead of competition. We used to be around 24 months ahead of the competition, now we are like 12 or 13 months ahead."
Get our Daily Briefing with the morning's most important headlines for innovative Irish businesses.