How Zoobox took a leaf from the book of Ikea for its eco-lodges
As part of our weekly Startup Spotlight series, we profile the real estate company.
BACK IN HIS home place of Quebec, Guillaume Pellerin's background lay heavily in the outdoors and eco-tourism.
"In my previous life I was an outdoor guide," Pellerin says. "Basically my job was to bring people to nature. The funny thing is I realised that I was bringing people outside that were already hardcore outsiders so they didn't really need me."
At something of a crossroads career-wise, he came across the idea for Zoobox – an environmental housing structure for tourists – when he met his co-founder Alain Chagnon, who was a real estate developer, and the two meshed their ideas.
"I thought it had huge potential for outdoor tourism to grow," Pellerin says.
A Zoobox eco-lodge structure borrows from the Ikea school of thought in that they are quick to assemble. They can be erected in the wilderness relatively easy and one structure houses up to six people.
Typically made with a timber frame, Zooboxes don't require excavation as most buildings normally would and, given their light materials, can be exported with little hassle.
Pellerin saw some initial interest in Quebec for Zooboxes but identified Europe as a better market to get up and running and opted for Ireland as the new home for Zoobox.
"It has a good international market for the size of the country and it has amazing natural scenery and there's not a lot of offers like what we're doing."
In January 2017, Pellerin moved to Ireland and the company is now based in Galway with a manufacturing facility in Dublin.
Ireland
Zoobox received some validation early in the process, which showed that it might be on to something when it raised €5.5 million from a number of international investors.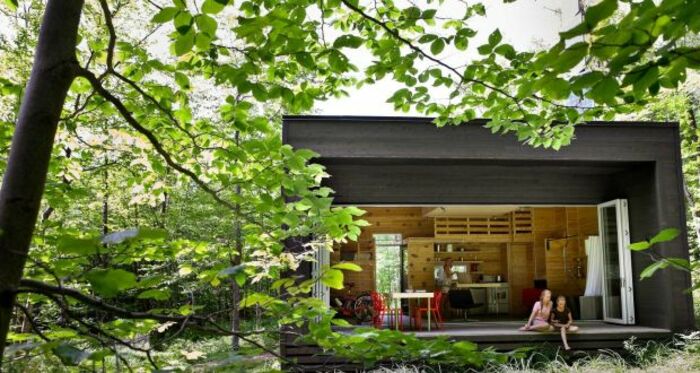 Source: Zoobox
Since then it has been working on building units on sites around Ireland – it has sites in Clare, Wexford, Wicklow and Kerry – and has received an order for 60 units back home in Canada.
Zoobox seeks out local partners, that own or have access to land, to set up a number of these structures, which are then rented out to holidaymakers and outdoors enthusiasts.
The price is usually around €200 a night, typically for a group of four to six people.
The startup now has partners and sites near and far, including Portugal, Iceland and Madagascar.
"We have other challenges now, we need to produce enough and we need to deliver all of those sites but it's a good challenge," Pellerin says.
It is currently revising the design of the house, looking at using different materials and potentially ways to 3D print certain parts.
The goal is to make the structure lighter and more efficient for shipping around the world.
Despite the great outdoors and environmental slant to the business, Pellerin says that the startup is essentially a real estate company.
"We're subject to planning like any other kind of construction," he says.
"We're a bit more planning-friendly because of the low environmental impact we have and the fact that we're really trying to have very little visual impact but we still have to go through the same planning process as everybody."
Customers
Pellerin says he was "really surprised" by the profile of customer that rents out Zooboxes.
Initially he assumed it would be hardcore outdoorsy folks making up the bulk of the customer base but he was wrong.
"Those people are a good part of our market but our biggest market actually is the young people that grew up in cities and they want to go outside," he says.
Source: Zoobox
"There's a generation out there that never really can (go outside often). They find it really cool to rent a Zoobox for four or six friends in it and just enjoy nature."
Interest in glamping may have played a role in more people willing to give something like Zoobox a try.
"I'm happy about it because it means there's a generation that still wants to go outside and is looking for a way to do it easily," he says, adding that Instagram is its most popular social media channel for reaching this demographic.
Zoobox has 26 staff between Ireland and Canada and plans to raise further funding in the next year to finance its next batch of products and shipping them out. It has secured manufacturing space in Bluebell in Dublin to get this up and running.
"We need to launch production quite soon this summer."
Get our Daily Briefing with the morning's most important headlines for innovative Irish businesses.