The fashion juggernaut behind Zara, Bershka and Pull&Bear had a bumper year in Ireland
Local companies owned by Spain-based Inditex collectively delivered sales of over €135 million.
THE SPANISH JUGGERNAUT behind fashion stores Zara, Bershka and Pull&Bear had a bumper year in the Irish market, new documents show.
Local subsidiaries of Inditex, the world's largest clothing retailer, collectively delivered sales of €135.4 million and a €13 million profit in the year to the end of January 2018.
The local wing of Zara, which has nine locations in the Republic, accounted for the biggest slice of the pie.
The latest accounts for Za Clothing Ireland Limited show that it generated revenues of €94.7 million in the year to the end of January, up from 2017′s €80.2 million tally.
It recorded a profit of over €10.8 million, up significantly from last year's €3.8 million profit.
Although it didn't open a new store during the period, the retailer refitted its shop in Blanchardstown, Dublin, "to keep the store's layout and atmosphere in line with the Zara brand image".
It added five people to its average workforce of 369 staff, who primarily work in sales roles. The outfit's wages and salaries bill for the year was worth roughly €31,080 per person.
Zara's directors said they plan to open more stores "as soon as suitable opportunities arise".
Other brands
The second-largest chain in Inditex's Irish portfolio is Bershka, which is targeted at younger shoppers.
Its local unit increased its annual turnover by €2.4 million to €18.3 million in the year that ended January 2018.
Bershka Ireland – which operates across four locations – managed to more than double its profit for the 12 months to €1.4 million.
The chain also increased its average workforce from 92 staff to 101. Its wages and salaries for the year worked out at €24,600 a head.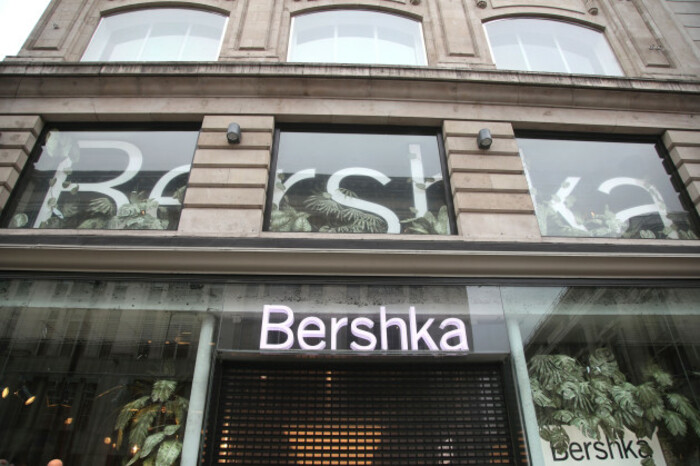 Source: Yui Mok/PA Wire/PA Images
The Irish divisions of Massimo Dutti and Stradivarius – which each have two stores here – delivered sales of €8.8 million and €5.8 million respectively, recording slight increases on 2017 tallies.
Massimo Dutti Ireland's annual profit increased from €136,000 to €361,000, while Stradivarius's grew from €223,000 to €362,000.
Casual clothing retailer Pull&Bear's profits swelled from €6 million to €7.8 million during the year, and its three shops managed to generate a profit of €1.2 million, a significant increase on 2017′s €265,000 profit.
With origins dating back to 1963, Galicia-headquartered Inditex is the world's largest apparel retailer and is widely considered the pioneer of the fast-fashion model that dominates high streets around the globe.
It operates over 7,200 stores across eight brands, including three that haven't yet entered the Irish market: Zara Home, Uterqüe and Oysho.
Inditex delivered net sales of €12 billion in the first half of 2018, 3% higher than the same period last year. Its gross profit for the period increased 4% to €6.8 billion.
Its CEO, Pablo Isla, recently indicated that the group will focus on developing a stronger web presence, promising to sell all of its brands online by 2020 and ship to markets where the company doesn't currently operate bricks and mortar shops.
Get our NEW daily digest of the morning's most important headlines for innovative Irish businesses.