'A good moment in time': After three years Zalando says it's ready to take on the Irish market
The online retailer's Dublin office powers much of its data analytics operations.
WHITE ADIDAS SNEAKERS. That was one of the first items purchased the week that fashion site Zalando launched its Irish online store.
By coincidence, it's the very footwear that Zalando co-chief executive Rubin Ritter is sporting on his visit to Dublin to launch the site.
The publicly-listed German fashion e-commerce player operates in several countries around Europe. Founded in 2008, it has 15,000 employees with revenues of €4.5 billion in 2017.
Ireland, alongside the Czech Republic, are the first new markets it has opened up in since 2013.
Despite the bells and whistles of the Irish store launch, Zalando has had a presence in Ireland for three years.
Its offices in Silicon Docks house its 'fashion insights centre', a tech development base for research and development and big data analytics using machine learning and artificial intelligence – it staffs 110 people.
"We have been thinking about launching here for a while now," Ritter said on why it took so long for the company to dip its toes into the Irish market.
"It was just also a question of priorities, we have a lot of topics that we are driving.
"We have a lot of areas that we are investing into and I think over the last few years our pipelines have been so full that we didn't find the time and the capacity to do it in a proper way."
The company has invested heavily in its technology development and building a network of 11 warehouses around Europe to streamline logistics.
"There were so many priorities that we were not able to do this (in Ireland) in the last years but now it's a good moment in time to do it," Ritter said.
"We also think that our proposition has grown so strong that it will give us quite a lot of advantage towards the Irish consumer."
In the coming months, Ritter expects that Zalando "will learn a lot about how people here shop fashion" beyond Adidas runners.
Adapting and localising the company's services to each market is an important component of the company's business, he added.
"It's incredibly important when you look at Europe, you think of it as one market because it's very connected and it's easy to do commerce across borders but then you look at consumer behaviour, it's extremely local," he said
"Typically what we do is we launch with our proposition and we look at the data and we look at the behaviour over time and tailor more to consumer needs."
All about the data
The Dublin office is largely responsible for data science and engineering and collaborates with the Berlin teams as well. It examines data around how people are searching and browsing the stores to optimise the experience in each market.
The firm recently hired its VP of information Sean Mullaney from Google, where he oversaw big data and engineering teams, to head up Zalando's 'fashion insights centre' in Dublin.
"I've inherited a great team here and they've built the team in almost three years to over 100 engineers and data scientists," he said.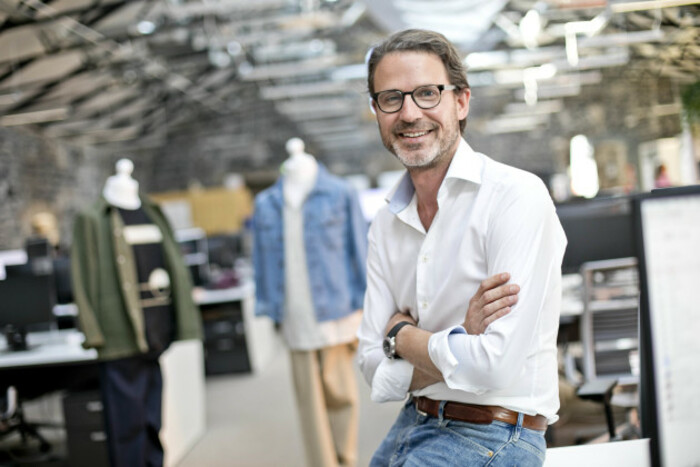 Source: Chris Bellew/Fennell Photography
"The quality of the candidates coming through the door at the moment is very high," he added but the competition for talent in Dublin, and globally, is "intense and fierce".
Zalando has invested heavily in its data science units and engages frequently with the community by publishing research and collaborating with universities.
"I think that's paid off a lot in terms of being able to attract top talent into the company," said Mullaney.
The office is continuing to hire and keeps emerging technologies on its radar.
"The fashion industry has always been looking at AR and VR and these different types of virtual experiences to see whether we can improve the customer experience," Mullaney explained.
"Once those technologies start to mature and move out of early adopter stage, I'm sure we'll be looking at all of them."
Growing teams
As a growing tech company in Dublin, the firm faces issues around office accommodation.
The recent announcement from Amazon Web Services that it would create 1,000 jobs in Dublin once again brought up the issue of the housing crisis and new workers flooding into the market will live.
Zalando hires locally and internationally for the Dublin office, said Deirdre O'Brien, the site lead for Ireland.
She added there has been an increase in interest from London-based professionals looking at relocating to Dublin.
"Obviously (the housing shortage) is something that we're aware of. It hasn't been anything that's caused us issues. We provide quite a lot of relocation support to employees. Within their first month we'd give them a lot of support."
Zalando is quick to tout that it is a pan-European company so Brexit is a concern too. Despite its 11 warehouses around the continent, it still ships across borders.
"I think that Brexit in principle will not impact the way that people shop fashion and continue to shop fashion. They will also continue to want to buy more online," Ritter said.
Zalando has no immediate plans to open a warehouse in Ireland – that will depend on customer uptake here first.
Regardless, the company is "not excited" about the prospects of Brexit, according to Ritter, given the company's reliance on the ease of cross-border commerce in the EU.
"It's a development to us as a company that is concerning overall but we live with the realities," he said.
"There are also several markets that we ship into that have tariffs, we ship into Switzerland, we ship into Norway quite successfully. I think we can work out all of these things."
Sign up to our newsletter to receive a regular digest of Fora's top articles delivered to your inbox.