Yelp's Dublin office is in the firing line as the site declares an international retreat
The company plans to cut 175 staff worldwide as it focuses on the US market.
UP TO 100 jobs in the Dublin offices of business review site Yelp could be cut as the company scales back its international operations.
The San Francisco-based company yesterday announced it had recorded net revenue of $186 million in the third quarter of 2016 – a 30% increase over the same period in 2015.
However despite recording a slender profit of $2.1 million, the company also said it plans to cut up to 175 jobs outside its core North American operations.
The review site first set up in Ireland in 2010 and two years ago it announced it was setting up a new European base in Dublin with plans to add 100 jobs.
In a statement, Yelp said: "The company currently anticipates recording a restructuring charge of $2 million to $4 million in the fourth quarter of 2016 associated with the planned wind down of its sales and marketing activities outside the US and Canada.
"The majority of the anticipated expense relates to severance for up to 175 of Yelp's 4,350 employees."
While the company hasn't specified in which overseas offices the cuts will mainly fall, it has pledged to grow its engineering operations in London and Hamburg.
Outside those hubs, Yelp's main international sites are in Dublin and Stockholm.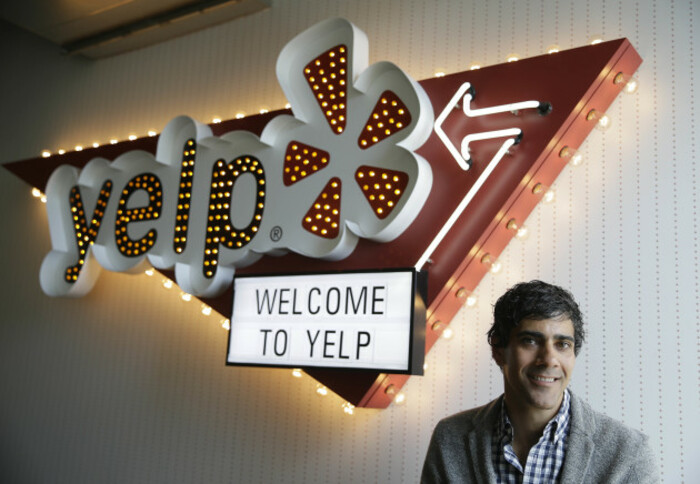 Source: AP Photo/Eric Risberg, File
'Not an easy decision' 
In a statement, Jeremy Stoppelman, Yelp's co-founder and chief executive officer, said the company's business in the US had "accelerated this year" but the firm had been slow to make inroads in other markets.
"We have not yet achieved the same level of traction internationally and we have decided to redirect our resources towards the domestic opportunity for now. This was not an easy decision as it affects our valued colleagues abroad, however it allows us to sharpen our focus on the large, profitable and rapidly growing domestic business."
The most recent accounts for Yelp Ireland, to the end of 2014, show the company had a turnover of €33.1 million and delivered a profit of €1.34 million. It had an average of 60 staff that year, up from 25 in 2013. The vast majority were employed in sales and marketing.
In a statement on potential job losses in Ireland, Yelp said Dublin would be "part of (the) process" of scaling down the company's international sales and marketing operations.
The company added it is working through "a transition process" with its Dublin staff and can't give further information until this has been completed.
Note: This article has been updated to include a response from Yelp.
Reporting by Órla Ryan and Peter Bodkin
read more on