'People like to be recognised': The Cork startup bridging the gap between managers and staff
As part of our weekly Startup Spotlight series, we profile Workvivo.
EMPLOYERS ARE TOO focused on managing their staff – rather than engaging with them, according to Workvivo chief executive John Goulding.
The Cork-based startup is trying to take on the problem with its own workplace software tool to help bridge the gap between the higher-ups and the rank-and-file.
Goulding was previously chief executive of Dublin's CoreHR, which develops human resources software, and could see a widening opportunity for employee engagement tools.
Along with co-founder Joe Lennon, another CoreHR alumni, the company has built a platform that meshes employee engagement with internal communications.
Beyond the standard messaging functions, the cloud-based solution helps companies, managers and staff track goals and targets.
"The market was moving away from talent management and recognising the greater effectiveness of employee engagement," Goulding says.
He defines employee engagement as having four main pillars: an employee's connection with the goals of the organisation, a culture of recognition for one's work, effective measurement and strong communication.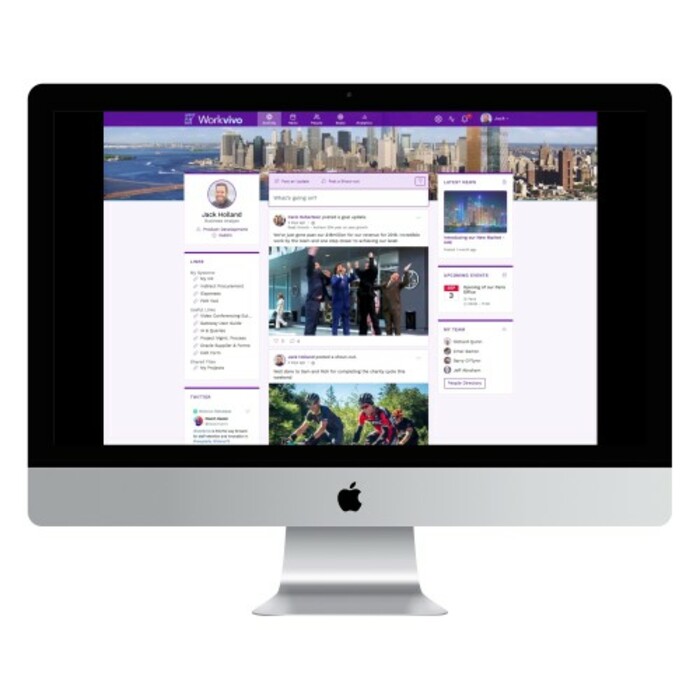 Source: Workvivo
Many companies struggle with boosting both morale and productivity, he says, making engagement particularly important.
"Every company has goals but your average employee typically isn't aware of the goals or doesn't see an emotional connection to the goals," he says.
"Organisations struggle to establish that connection, but where you do establish the connection and where your average employee is aware of the goals, that he feels connected to it, then you have a much greater chance of success."
Engagement is particularly important for uniting and connecting with staff across multiple offices and locations.
"People like to be recognised, people are more engaged when they feel like they're being recognised."
Workvivo is currently being used by four companies, including Irish outsourcing giant Voxpro, to connect 10,000 employees in countries like Ireland, the UK, the US, Canada and Australia.
The company is close to getting seven more companies to sign on the dotted line as customers, Goulding adds.
Social media design
Workvivo's mobile app and desktop versions look very much like standard social media platforms' layout and design.
"We needed to design the system to align with how people are digesting information today," Goulding says.
The "social media type of structure" helps people respond and make sense of information quicker, he explains.
"For a CEO to communicate something around the goal, he can sit down and construct a two-page email or he can send an image with a couple of lines and an update. People are more likely to read and consume the social media type of post."
It's a similar method to that's used by Slack, which has brought the usability of social media and messenger apps to workplace communications.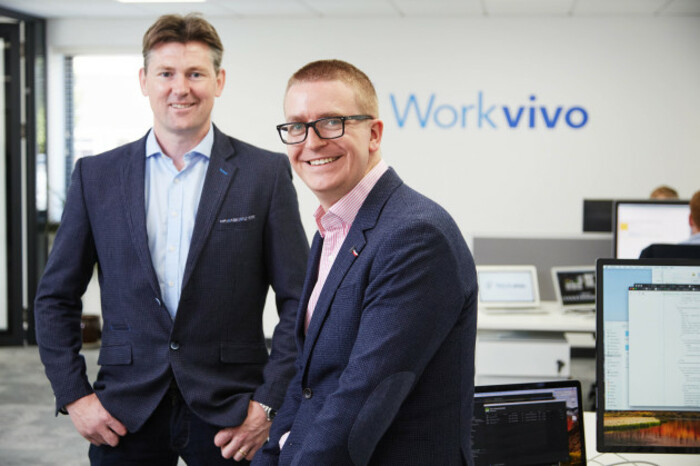 Source: Miki Barlok
The strategy has paid off for the $5 billion-dollar company. Slack is now the most dominant player in the market and just recently, it further consolidated its grip with the acquisition of long-time competitor HipChat.
So how does an upstart like Workvivo plan to get a foothold in a realm where giants like Slack already dominate? Goulding doesn't see it as straightforward as that, adding that the six-person startup isn't trying to take business from Slack.
"We feel we would compete with the likes of Yammer, the likes of Workplace by Facebook. We don't really feel we compete with Slack -but even Facebook, Yammer, they're more collaboration tools," he says.
"They're all communication tools, but they seem to be more focused on collaboration – whereas our tool is very much structured around the things that are important for employee engagement, so it's not communication for the sake of it.
"If you look at the structure of what gets communicated, how it gets communicated, it all ties back to the goals of the organisation, culture, and recognition."
Funding
Workvivo has raised €510,000 in funding to date, including €250,000 from Enterprise Ireland and €260,000 from private investors. With this funding in tow, the company has no aspirations to raise any more money in the near future.
Perhaps taking a leaf from the book of fellow Corkonians Teamwork, Workvivo is going to try to bootstrap the rest of the way, at least for the foreseeable future.
"We're trying to avoid looking for investment until closer to the end of 2019," Goulding says, adding that the company is "comfortable" in its position to reach that goal.
"We're trying to make sure that we're completely focused on winning customers rather than winning investment," he says.
"I think they're two very different things, and for us right now the focus is on running the company, winning customers, continuing to evolve the product and react to what the market is looking for.
"I think sometimes the whole investment process can be distracting and I'd rather not have to look at that until later next year."
Sign up to our newsletter to receive a regular digest of Fora's top articles delivered to your inbox.