Why this tech professional left a multinational to become a Mayo hypnotherapist
As part of our How My Business Works series, we profile Castlebar broadband firm Westnet.
AFTER WORKING IN the tech industry for over a decade, Paul Cunnane decided to pack it in and move from Dublin to Mayo to work as a hypnotherapist.
It was a big shift, to put it mildly, but he was fed up. He was one of those unlucky souls working in an IT company around the time of the dot-com crash.
Like a lot of companies around the turn of the millennium, Mattel, the multinational toymaker best known for producing Barbie dolls and Hot Wheels cars, decided it wanted to get into software.
In 1998 it acquired The Learning Company and created Mattel Interactive, which mostly focused on producing video games based on the company's toys.
The agreement was worth billions and would later be singled out as one of the worst deals of the era as Mattel Interactive hemorrhaged money.
Cunnane was leading a small software team in Dublin, but he was also one of the senior managers for the European arm of Mattel Interactive when the tech bubble burst.
Mattel decided it wanted to sell the division, and that meant that Cunnane had to help the other senior managers take an axe to staff.
"All the senior managers had to get together in the company and start drawing lines through people's names," he says.
"I had got to know a lot of the people, so it wasn't an abstract exercise. I was laying off people who I had fond friendships with, I was making the decision of who wouldn't have a job next week."
Disillusioned
Cunnane isn't sure exactly how many people were employed across Mattel Interactive Europe at the time, but it was "in the scale of hundreds" and about a third of those people went.
"It took a lot of fun out of what had been a fun place to work," he says.
"I worked there for about six months after that, I was just working out my notice. They may have preferred if I stayed, but I wasn't feeling it anymore.
"I was disillusioned enough at this stage that I wanted something radically different. When I was in Dublin I did a part-time course in hypnotherapy out of curiosity and decided to see if I could make something out of that."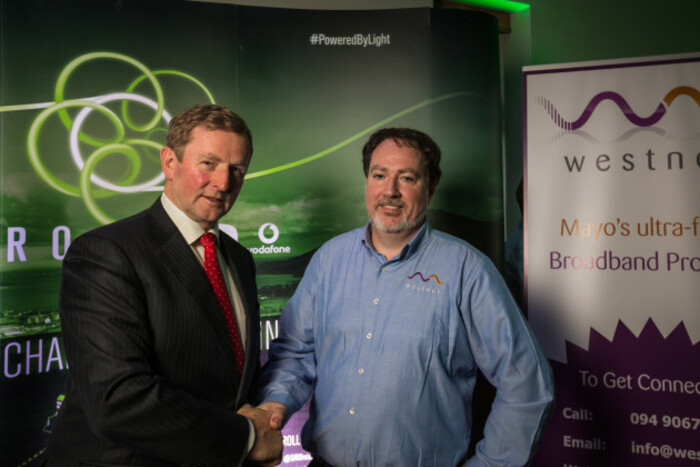 Source: Keith Heneghan/Phocus
His then wife was from Mayo, so in 2001 the pair moved west. Things went OK initially, with Cunnane working to help people with challenges like quitting smoking.
However, he quickly ran into a problem. Moving from Dublin to a rural part of Mayo, he was appalled to find that he couldn't even get a basic broadband connection where he lived.
"I had a personal battle with Eircom, I kept calling them. I remember I was at a party with some Eircom person and he snapped and said, 'Will you stop asking about broadband! You will never get broadband where you live.'
"That was a red rag to a bull."
Cunnane formed a co-op with a few other locals who all chipped in and built a wireless network together so the area could get connected.
Westnet formed
Buoyed, he tried to get other communities to do the same thing but found that most didn't have the expertise or the time to set up broadband themselves.
He and five others pooled their money together and in 2005 set up Westnet, a firm which was focused on providing broadband connections to people across Mayo. The company connected customers through DSL – broadband delivered via existing phone lines.
"At the time there were maybe four towns in Mayo that had broadband, so we had to put radio links all the way to Galway city," Cunnane says.
"Customers come to us and we install a connection to their house. A lot of the builds initially were done with the help of community leaders, but in the last eight or nine years it has been on a normal commercial basis."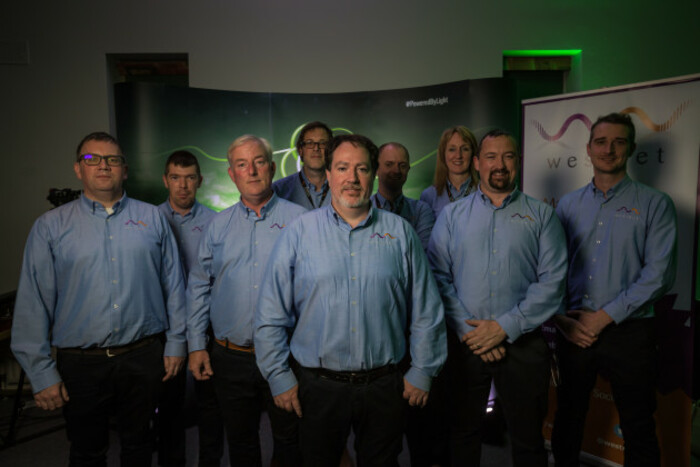 Source: Keith Heneghan/Phocus
The firm grew slowly and now employs just over a dozen people. It turned over €2 million last year and recorded a profit of just over €80,000 in the 12 months to the end of 2016.
While connecting homes was a big part of its business in the early years, the company has changed tack with the onset of fibre broadband.
Building fibre connections is expensive. While Westnet will do it sometimes for large customers, such as for a big hotel, now the firm operates more as a retail broadband provider.
Like Sky or Vodafone, it will often use lines built by Eir to connect to customers homes and sell them access to the internet.
"When Eir provide the fibre, anyone can provide a service with that network. Lots of people are connected with Eir, but some use different providers," he says.
"We probably have around 4,000 customers. Our business is heavily skewed towards residential, but we do have a decent business side of things."
No-frills
The company has customers across Mayo and also covers parts of neighbouring countries such as Roscommon and Galway.
"The strategy for us is to stay focused on the western region, not necessarily just in Mayo. We can offer a more local service. Our call centre and engineers are all local, it's more hands-on."
Its status as a local operator is one of the main aspects that Westnet pushes to try to get a leg up on its competitors, while the other is its no-frills offering.
"Everyone has the same input costs, so there is always a question of how you differentiate yourself," Cunnane says.
"Eir, Vodafone, etc, tend to be about pushing bundles, for example broadband with phones and TV.
"There is a young adult demographic that has never had a landline and can't understand why you would want to have one. We just go in and say to people that we will give you broadband, and this is what it costs.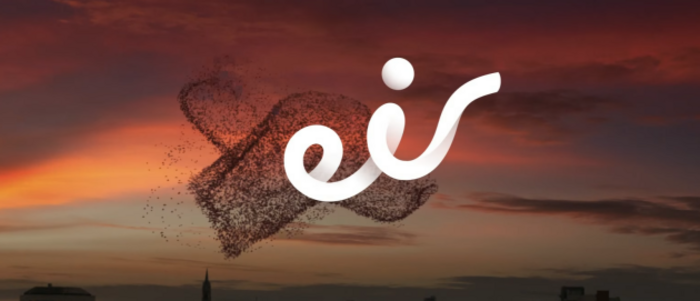 Source: Youtube
"The contracts tend to be for 12 months, and there is no install charge and no data cap. Depending on the type of connection, people can have it from as little as €40 per month. It's simple."
Consolidation
Westnet doesn't have a grand plan for national domination, or at least not one that Cunnane is sharing.
He says that the company has had year-on-year growth every year since its inception and just wants to keep growing.
"If we keep that curve going up for as long as we can, that will make us very happy," he says.
Nevertheless, Cunnane does see consolidation on the horizon: in his opinion, there are too many regional broadband providers that each have their own little corner of the Irish market.
"There have been some small ISPs (internet service providers) that we have bought out, but as you get bigger in scale every business is someone's baby," he says.
"People may not be as pragmatic as they otherwise might be, it would give me pause."
So would Cunnane consider giving up Westnet? Sell up and make a long-awaited return to hypnotherapy?
"I have to accept that I'm an IT guy," he laughs. "In terms of where that will be, I don't know. The future as far as I can see involves Westnet. In terms of after that I don't know, but at the moment there is plenty for me to keep focused on."
This article is part of our weekly series examining the nuts and bolts of businesses. If you would like to see your company featured please email news@fora.ie.