The battery that powers your phone is one of the recycling sector's big challenges
So says not-for-profit WEEE Ireland, which collected more than 36,000 tonnes of electronics waste last year.
THE RISE OF lithium batteries – the power source behind everything from smartphones to electric cars – is one of biggest challenges facing the wider waste management sector, according to the group tasked with helping consumers recycle old electronics for free. 
Not-for-profit organisation WEEE Ireland, which oversees the country's largest electronics and batteries recycling scheme, today announced in its annual report that it collected more than 36,000 tonnes of electronics waste and over 850 tonnes of used batteries in 2018, surpassing national targets for the year.
The group – whose blue recycling boxes are a common feature in shops, offices and schools across Ireland – estimated that this prevented the equivalent of 220,000 tonnes of CO2 emissions if the same items had been sent to a landfill.
WEEE Ireland noted in its report that the collection of waste lithium batteries has more than doubled over the last five years to 24.5 tonnes.
Although it only accounts for a small proportion of the overall waste collected by WEEE, this has required "significant investment" in safety equipment and staff training. This is  because lithium batteries have an extended life cycle compared to other power sources and require specialist waste treatment due to a risk of fire and explosion.
Speaking to Fora, Leo Donovan, the WEEE Ireland chief executive, said the organisation is working with the motor industry in particular to ensure that there are systems in place to safely deal with electric vehicle batteries that have reached the end of their life cycles.
"As we move and progress from old technology into newer technology that creates good environmental results, but at the same time we then have to set up the infrastructure for the take-back of those materials and end of life," he said.
"At the moment that is a material that would need to be incinerated and disposed of. The question is, how can that be brought back into a reused product?" Donovan added, noting that many battery manufacturers are carrying out research and development to solve that problem.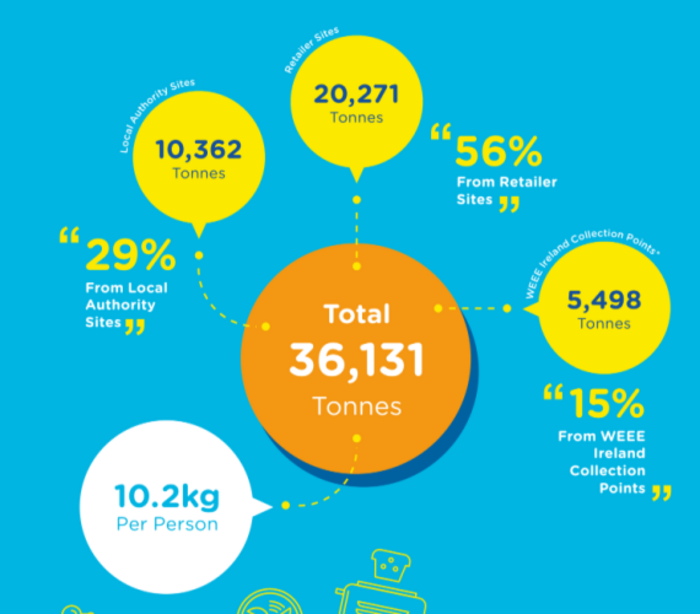 Source: WEEE Ireland
Click here to view a larger version
Reflecting on WEEE Ireland's performance last year, Donovan said increased consumer participation in recycling overall, schemes provided by retailers and improved local authority recycling facilities helped the group hit its national targets.
[embed id="embed_2"]
Donovan said WEEE is focused on improving consumer awareness of free electronics recycling, noting that some 24% of punters are unaware of the scheme.
"Our biggest challenge, still to this day, is to keep that education programme going. We have a schools programme where we're very much with the primary school kids. It's actually interesting now that those children who were 10 years of age when we started the scheme are now in their mid-20s.
"Hopefully they're bringing through that message they were taught when they were 10 year olds. You're probably seeing that now with the new generation and that green wave," he said.
Get our Daily Briefing with the morning's most important headlines for innovative Irish businesses.