Web Summit's profits took a dive during its final year in Dublin
But the event's parent company has been expanding fast as it rolls out new conferences.
PROFITS AT THE Paddy Cosgrave-led Web Summit plunged during its final year before the company relocated its flagship event from Dublin to Lisbon.
New accounts for the tech conference's parent, Manders Terrace, show net income dropped to €128,000 in 2015 – down from €715,000 the previous year.
Web Summit held its last major conference in the Irish capital in 2015, announcing before the gathering that it was shifting the event to Portugal.
It was later revealed that Portuguese government agencies were paying €1.3 million per year to host the conference.
The change of venue marked an acrimonious parting of ways between Web Summit organisers and Irish state bodies, whose €800,000-odd spend on the event during its lifetime was later dismissed by Cosgrave as "hush money".
Web Summit's 2015 accounts don't disclose the firm's revenue for the year, however reported gross profits jumped from €6.25 million to €6.9 million when compared to the prior 12 months.
The increased gross income was eaten away with rising administrative expenses, which climbed from €5.36 million in 2014 to €6.67 million the following year.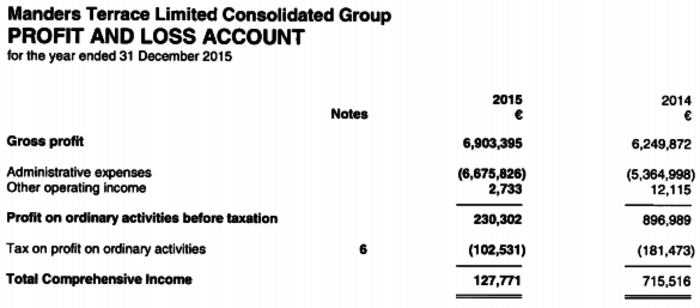 Expansion
The year marked a period of significant expansion for the conference, as it hired extra staff and moved into new offices in Dublin.
It addition to its flagship Web Summit conference, the events firm also runs Collision in New Orleans, Rise in Hong Kong, Surge in India and MoneyConf in Madrid.
The company reported assets of €5.81 million, including €3.77 million it was owed by debtors, while it owed just under €5 million to creditors to be repaid within 12 months.
It listed an average of 106 employees on its payroll for the year, up from 69 in 2014. They were paid an average of €36,482 in wages and salaries.
The firm's three directors – Cosgrave, Daire Hickey and David Kelly - were paid a combined €372,000 for the year, up from €288,800 in 2014.
The trio are also the company's owners, with CEO Cosgrave holding more than four-fifths of the shares.
Web Summit recently announced plans to hire another 40 staff to add to the 150 workers currently on its books.
Among the possible recruits will be an 'Irish government affairs manager' based in Dublin. The firm is weighing the relocation of its MoneyConf from Madrid to Dublin, although locations in Edinburgh and Paris are also on the cards.
A spokesman for Web Summit told Fora the company didn't comment on its financial results.
Sign up to our newsletter to receive a regular digest of Fora's top articles delivered to your inbox.
read more on