'It's about a mentality shift': We Got Pop founder Kate McLaughlin plots a course through the Covid-19 outbreak
The Dubliner is planning for the London company's future following its recent sale to a US giant.
WE GOT POP founder Kate McLaughlin is doing her best to shift mentality in her business as it plots a path through the Covid-19 outbreak.
"You're not going to be customer-facing so how can you turn all the smart people you have in your business to value-driving activity?" the Dubliner said.
"If we use this time right, we can use this as a moment in our business's history to create great value that we can come back to the industry with, once the production space is back up and running. " 
The outbreak came as the London-based company was planning its future following its sale to US giant Entertainment Partners earlier this month. 
Entertainment Partners owns the largest casting company in the US, the Central Casting company, which has been involved in casting for the likes of Blue Bloods, Criminal Minds and The Good Place. Though the exact sum wasn't disclosed, the sale was a multi-million dollar transaction. 
Like many industries during the outbreak, "the production industry has just shut up – as it should – to protect the people who work in production," We Got Pop founder Kate McLaughlin said. 
"It obviously slows revenue because there is little or no revenue coming in at this point," she said. 
We Got Pop was founded six years ago in London by Dubliner McLaughlin, who studied drama and theatre at Trinity College Dublin before transitioning into freelance work in the film industry. 
"I had seen first hand both the painful manual processes that are involved in the production world and the challenges with the disconnect between what happens on productions and in the trenches," she said. 
The company currently employs 45 people and plans to double its numbers in the next 12 to 18 months. McLaughlin will be remaining in the company and running operations for Entertainment Partners in Europe.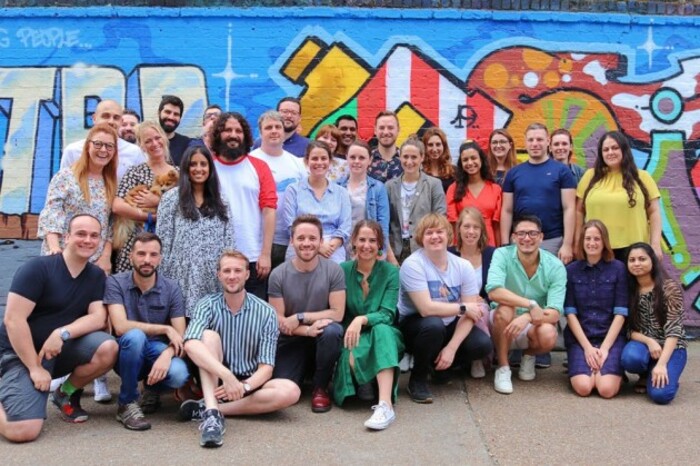 Source: We Got Pop
'Smarter, fairer entertainment industry'
Before the sale, McLaughlin had already been in touch with Central Casting boss Jennifer Bender over the years and had demoed her company's product for the US giant several times. 
"Jen got in touch last summer to say they were looking at technology for Central Casting, and we commenced a commercial negotiation for the use of (We Got) Pop across all of their offices," McLaughlin said. 
"It was on that journey that…we realised that there was a lot of strategic alignment in terms of our vision for the industry…and how we saw how technology was driving a lot of the change that we felt the industry was needing."
That vision is for a "smarter, fairer entertainment industry," she said, adding that "the exciting thing is that there's no massive difference to our short and medium-term trajectory."
In the coming months the company will roll-out its technology platform across the US with Casting Central, then will continue to drive adoption and value in the UK industry. The parent company's relationships with studios nationwide will also be "hugely valuable" to the London-based company. 
"We're actually quite excited about some of the innovations that we can get done during this time," McLaughlin said, adding that the company will use the time without client feedback to work on a backlog of features and enhancements for the future. 
'There's no problem here'
"As a freelancer, I felt massively out of control of my career, as did most of my peers, because usually there's no way to look for what jobs are out there. You have to wait for people to call you, so you're completely reliant on your network to get jobs," McLaughlin said. 
This is largely down to productions working in a "pop-up model". Although a lot of the time this works well, "the challenge with that pop-up model is that there has been no business continuity for the last 50 years."
The result is a reliance on older, offline methods, which means the industry is "disconnected, not open or transparent and wildly inefficient", she added. 
"When I started Pop in early 2014 I would talk to studios and they'd be like 'there's no problem here,'" she said. 
That landscape has changed in the last six years, and now there's 100% an understanding that there's a massive shared problem in the industry, and technology is the solution," she added. 
'Content arms race'
About 50% of productions in the UK use We Got Pop's technology in some way, according to McLaughlin.
For such a hi-tech industry when it comes to what is on the screen, only around 30% of it is looking at innovations to help studios and productions work more effectively while "a much greater swathe" is just starting to dabble. 
For Central Casting and We Got Pop, this means "there are still huge opportunities both in the UK and globally to really drive technology and innovation and support production companies and studios to work in a more effective way," McLaughlin said.
"There's this macro trend towards the future of work, so … with the Covid-19 crisis, we're seeing this real drive for why we need to have a distributed workforce and project-based activity," she added. 
"We in no way want to disrupt the pop-up nature of production. We just want to be the platform that supports that way of working and optimises it for everybody involved."
She added that "it's a super exciting time to be part of the industry … because there's huge changes to the dynamics and the type of content that's created, what the motivators are, and how content is created and optimised."
From a business perspective, studios need to make sure that the cash put into a production is being optimised on-screen – and not "wasted in inefficiency."
This will be "hugely important for any of these players if they want to win the content arms race," she said, citing the likes of Netflix, Amazon and Hulu as well as traditional studios. 
"Post this delay, all of those studios still have that budget and still have that screen time they need to fill. So there's going to be a glut of content, and pressure in the industry to get content made fast. It's going to be an exciting moment when things come back online."
Get our Daily Briefing with the morning's most important headlines for innovative Irish businesses.