'Wind and wave are our oil and gas': How Ireland could harness the power of the ocean
The wave energy industry has potential, but it won't all be plain sailing.
A BUOY THAT generates electricity from waves made the 2,300 nautical mile journey from Portland to Hawaii, reaching the island of O'ahu last Tuesday.
Owned by Cork-based Ocean Energy and developed in Ireland, it will hook up to the Hawaiian grid. 
While it might only create a fraction of the amount of electricity needed for the island, according to Niall O'Muilleoir that's not really the point at the moment.
For O'Muilleoir, a director of Ocean Energy, right now the aim of the $12 million project is to show the potential to harness wave energy.
Experts are optimistic about the future of wave energy. In Ireland, the government's aim to generate 70% of electricity from renewable sources by 2030 is seen positively but the industry is still at its early stages, competing with wind energy and still without a leading technology.
Ocean Energy could change that. Part-funded by the US Department of Energy (DOE) and the Sustainable Energy Authority of Ireland (SEAI), its tech works as an oscillating column and lets the wave movement create a stream of air that is harnessed into electricity.
"Other devices have used this technology but not this way and not to this scale," O'Muilleoir explained.
It's estimated that wave energy could deliver up to 15% of the US's annual electricity demand, according to the US DOE. Closer to home, SEAI estimates that its potential is significant for the Irish economy, with an estimated market value of $18 billion by 2050.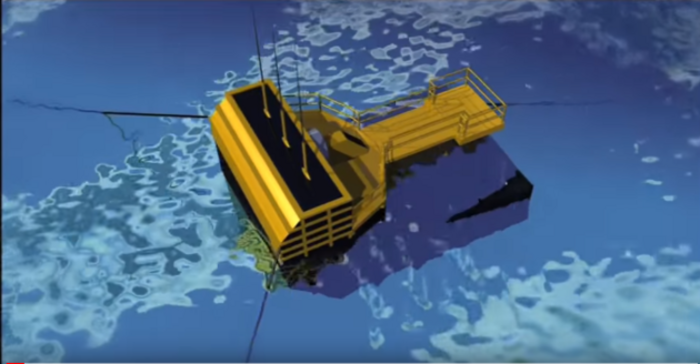 Source: Youtube/energyocean
Oil and gas of Ireland
For John Breslin, the general manager of Galway-based non-profit organisation Smart Bay Ireland – which acts as a test-bed for offshore renewable energy projects, the potential for Ireland to harness wave energy is huge.
Ocean Energy tested a quarter-scale model of its buoy for eighteen months off the coast of Galway with Smart Bay, collecting data that bettered the system.
"Wind and wave are our oil and gas. It's there to be harnessed," Breslin said, pointing to the fact that Ireland's sea area is ten times its land area.
He said Ireland could become an exporter of its wind and wave energy if the country builds more interconnectors. Currently, there is one developed by Eirgrid that links Ireland to Britain, with plans in the pipeline for a €1 billion connection between Ireland and France.
Breslin said that wave technology still needs to reach commercial readiness – which he estimates will happen in the next 10 to 15 years – but things are starting to change with an increase in support at government level.
As well as the pledge to have 70% renewable energy supplied to the national grid and EirGrid's plans to invest €2 billion in that transformation, the government has announced it will subsidise the cost of electricity generated from wind turbines under the first strand of the Renewable Energy Support scheme. 
Clodagh McGrath, the environment and consents manager at renewable energy developer DP Energy, told Fora both the tidal and wave energy industry are facing increased competition from offshore wind.
The company is currently overseeing four marine projects across Canada, Scotland and Northern Ireland, focusing on tidal energy – which harnesses kinetic energy from changing tides.
She made the point that when tidal energy was first being developed various governments around the world had subsidies in place – including the UK.
"The industry was able to further develop its technology and streamline it and become more cost-efficient but that hasn't yet happened with wave," she said.
Despite this, she said it is an "interesting time in Ireland" with legislative and policy changes happening.
She referenced the government's promise to increase offshore wind development, saying the move is in the right direction.
The company has been speaking to the Irish government about developments and has expressed interest in a hybrid development off the west coast of Ireland that would harness both offshore wind and wave energy.
It has also submitted an application for an offshore wind floating device off the south coast.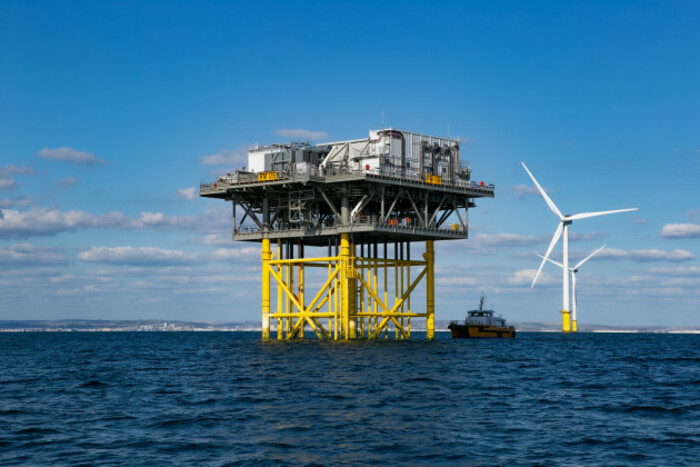 Source: Matt Duckett
Challenges
For Jimmy Murphy, who leads the Lir National Ocean Test Facility and UCC's Marine and Renewable Energy Ireland (MaREI) centre, there are many challenges facing the wave industry – from the survivability of the technology in rough weather to their cost.
Ocean Energy tested a model of its technology 50 times smaller in size than the buoy that will be deployed in Hawaii at Lir's tank test facility and got the go-ahead to test in Galway Bay.
"They don't produce energy for really big waves, so designing a technology that can operate and survive extreme Atlantic environments is a big challenge for the industry," he told Fora.
"There's no wave farm in existence worldwide, some of the problem is to do with survivability and another big issue is cost," he explained.
Murphy outlined that at present wave energy is competing with offshore wind which costs less than 10 cents per kilowatt-hour, whereas wave energy can currently cost five times that.
"Wave is struggling at the minute because in funding rounds it's up against offshore and it can't compete," he explained.
Murphy said for wave energy to become a viable option there needs to be more money invested by both private investors and the government.
"At the moment there isn't confidence in wave energy from investors, so any success like that of Ocean Energy's project will help develop the industry," he said.
He also highlighted the industry is fragmented, with over ten different technologies being developed at the moment.
"Part of the challenge is that there isn't a leader in the field. There should be more convergence in technologies so there are just three or four different types of technologies," he added.
Get our Daily Briefing with the morning's most important headlines for innovative Irish businesses.
Correction: This article has been amended to show that the buoy travelled from Portlamd, Oregon and not Ireland.