Virtual reality marketing is in vogue – but brands beware the novelty factor
Cheaper technology has put VR in reach of many more firms.
WHEN VIRTUAL REALITY made its debut in the 1990s, the devices were cumbersome – and prohibitively expensive for all but the wealthiest users.
But as equipment prices plummet, the technology is in vogue as many marketers' latest gimmick to draw in customers.
In Ireland, 'experiential' marketing agency BEcause is trying to position itself as the go-to place for brands looking for out-of-the-box campaigns – such as showcasing their products or services with virtual reality (VR).
But the firm's managing director, Jonny Davis, said brands can't rely on just the novelty factor of VR to draw consumers in for much longer.
"It is very straightforward now – people will just put on the headset and try it out irrelevant of what the content is," he said.
"In a year's time, that won't be the case. People won't just be interested in the headset, it's going to be about trying an experience."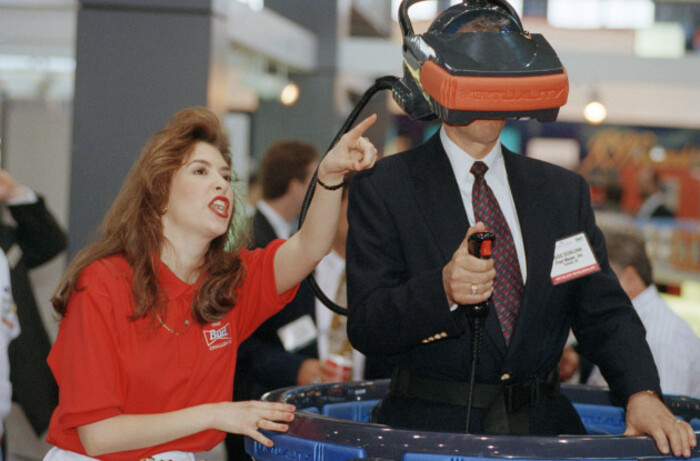 Source: AP/Press Association Images
He added that some brands flocking to the idea of VR are at risk of wasting budgets on projects that aren't a right fit for the technology.
"People can be lazy and think we will invest in it because it's the next big thing. I think the mistake is that people want to use whatever the tech is, rather than thinking about what they're trying to sell.
"I don't really like when someone comes along and says they just want to do a VR campaign.
"I ask them, 'what is success' and then if we get that idea and build out those metrics, then we are able to say that for this instance a VR campaign would work to get a message across."
Not for novelty
As huge technology companies like Google, Facebook and Samsung invest heavily in the VR industry – which is expected to be worth $1 billion this year – the world's biggest consumer brands are also jumping on the bandwagon.
Coca-Cola used VR to create a simulated ride in Santa's sleigh for its Christmas marketing campaign last year, and McDonald's has made VR headsets out Happy Meal boxes that can be used to play games on its app.
Irish property firm Sherry Fitzgerald was one of the first businesses to adopt the technology for its marketing campaigns when it started offering virtual tours of homes in then-unfinished developments at Lucan and Stepaside.
The company's technology director, Brian Dooley, said some house hunters were wary of taking the virtual tours at face value, but all 12 units on offer in the Stepaside development were sold based solely on the VR experience.
Source: Sherry Fitzgerald
"There is a bit of trepidation in terms of how accurate these virtual tours really are compared to reality," he said.
"When the house was actually built, we had the virtual tour for viewing available as well in the property, so people could do a direct side-by-side comparison of the two. The two were very close, so we were really impressed with how it worked."
He added that the project was never about novelty value and that the attitude from the start was to make VR an important part of the buying process.
"It is only novelty if it doesn't deliver value, and this is delivering. You could say it is gimmicky and people are jumping onto it because it is the latest fad, but we found that it has genuine value.
"Historically people were effectively trying to buy a house off a 2D floor plan and a set of measurements on a page and an artist's impression of what a house would look like. So they really were buying in the dark, whereas now you have a better feel of dimensions using VR."
Dooley said the first venture into virtual house tours had been a stepping stone for the company, with plans in place to put a VR headset in each of the firm's branches in the near future.
He added that Sherry Fitzgerald has already launched the next phase of its VR project with virtual tours of already-built houses.
Becoming popular
Although VR remains more costly than social media marketing campaigns – and has a low reach compared to the likes of TV or radio slots – the tool is increasingly falling within reach of smaller businesses.
That is due to lower prices for both VR headsets, and the ability of basic video devices, like smartphones, to now shoot high-quality footage suitable for a VR experience.
Davis said his agency, which recently rebranded from Imagine Agency after a merger, currently quotes brands around €100,000 to add VR to a marketing campaign – although that figure varies widely depending on the brief.
[embed id="embed_3"]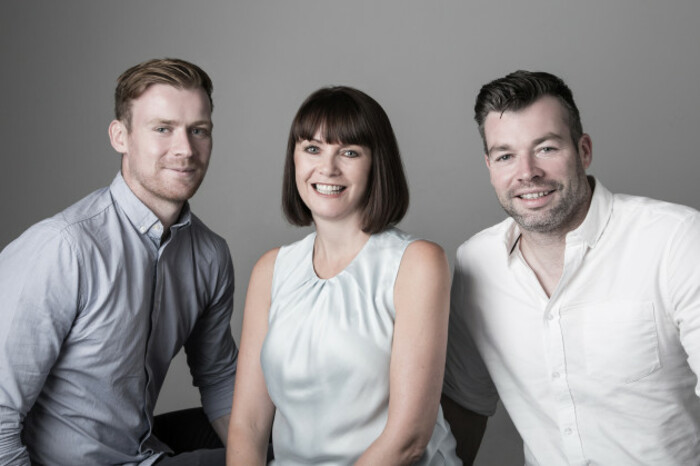 Source: BEcause Ireland
"It's a little bit like saying how much does a TV advert cost to make – there is no single answer on it because of all the variables.
"For example, we need to know if you already have footage or whether we are going to buy it in. It's getting cheaper every day, which is good."
Mainstream
One VR campaign that the BEcause agency helped develop was a virtual rollercoaster-style experience for cheesemakers Boursin.
It simulated users being shrunk to fit into a fridge, and then took them on a tour of their surroundings to show the ingredients that go into the cheese products.
The firm was also behind a campaign for the World Wildlife Fund that tried to replicate the experience of park rangers fending off tiger poachers.
Davis said while a VR experience was by its nature attention-grabbing – guaranteeing nearly 100% of consumers' attention for a short period – there was still a big problem with proving the effects it had on spending habits.
Nevertheless, the technology is on the verge of become mainstream and usable for mass-market advertising thanks to the affordability of devices that allow for basic VR experiences with only smartphones.
"With the likes of Google Cardboard, you can get those into people's hands very quickly and even do VR at an event," Davis said.
"You could send 100,000 cardboard headsets out as part of a newspaper campaign and have the video on YouTube 360 – that would be pretty mainstream."
read more on