VideoDoc is backing a new Irish video-vet service for pets
VideoVet is due to launch here in March ahead of a potential rollout in the UK.
A VIDEO-VET SERVICE backed by telehealth provider VideoDoc is gearing up to launch online consultations across the country.
Due to go live in March, the new business will initially target an Ireland-wide pool of pet owners ahead of a potential assault on the UK market.
The new operation is being fronted by Kildare-based vet Des Groome, the service's veterinary director, although the business falls under the ownership of VideoDoc and its founders, Mary O'Brien and Damian Kissane.
Groome, who runs Kildare Vet Surgery, told Fora that the consultations would initially be performed from his practice, but the eventual aim was to make use of a network of partner vets across the country.
"It's a matter of getting the service up and running, and tweaking it and fine-tuning it, and satisfying ourselves that we have the service delivery right; then we will hopefully bring partner practices on board," he said.
"The more vets we have on board, the more likely it is that we can respond more rapidly to somebody's needs and provide that online service at a weekend, in the night-time."
VideoVet will begin by offering one-off consultations from €20, around half the price of a standard face-to-face appointment, according to Groome. There will also be the option of a €55 'annual membership' covering non-emergency consultations.
The consultations will involve an initial 'screening' phone call after animal owners fill out a basic questionnaire, allowing a clinic to effectively 'triage' cases where immediate, hands-on attention is needed.
More complicated cases would be backed up with an in-clinic session. Any partner clinics would take a share of the initial consultation fee, with a 50/50 split being trialled for the rollout.
Groome said that O'Brien approached him around a year ago about adapting VideoDoc's technology – through which patients can book and carry out GP appointments via an app – to the veterinary industry.
Similar services were being offered in larger territories like the US, he said, with one of the keys being that animal owners eventually had access to a broad network of practices that would help to deliver the service.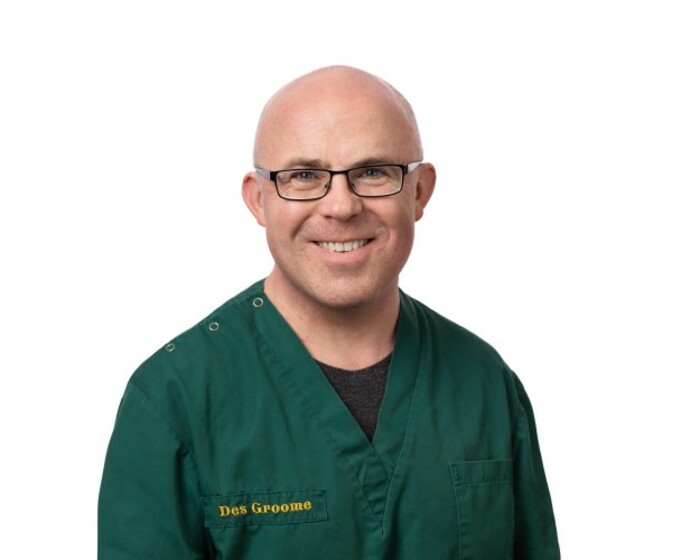 Ambitions
VideoVet is aiming for an initial load of 50 consultations per week, but Groome said he hoped that figure would increase to 50 per day by the end of the year.
Eventually the ambition was to have a nationwide network of vets on the platform and to get a similar service off the ground in the UK, where VideoDoc launched in 2017.
VideoVet would also look at striking up corporate partnerships with firms like insurance companies and retailers to offer its memberships to their customers.
"For example, if you're insured with particular insurance company, you have your pet insured, it's in your best interest and your insurance company's best interest to keep your pet healthy," Groome said. 
A similar strategy has been deployed by VideoDoc, which has struck agreements with the likes of VHI Healthcare and the USI to provide free or discounted consultations to members.
[embed id="embed_2"]
Groome said VideoVet also had the power to take the load off "under pressure" veterinary services in regional areas, where it was often hard to get young vets to work.
While the business was targeting pet owners to begin with, there was also scope to apply its model to farm animals.
One of the biggest challenges of the new service, Groome admitted, would be adapting clinical techniques from face-to-face veterinary services – and systems developed by VideoDoc for GP consultations – to the 'tele-veterinary' field.
"The main difference is that our patients don't talk. We do rely a lot on hands-on examination, and vets regard themselves as a conduit between the animal and its owner," he said. 
Groome said the video consultations would rely heavily on the vet's "detective skills", as well as history-taking and good communication.
Since it was founded in 2014, VideoDoc has expanded from providing GP consultations to offering other services like online therapy or physio sessions. The London- and Sandyford-based company has raised around €6 million from investors to date.
O'Brien told Fora that her company was looking at different industries where it could deploy its video consultation technology and veterinary services made sense to target as a similar model could be applied to that used for medical consultations.
Get our NEW Daily Briefing with the morning's most important headlines for innovative Irish businesses.