Valitacell has secured €2m in funding to make cheaper high-tech drugs
The Blackrock startup hopes to speed up the making of 'biologics' that treat diseases like cancer.
YOUNG MED-TECH firm Valitacell has secured just over €2 million from an EU-backed scientific research fund to help it turn its technology into a commercial product.
The Blackrock-based company makes biotechnology that promises to speed up the manufacturing of complex biological drugs that are used to treat diseases such as cancer, cardiovascular disease and a number of rare illnesses.
The millions it secured in the latest 'Horizon 2020 Phase 2′ funding round will go towards commercialising its new ChemStress technology, which uses chemicals to replicate the stresses that cells experience when they are being developed into drugs.
Valitacell's co-founder and chief executive Terry McWade told Fora last year that the company was looking to raise €2 million to help finance the launch of the product.
Commenting on the Horizon 2020 funding announcement, McWade said it was a confirmation of "Ireland's role as a leader in the biopharmaceutical space".
He said the rollout of the ChemStress technology will "disrupt the current bio-manufacturing process".
As well as launching the new product, Valitacell will hire eight new staff over the next six months in various scientific roles. It currently has four people on the payroll.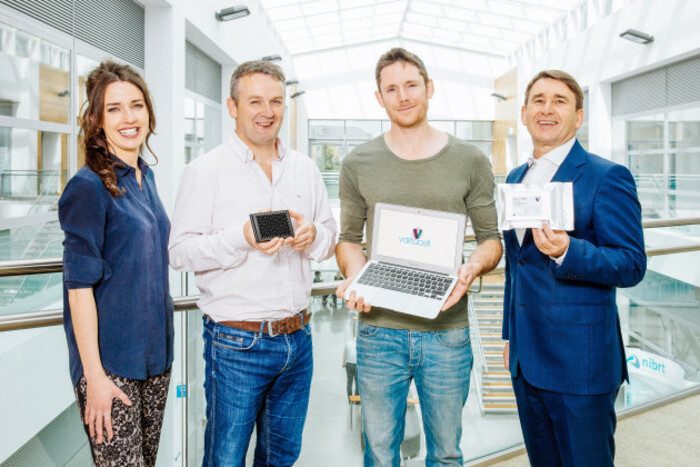 Source: Angela Halpin/Valitacell
'Biologics'
Last year, Valitacell attracted two multibillion-euro biopharma firms as the launch customers of its cell-testing technology, ValitaTiter.
GE Healthcare and MedImmune were the first to buy the product, which lets biopharma firms test cells at an earlier stage in the manufacturing of biological drugs.
Drugs manufacturers Shire in Austria and Shanghai Medical Device Company in China have since started using the technology.
So-called 'biologics' are more difficult to make than synthetic drugs because the antibody that fights the disease is produced through living cells, instead of a chemical concoction.
McWade previously told Fora that the testing of living cells takes 12 to 18 months to complete and costs around $2.3 million per screening. He claimed ValitaTiter, which retails at €40,000, cuts that time and cost by half.
It is hoped that both of Valitacell's technologies will make it cheaper and quicker to bring biologics to market.
More recipients
Two other Irish companies were handed up to €2.5 million each in the latest Horizon 2020 funding round.
Dublin startup SwiftComply, which built a platform that helps hospitality businesses comply with regulations, and Galway-based med-tech firm DiaNia Technologies both secured funding.
That brings to 29 the total number of Irish firms that have been received backing from the EU since its €80 billion Horizon 2020 fund was launched in 2014.
Sign up to our newsletter to receive a regular digest of Fora's top articles delivered to your inbox.
read more on