Ireland's boom in US tourists could be about to slow down
But the weakened UK market may bounce back, according to hotel research firm STR.
THE PACE OF growth in US tourists coming to Ireland is expected to slow significantly in 2018 – but the weakened British market could bounce back.
That's according to hotel industry research firm STR, which has predicted that the number of US arrivals at Irish airports will hit the 1.6 million mark in 2018, an increase of 3.6%.
Researcher Michele Pasqui, who presented the forecast at STR's annual forum in Dublin, said this will be the first time in three years that the category doesn't deliver double-digit growth.
While the US will remain Ireland's second most important overseas market – accounting for 13% of all arrivals – he told the roomful of Dublin hotel managers they should be aware of this change when they're preparing 2018 budgets and marketing campaigns.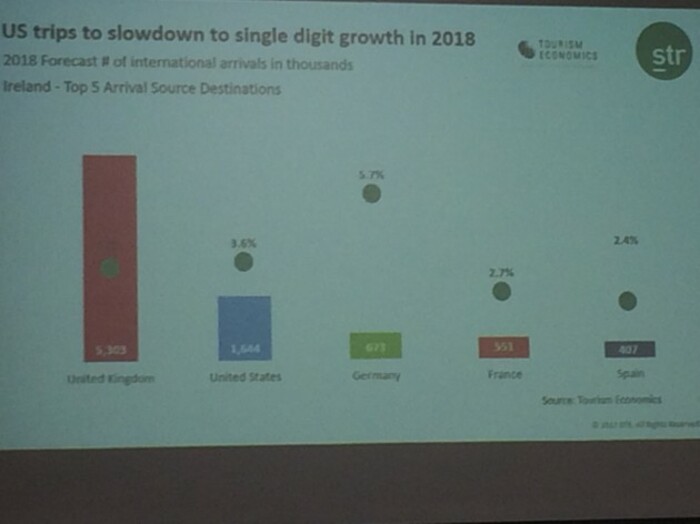 Source: Conor McMahon
Click here to view a larger version.
North Americans – who tend to stay longer and spend more than Brits – have been considered something of a godsend for Ireland's tourism trade, which has experienced a dip in UK visitors thanks to the weakened sterling.
However, STR's figures, which were collated using data from the tourism wing of Oxford Economics, show that the British market could return to growth in 2018.
"The UK is going to reverse the trend that we experienced in 2017, which was a decline of 4.2% arrivals, and it's going to grow next year by 3.4%," Pasqui said.
The German market is tipped to deliver the biggest increase, with the number of arrivals set to rise by 5.7% to 673,000.
State agency Tourism Ireland has focused on growing the number of visitors from mainland Europe in a bid to forestall any disruption caused by Brexit.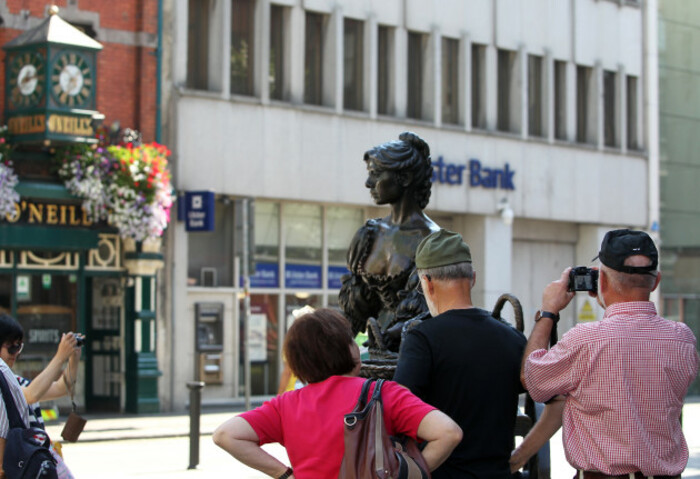 Source: Sam Boal/RollingNews.ie
Year in review
As well as delivering a forecast for 2018, STR analysts also presented a review of the Irish hotel market from January to October of this year.
Hotels across Ireland were just over 80% full during the 10-month period, with an average daily rate of more than €128.
When taken in isolation, hotels in Dublin – where demand has outstripped room supply – were 84% full from January to October with an average daily rate of €138.
According to STR, Dublin had a higher occupancy rate than any other European city during that period. The firm predicted that fewer than 1,000 new rooms will be built next year to deal with the crunch.
Figures for Dublin's 'sub markets' showed that hotels near the airport had higher occupancy rates – at nearly 90% on average – that those in the city centre, where hotels were charging average daily rates of just over €165.
"When you say €165, it starts to feel a bit steep," STR director Sarah Duignan said. "However, Dublin is still very competitive as a European market. Amsterdam, Barcelona, Madrid and Copenhagen are still more expensive."
Regional hotels were just under 80% full for the 10 months to the end of October, and the average daily room rate across the regions was roughly €115.
Excluding the capital, Cork had the highest occupancy rate at 82%, while Kerry had the highest average daily rate at about €130.
Sign up to our newsletter to receive a regular digest of Fora's top articles delivered to your inbox.
read more on