'Researchers work almost like a jeweler': Inside the Tyndall National Institute
Behind the scenes at the Cork research centre, where cutting edge tech is applied to real world issues.
THE SMOOTH RED brick front of the Tyndall National Institute opens up into a glass-walled atrium, where floor to ceiling labs and clean rooms have recently been emptied of staff heading out for lunch. 
The Cork complex backs onto the River Lee and the many-storeyed stone walls of the original buildings are visible from across the water. It was once home to a flour mills, brewery and malting operation.
Once a hub of old-school industry, the area is now home to researchers working on tech at the cutting edge. Affiliated with UCC, Tyndall is behind some of Ireland's most advanced research, particularly in electronics and photonics – the science of light generation and manipulation. 
Tyndall, however, is far from just a skunkworks for scientists. The trick is to take this high-flying technology and drag it back to earth to apply it in real life. 
"About 10 years ago we started working on how we can apply those to medtech and pharma industries," Paul Galvin, head of the ICT for health programmes and of the life sciences interface group at the institute, said.
According to senior strategic business development executive Carlo Webster, Tyndall is not so much a health research institute but a so-called 'deep tech' company linking research and systems. Other companies use its facilities to conduct research and create prototypes.  
Tyndall generates about €30 million in income each year and has a network of more than 200 industry partners and customers globally. It employs about 500 researchers, engineers and support staff.
Galvin and Webster are part of a wider strategy to commercialise the many spin-outs and research initiatives piloted or incubated by the institute.
A lot of its work has focused on diagnostics, therapeutic systems, cardiac modulation, surgical innovation, and smart manufacturing.
Galvin's background is in biology and he has a PhD in fingerprinting techniques for identifying fish populations – little to do with the ICT sector. "Fish and chips," he joked. 
Webster comes from the world of electronics and telecoms and used to work with Intel. He joined Tyndall in 2008 and with Galvin started the ICT for Health project in 2009. 
"We began the whole ICT for health project because there was a huge opportunity, given our exports are about €12.5 billion in medical devices and somewhere between €40 and €60 billion in pharmaceuticals and chemicals (per year)," Webster said. 
"We're at the cusp of the transition from mechanical devices to electronics and photonic devices."
The next step, he says, is to also evolve the institute's work in the cloud and into artificial intelligence.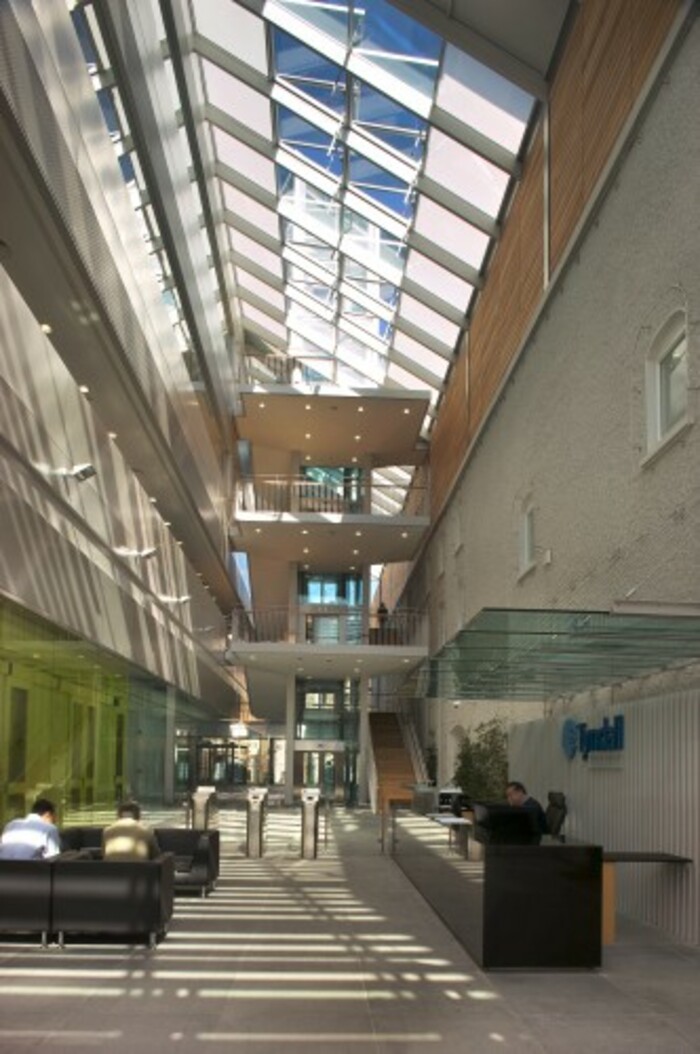 Source: Janice O' Connell f22 Photography
What does Tyndall do? 
"The current health industry is a bit like a car driving down the motorway and it breaks down and you take it to a garage and they fix it. Except that cars have MOT tests – humans don't. We actually have a better system to maintain our cars than we have with humans," Webster said. 
One of the technologies Tyndall is looking at is medical-grade wearable tech which can predict problems down the line. 
"It will say you're healthy, you're in good shape and everything is performing perfectly. It will also give you early indicators to say your blood pressure is spiking. Maybe you need to change your diet, or maybe you need to see your doctor," he added. 
Rather than a motivational fitness tracker this technology extends to more medical applications like smart compression dressing, smart wound care and smart gait analyses systems post-knee surgery.  
Tyndall is also working on a handheld light sensing device to detect early stage heart failure. It can be used in a doctor's surgery meaning the patient can potentially avoid hospital tests. 
On the other side, a lot of the technology is applicable to how clinicians are trained. 
"How do you train somebody to proficiency without actually letting them near the patient? One of the ways around this is people can train on a cadaver – but cadavers are in limited supply," Galvin said.  
The other option is a simulation where clinicians can practise on a simulation of the patient's anatomy before going near them. This is where a lot of the state-of-the-art research is at the moment, he said.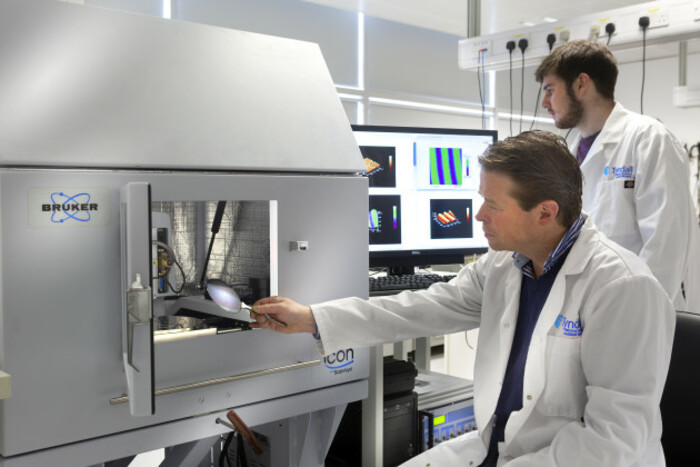 Source: Tyndall National Institute
From academic to commercial
The type of health technology being worked on by Webster and Galvin is just one area that the people of Tyndall are getting their teeth into. 
In its long list of roles, Tyndall includes facilities for its partner organisations like wafer fabrication – for computer chips – research facilities and high-end computing.
It also has electronic and photonic packaging and cross analytical facilities which it offers internally and externally. Tyndall also has people working on communications, agri-food, electronics and the environment. 
Recently the institute has been working alongside the National College of Art and Design (NCAD) to link human factors, engineering and design - a broad discipline applying psychology to examine how people interact with machines and systems.
"We're very good at looking from the inside out but we're not very good at looking from the outside in on the usability and how people interact with technology," Webster said. 
Design thinking is now a part of most of Tyndall's innovation partnerships which look at problems taken from a clinical standpoint to an end user standpoint. 
"From the early days we realized that by our nature we have a diverse group of people in here, some of whom are very clever but not necessarily industry-facing and other people who will be well used to working with industry," Galvin said. 
In order to leverage its more academic solutions Tyndall devised a formula to allow it to work in the same way that industry would work with other industry customers.
Its programme management system works with researchers to make sure solutions are delivered on time. 
"We try to over-deliver to what we have committed to in order to build up the relationship with the customer. One of the challenges for many industries is when they interface with research and academic institutes. Sometimes they tell us the academics don't respect timelines and deadlines and even don't deliver what they promise," he said. 
From the beginning, Galvin says they were conscious to work in the industry in the way that it's used to working with other customers. 
"One of the things that we figured out early on is that sometimes researchers work almost like a jeweler insofar as they can make a working prototype with a one-off device. If we want to do a clinic study you need hundreds or thousands of those very quickly. If you cannot make 100 or 1,000 of those then the research is almost useless," Galvin said. 
For this reason Tyndall aims to design prototypes from the outset in a way that's compatible with manufacturing lines and facilities for a smooth handover between researchers and fabrication. 
Since 2014, it has participated in some 56 projects with a total value of €370 million. As some of Ireland's top researchers inside the centre continue to work down a myriad on tech to deliver a real world impact, there is plenty more to come. 
Get our Daily Briefing with the morning's most important headlines for innovative Irish businesses.