Your crash course in... Whether a controversial EU-US free-trade deal will soon be trumped
A similar plan for Pacific nations has already felt the wrath of the presidential pen.
US PRESIDENT DONALD Trump was only in the Oval Office a few hours when he formally abandoned the Trans-Pacific Partnership.
TPP, as it was commonly known, was an ambitious trade deal between the US and 11 other Pacific-rim countries, including Japan, Canada and Australia.
Sold as a means to boost trade across the region, it had taken seven years to negotiate and was a key policy for the Obama administration.
Trump's decision to scrap TPP came as little surprise. On his road to the White House, the property mogul pushed protectionist trade policies and promised to withdraw from the agreement, claiming it would hurt American workers and manufacturing if it were to go ahead.
The move has also spelled the likely death knell for a similar trade deal with Europe – the Transatlantic Trade and Investment Partnership, or TTIP, although Trump has been notably more quiet on that agreement's fate.
Fine Gael MEP Brian Hayes, one of TTIP's most vocal supporters from Ireland, told Fora that he is certain the EU-US deal will follow the same fate as the Pacific agreement. However, he suggested that it might not be completely dead – merely "in cold storage".
With that in mind, let's look at what will likely become of TTIP over the next four years.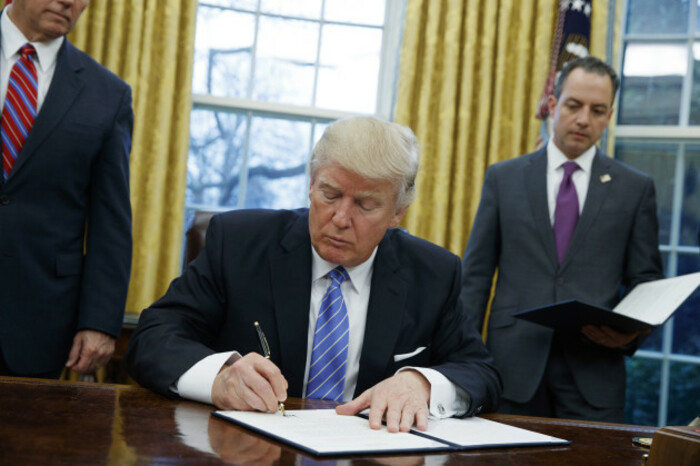 Source: Evan Vucci/AP/Press Association Images
What's the deal with TTIP?
First, a quick recap of what exactly TTIP entails – and why it is loathed in many circles.
Years in the making, TTIP would see a relaxation of trade barriers between the European Union and the US.
It would see a reduction in tariffs between the two regions, as well as a consolidation of regulations covering a wide range of sectors, from food to pharmaceuticals and textiles.
The stated point is to standardise cumbersome rules and make it easier for the world's two largest economies trade with each other.
However, much like a similar and troubled free-trade deal between Europe and Canada called CETA, TTIP has been met with fierce opposition.
The rise in anti-establishment rhetoric on both sides of the Atlantic makes TTIP – which is strongly supported by big business – a natural enemy.
Source: Markus Schreiber/AP/Press Association Images
Sceptics are concerned that the deal could lead to the privatisation of public services like healthcare, education and transport.
Critics have said the secretive deal is too favourable to corporations and are worried about a provision that would give businesses the power to sue governments for lost profits over unfavourable laws.
A high-profile case where tobacco behemoth Philip Morris attempted to bring a claim against Australia over plain-packaging laws did little to ease those concerns.
There was also alarm late last year when MEPs were not permitted to take notes when they were given access to TTIP documents. A major leak from Greenpeace poured more fuel on the fire with claims that the deal is "a huge transfer of power from people to big business".
What's next for TTIP?
The collapse of TPP is largely seen as curtains for TTIP – although some would argue its demise has been in the making for some time.
The controversial deal was dealt a big blow a few months ago when Germany's vice-chancellor Sigmar Gabriel said it had "de facto failed".
His comments were in sharp contrast with those of chancellor Angela Merkel, who said TTIP was "absolutely in Europe's interest".
The European Commission scrambled to dismiss Gabriel's claims and said talks had entered "a crucial stage" and would be ready to close by the end of 2016.
However, it failed to finalise the agreement while Barack Obama was still US president, leaving it exposed to the full force of the incoming administration.
Nevertheless, Trump's decision not to tear up the deal immediately after entering office means there remain a few scenarios in which it could live on.
One possibility is that the Republican will simply renegotiate and rebrand TTIP – the term Trump Trade and Investment Partnership would have an obvious appeal – and claim full credit for the move.
When asked for his take on TTIP's future, Brian Hayes, who is also a member of the European committee on economics and monetary affairs, said there is no indication that Trump is going to reverse his position on free-trade deals.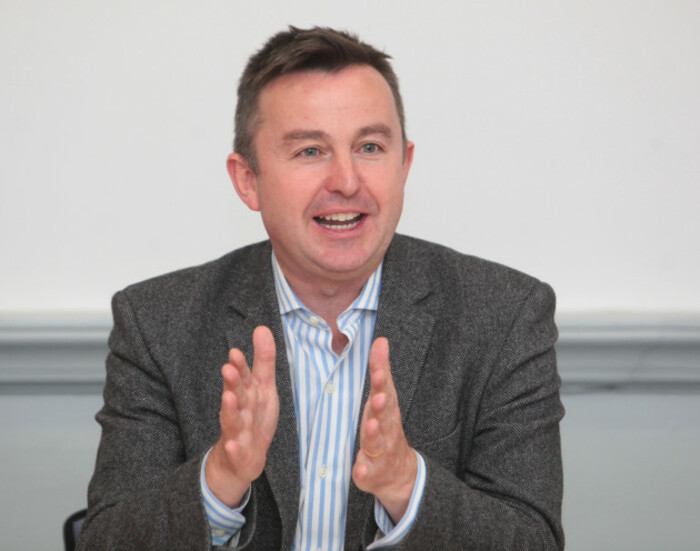 Source: Leah Farrell/Rollingnews.ie
"I think for the short- to medium-term, or as long as the Trump presidency exists, it's not likely to be resuscitated," he said.
"It's quite clear that his rhetoric in the campaign will follow through in the presidency. It will be a presidency built on economic nationalism and protectionism and that is his modus operandi. Why would he advance TTIP?"
That said, Hayes believes that there is a chance the trade deal is not completely dead and could be revived at some point in the future.
"There was a lot of potential," he said. "You could argue Europe needed this more than the US given our economic cycle right now."
He warned that the Trump administration "will rue the day that they have decided to look in top of themselves and not look out".
read more on