Trump's economic advisor says 'a level playing field' will deter US firms from moving to Ireland
The president-elect hopes to slash business taxes within his first 100 days in office.
ONE OF DONALD Trump's senior economic advisors has said that the new US president wants to create "a level playing field" by slice the corporate tax rate.
Stephen Moore, who has advised Trump on rewriting his tax plan, told Newstalk Breakfast that the president-elect hopes to "get a business tax cut passed in the first 100, 150 days of this administration".
Throughout his campaign, Trump pledged to cut the US corporate tax rate from 35% to 15%, which would diminish Ireland's competitive edge to attract foreign firms to these shores.
Moore noted that the congressional plan is to reduce the tax to 20%, so he expects the final rate will fall somewhere in between.
"Ireland will still be lower than the United States, so you will still have a competitive advantage over the United States," he said, "but the advantage will be much lower than it is currently."
'Keep companies home'
He said the business tax reduction "will keep companies home, especially from European countries".
That said, he added that the Trump administration was less concerned about companies leaving for Ireland and cared more about American firms that have relocated to China, Japan and Mexico.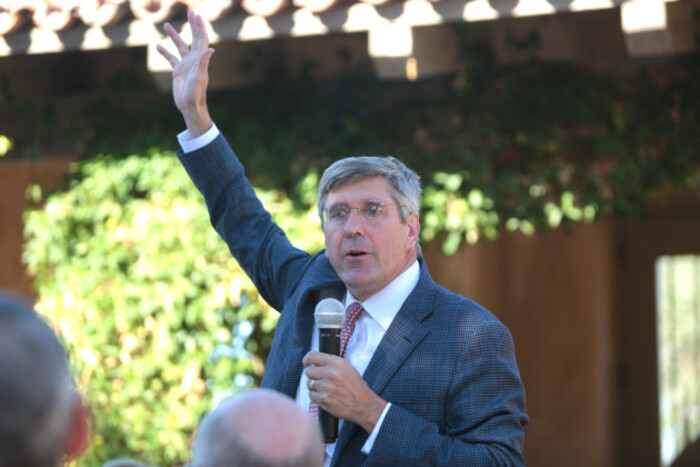 "Ireland has a good labour force," he said. "You have a well-educated workforce, you have a lot of natural assets in Ireland that make it a very desirable place.
"We just want a level playing field and we want to make America competitive at trade. We are running very large trade deficits in this country and it's a concern to Mr Trump."
Moore's statements on Irish radio were less brash than his comments to the BBC yesterday, when he suggested "a flood of companies" would leave Ireland when the new tax rate kicks in.
"We see day after day in this country that we are losing our businesses and our corporations," he said.
"They are effectively renouncing their US citizenship and they are moving to Canada, to Britain, to Ireland, to China and Mexico."
"That's a significant loss of jobs and we want to have the jobs here in the United States, we don't want them to go abroad."
Additional reporting by Cliodhna Russell
read more on