Watch out Ireland: Trump's plan to slash corporate taxes to 15% confirmed
But the plan could face stiff opposition in Congress.
THE TRUMP ADMINISTRATION has pledged today to slash corporate rates from 35% to 15% as it prepared to unveil a long-awaited reform it touts as the "biggest tax cut" in US history.
If passed the move would likely worry many Irish officials, who have long relied on Ireland's 12.5% corporate tax rate to get large multinationals, many of which are American, to set up shop here.
But the plan could face stiff opposition in Congress, including from some Republicans, with lawmakers sharply divided over the prospect of fueling already-rising deficits.
"This is going to be the biggest tax cut and the largest tax reform in the history of our country," Treasury Secretary Steven Mnuchin said at a discussion about the proposal.
Slashing taxes on income and business was a key part of Donald Trump's election platform, and the Republican billionaire is seeking to deliver on that pledge as his presidency nears the symbolic 100-day mark this weekend.
Mnuchin will outline details of the plan at the White House later on Wednesday, but confirmed press reports that "the business tax is going to be 15%."
He said the administration hopes to push the reform through the Republican-controlled Congress as quickly as possible, but declined to set a deadline.
Trump had initially hoped to drive through tax reform before the summer, but that ambition evaporated amid a failed push to repeal Barack Obama's signature health care law.
"We're working hard to get it done quickly," Mnuchin said. "This is part of his big impact for the first 100 days."
"We have fundamental agreement on what we're trying to do and the details of tax reform are still to be worked out."
The tax plan's impact on the deficit and debt will be key to winning backing on Capitol Hill.
House Speaker Paul Ryan hailed the reform, even though Mnuchin signalled it would not include a tax on imports, something Ryan had lobbied for among fellow Republicans.
The party had been drafting plans for the so-called border adjustment tax for months.
Nevertheless Ryan praised the new plan as "progress."
"It's basically along exactly the same lines that we want to go," he told reporters.
'Explode the deficit'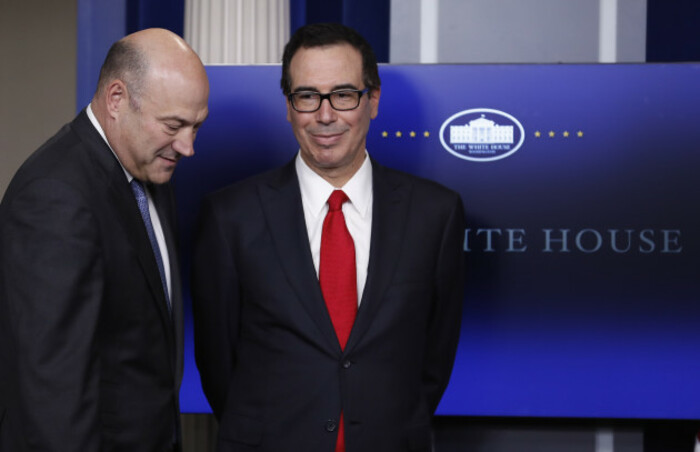 Source: Carolyn Kaster
As previously examined by Fora, Ireland's the 12.5% rate has undoubtedly played a starring role in getting wealthy US companies to set up large operations here.
While it is unlikely that companies would move large operations from Ireland back to the US, analysts think that a US corporate tax rate of 15% would likely make Ireland less attractive for American firms in the future.
The overhaul is likely to face stiff opposition from Democrats.
"I can tell you this: If the president's plan is to give a massive tax break to the very wealthy in this country, a plan that will mostly benefit people and businesses like President Trump's, that won't pass muster with we Democrats," Minority Leader Chuck Schumer said on the Senate floor.
He also warned that a plan that dramatically shrinks tax revenues would "explode the deficit."
Analysts have said cutting the top marginal corporate tax rate by 20 percentage points could add a whopping $2 trillion or more to the deficit over a decade.
The administration has said its tax cuts will spur growth — its goal is 3%– thus bringing in tax revenues to make up the difference, a calculation known as "dynamic scoring" which the Trump administration supports.
"The difference between 1.6% , 1.8% GDP and 3% is staggering," Mnuchin said. "It's trillions of dollars of revenues. It's tons of jobs."
Economists say this growth effect is not supported by evidence from prior tax cut efforts.
Wishful thinking? 
Douglas Holtz-Eakin, an economist and former head of the non-partisan Congressional Budget Office who served in previous Republican administrations, said dynamic scoring is wishful thinking.
"There has never been any single credible analysis of dynamic scoring that suggests that taxes pay for themselves," Holtz-Eakin told AFP.
The tax cuts could be limited to a 10-year period, but Mnuchin said that would be less than ideal.
"If we have them for 10 years, that is better than nothing," he said. "But we'd like to have permanency to it."
Mnuchin said the lower corporate rate is aimed at helping small businesses, not the wealthy.
"What this is not going to be is a loophole to let rich people who should be paying higher rates pay 15%," he said at today's event, hosted by The Hill newspaper.
Mnuchin also said the administration plans to simplify the highly complex process by which Americans declare their income and pay taxes.
"For most Americans, we think they should be able to do their taxes on a large postcard."
read more on