Meeting a global demand - why Troy has expanded to become Ireland's largest studio
Siún Ní Raghallaigh on how the Limerick-based studio is adapting in an evolving TV and film landscape.
TROY STUDIOS HAS expanded to become Ireland's largest studio amid an increase in global production demand due to video on demand and streaming services.
Earlier this week the Limerick-based studio announced the completion of its fourth stage – which has provided an additional 33,000 sq ft to the studios – and a specialist stage for blue and green screen work.
Siún Ní Raghallaigh, the chief executive of Troy Studios told Fora, that "there's a lot of demand for production studios globally. There's been a change in the market place with the VOD or streamers."
The €13 million investment in the studio now brings the production space to over 103,000 square feet. 
Troy is adapting to an evolving production landscape that has seen Netflix, Amazon, Apple TV and Disney+ burst onto the scene, in search of space as they create drama series and movies for their services.
The studios previously hosted the production NBC Universals' science fiction series Nightflyers. It has also been reported that Apple is producing a new $45 million science fiction film for its streaming services at the studios.
"You have Netflix, Amazon, Apple and Disney but you have other services that are starting up now that will be like a streaming service but carrying advertising, so companies like NBC will be doing that," she said.
NBCUniversal's new streaming service, Peacock, will roll out in the US in April and intends to be ad and subscription-supported.
Troy Studios isn't turning its back on the traditional forms of production. Ní Raghallaigh said the fourth stage means that multiple productions can use the studio at the same time now, giving them more options.
"We can have one large project in there or we can have a couple of smaller projects. It's set up for any configuration" she said.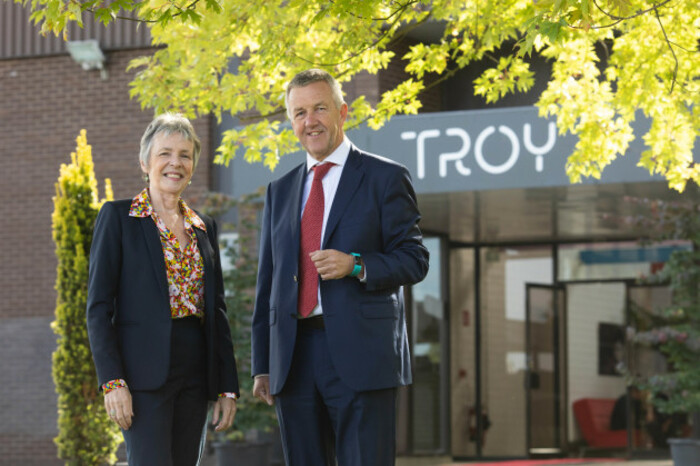 Source: True Media
Local Economy
She added that the value a production adds to the local economy is large and the current production that's using the space employing an excess of 500 people. The studio is aiming to increase the number of people involved at a local level.
"We are very involved with ensuring the crew base in Limerick continues to grow and we have a great collaboration with the Limerick School of Art and Design (LSAD), LIT, the University of Limerick and of course with SOLAS and the educational training boards," she said.
"Departments like costume have been very successful with intakes from LSAD, and model making as well," she added. 
When it comes to the Exchequer, she said one production brought in €53 million to the local economy from buying timber to build a set to paying for accommodation, transport and meals.
"I think that's why this is important as an industry, it's not just about what we bring in terms of foreign direct investment, but it's the impact it has on the whole ecosystem of the industry and economy," she added.
Get our Daily Briefing with the morning's most important headlines for innovative Irish businesses.