Locals stall plans from 'bad neighbours' Trinity College to rent student beds to tourists
The accommodation in Dartry can cater for up to 1,000 students.
MORE THAN A dozen residents in south Dublin are trying to block Trinity College from using student apartment blocks as summer accommodation for tourists.
The third-level institution lodged a request with Dublin City Council's planning office earlier this year seeking permission to use three blocks of its Trinity Hall in Dartry for tourism purposes outside of academic term times.
The university asked for permission to amend previous planning permission that ruled the site could only be used as accommodation by Trinity students.
The three apartment blocks are made up of 669 single bedrooms, 125 twin bedrooms and 178 apartments.
Trinity's application to the council also asked for permission to lease its Dartry accommodation to any student registered in a higher education institution, not just Trinity students.
Despite a number of complaints from residents, Trinity's requests were approved by Dublin council last month. Several of the complainants have now appealed the decision to An Bord Pleanála.
One appellant, the Richview Residents Association, said that Trinity College has been a "bad neighbour" since the Dartry student blocks were given planning permission in the late 1990s.
It said there is no policing of student behaviour and many residents have been forced to install electric gates to prevent their gardens being used for "indecent behaviour".
Another complainant, who lives directly opposite the development, said the apartment blocks also cause a lot light pollution.
"The students leave every blind open so that during the evening and throughout the night, the large commercial lighting and floor to ceiling windows leave nothing to the imagination – not dissimilar to a reality TV show."
A number of residents claimed that Trinity has already breached the planning conditions it has sought to overturn and that the site has been used out of term time to house non-Trinity students since 2004.
They said that large numbers of people stay in Trinity Hall during the summer months and that the college has previously allowed tourists to rent rooms.
The Emerald Cultural Institute, a Dublin firm that runs summer language courses for young adults, has advertised on its website that its students can stay in Trinity Hall during the summer months.
Dublin council has written to Trinity previously to caution it about unauthorised use of the development outside of the academic term.
Trinity College Dublin didn't responded to a request for comment by the time of publication.
Accommodation shortage
Trinity's planning application has come at a time when Ireland is faced with a shortage of both residential and tourism accommodation.
Earlier this year, a report issued by Daft.ie showed stated that the Irish capital is in desperate need of more student accommodation.
A number of major developers and investment firms have already been targeting the student accommodation market in Ireland, with US property giant Hines recently launching a 447-bed facility in Dublin.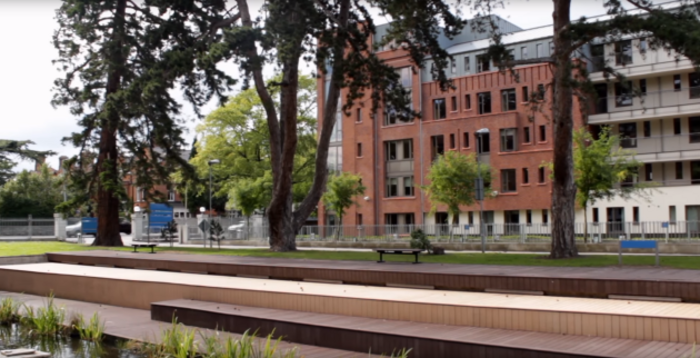 Separate analysis of the tourist accommodation market in Dublin has shown that there is also a shortage of suitable lettings for short-term visitors.
According to a study commissioned by Fáilte Ireland, a high level of 'compression' – the number of nights where city centre hotels are more than 90% full – has created a "double downside" for the hospitality sector in Dublin.
Note: Fora publisher Journal Media Ltd has some shareholders in common with Daft.ie.
Sign up to our newsletter to receive a regular digest of Fora's top articles delivered to your inbox.