Why travel firms say consumer protection rules need to be brought 'into the 21st century'
The Lowcostholidays collapse last year highlights problems with decades-old 'bonding' laws.
AT THE HEIGHT of last year's travel season, Spanish-based tour operator Lowcostholidays collapsed, ruining vacation plans for thousands of Irish travelers.
In the wake of that failure, almost 4,200 holidaymakers have since made compensation claims to the Commission for Aviation Regulation (CAR) – the state body responsible for licensing the overseas travel trade in Ireland.
The bill came to just over €3 million, making it one of the biggest payouts in recent years following the collapse of a travel company.
Under Irish law, travel firms that operate here are to required have a licence and submit a bond to CAR in case they fail.
However, the Irish division of Lowcostholidays was bonded for just over €79,000 – or less than 3% of the total due to customers.
As a result, the millions in compensation had to be taken from the 'travellers' protection fund', a €5 million back-up fund that tour operators haven't contributed to in about three decades.
Now that three-quarters of the fund has been depleted, the Irish Travel Agents Association (ITAA) has warned that another large-scale collapse could be disastrous for the sector.
What's currently in place?
In order to sell overseas package holidays in Ireland, companies must apply for a licence from CAR to trade as either an agency or a tour operator.
An agency sells travel services from various suppliers, while an operator puts together tour itineraries and packages.
Each year, travel firms operating here must renew their licences. When they do, they're required to submit a set of accounts to CAR and pay a bond to the regulator. This can be done through cash, a bank bond or an insurance bond.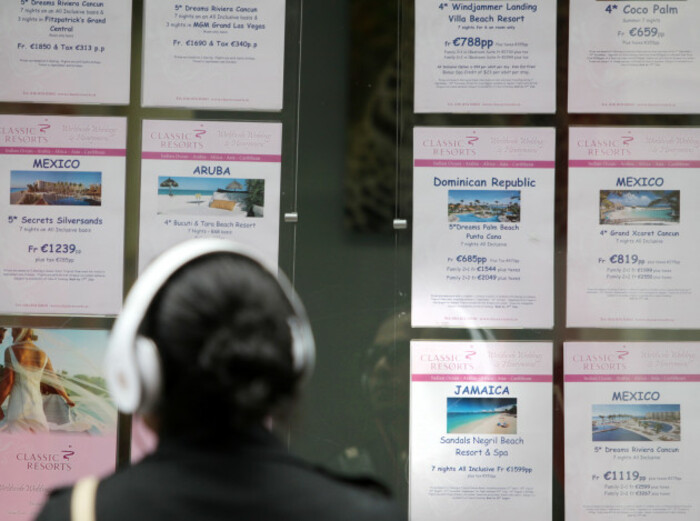 Source: Sam Boal/Photocall Ireland
The sum of the bond for a travel agency is equal to 4% of its projected turnover for the year, while tour operators must pay the equivalent of 10% of their sales.
The figure is higher for tour operators because many of them sell chartered flights, which puts them at greater risk of collapse.
According to the ITAA, the average travel firm has a turnover of between €3 million and €5 million.
If the bond doesn't provide sufficient coverage to consumers in the event of a collapse, money is taken from the travellers' protection fund – which has now been reduced to just over €1.5 million.
What does the travel industry want?
The main point of contention for the ITAA about the current bonding law is that it is decades old. The legislation dates back to 1982, long before the internet was used to book holidays.
As a result, many modern travel businesses such as 'bed banks' – which are basically wholesale accommodation providers – aren't required to be bonded by CAR.
Lowcostholidays operated a bed-bank division, which is why customers who had only booked accommodation through the company weren't eligible for a refund through CAR. Instead, they had to apply for reimbursements through their bank or credit card provider.
For years, the ITAA has complained that Irish bonding laws need to be updated to reflect the changing industry.
The number of brick-and-mortar travel shops has more than halved over the last two decades, and the Irish trade was hammered in the years after the boom. In 2009 alone, 20 travel firms around the country went bust.
ITAA chief executive Pat Dawson told Fora that bonding legislation needs to be updated because it is creating "unfair competition" in the sector.
"Illegal trading is going on all over the place via the internet," he said. "Why should a member of our association pay all these fees and operate properly when businesses outside the state operate with no cover?"
Source: ITAA
Dawson said the ITAA receives calls "almost every week" from customers who have been let down by a foreign-based online travel agencies.
In addition to bringing the bonding legislation "into the 21st century", the ITAA has campaigned for airlines to be included under the law.
"No airline is bonded, but they should be because we have to compete with them," Dawson said, referring to carriers that operate separate holiday companies.
What about the EU?
The ITAA boss said he has met with "the last four or five transport ministers" to urge them to renew the bonding legislation, but "they don't have any interest in it".
"It's going to be forced on them now with the package holiday directive," he said in reference to a new EU rule that will come into force from 1 January 2018.
According to the European Commission, the EU package holiday directive will "extend protection of the 1990 'EU Package Travel Directive' beyond traditional package holidays organised by tour operators".
The 1990 law was introduced to provide protection to consumers in the event of the insolvency of a travel firm.
The new directive was published in November 2015 and will essentially extend the meaning of a 'package' to include more modern forms of "combined travel".
For example, "a combination of a flight plus hotel or car rental put together on a website" will now be considered a package.
Member states have been given until the first day of January next year to introduce the updated rule.
Dawson has previously expressed concern that Ireland – along with many other EU member states –  is unprepared for the new directive.
"There's an awful lot of sorting out to do with very little time," he said.
read more on