Electronics giant Philips has pumped more money into Irish dental app Toothpic
The Dublin- and New York-based startup connects people with dentists remotely.
THE COMPANY BEHIND Toothpic, an Irish app for on-demand digital dental care, has raised €2.2 million from backers including electronics giant Philips.
Company filings for Oraleye Limited, the firm that operates the Toothpic app, show it has raised the funds from Koninklijke Philips NV and a number of other investors.
Documents show that Philips previously pumped €1.2 million in the company in 2016.
Earlier this year Toothpic announced a partnership with the Dutch giant where it would pair its technology with the company's Sonicare electric toothbrush.
A spokesperson for Philips confirmed it has a partnership with the Dublin outfit but could not comment on the latest investment. Toothpic co-founder Mark Moore also declined to comment.
Other investors in this latest batch of funding include Dublin's ACT Venture Capital, US investment firm SpringRock, which specialises in medical tech investments, and California-based insurer Delta Dental. Enterprise Ireland also contributed to the round.
Previous backers of the startup include Liam Casey, the founder of PCH, and Brad Garlinghouse, the CEO of US blockchain firm Ripple.
Oral health
OralEye, based in Dublin and New York, was incorporated in 2012 to provide 'teledental' services where users can upload images of their teeth and mouth that can be evaluated by dentists in the company's network.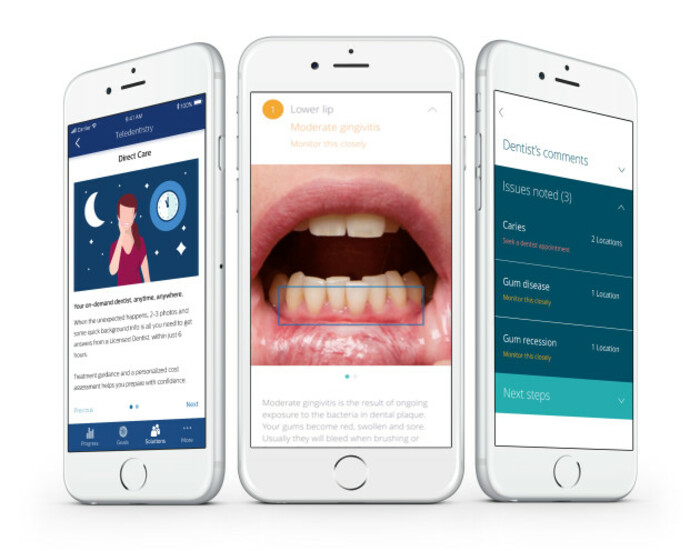 Source: Philips
The Toothpic service went live in 2015 in the US and is intended for on-demand check ups.
It was founded by Mark Moore and Jack Berrill. They're joined by Moore's father, Gus, who is a dentist and serves as chief dental adviser.
Toothpic provides guides for the users to take the best photo possible and sends the image in high-quality format to dentists, unlike regular messaging apps that may compress the image.
The app follows a similar model for telehealth apps like Kry and Babylon that connect people with doctors for basic check-ups remotely.
The app is currently only available in the North American market but Mark Moore stated in previous interviews that it was looking into a European launch early next year.
Get our NEW Daily Briefing with the morning's most important headlines for innovative Irish businesses.