'As a business owner you have to be open to risk, otherwise you're not in the right job'
Tools of the trade: Tandem MD Tim Mulhall talks work culture and risk management.
EVERY WEEK, FORA gets inside the heads of some of Ireland's top entrepreneurs to gain insights into what got them to the top of their trade. This week we speak to Tim Mulhall, MD and founder of engineering consultancy firm Tandem. 
As the managing director of an engineering consultancy firm, Tim Mulhall is methodical about assessing and managing risks when it comes to his business. 
The founder of Tandem still values the importance of a good team and work culture to the bottom line, something he picked up from his love of sport. 
Mulhall founded Tandem in 2010 and has grown the business to employ 130 people across five offices in Ireland and The Netherlands in that time. The company's turnover last year was €12.5 million. 
Working with companies in life sciences and commercial sectors, the Cork-based business specialises in project management, talent resourcing and engineering design. 
As part of our weekly Tools of the Trade series, we spoke to Mulhall about learning about the highs and lows of business from his father and his worst intellectual habit. 
What are the main principles that inform what you do?
Developing our people and delivering the best results to our clients. I try to be honest and honourable and to respect other people and their priorities – to understand that different people have different priorities in their lives. 
I don't like to let people down – that's important in our industry. 
Who is the person who has most influenced the way you think?
My father, Michael Mulhall. He had a similar business, I grew up watching him and the highs and the lows. He was a good advisor in that regard. He's been at it for 50 years, so there's not much he hasn't experienced in his career. 
How do you judge risk and what is your appetite for it?
We have quantitative methods for assessing risk for our business. Where a risk is high, we try to come up with a means to mitigate it – to reduce the impact.
As a business owner, you have to be open to risk, otherwise you're not in the right job.  As a company, we'd be reasonably risk-averse. 
What differentiates your company from the competition?
Our people, they've got unique skill-sets that other people don't have. They work in a very collaborative, flexible way when they provide services for clients, because of that we get a lot of repeat business. 
What is the greatest achievement of your life so far?
Starting Tandem back in 2010, growing it from one to 130 people in nine years and being profitable every year. Also, helping people develop their careers and helping them to contribute to the company. 
Do you think ambition or talent matters more for success?
Ambition matters more. There are plenty of examples of talented people who don't succeed because they don't have the ambition. 
Aside from your own, what industry do you find most interesting and why?
Professional team sport. The passion I have outside of work would be rugby.
When I look at that sport, I think it's interesting (to see) the comparison between sport and business – particularly having the right culture in an organisation is key to successful teams and business. Without a doubt, successful teams evolve their culture as time goes by. 
What was a big turning point in your life?
Founding the business. My wife, Margot, joined the company as a director shortly after I started it. Along with raising our children, it consumed a huge amount of time and effort and emotion. It has been a life-changing experience. 
How do you spot when something isn't working and how long do you give it before changing?
We have key indicators that we monitor from a business perspective, a departmental perspective and a project perspective. We use the indicators regularly. If we can mitigate a risk, then we can prevent it from becoming an issue.
Occasionally risks do become issues if you don't mitigate them properly. If we have an issue, we have a similar mitigation plans for the issue – which we need to act upon immediately.
What's your worst intellectual habit?
I got into the habit of reading less than I used to. I was an avid reader in recent years, but of late that's fallen away a bit. We've been busy.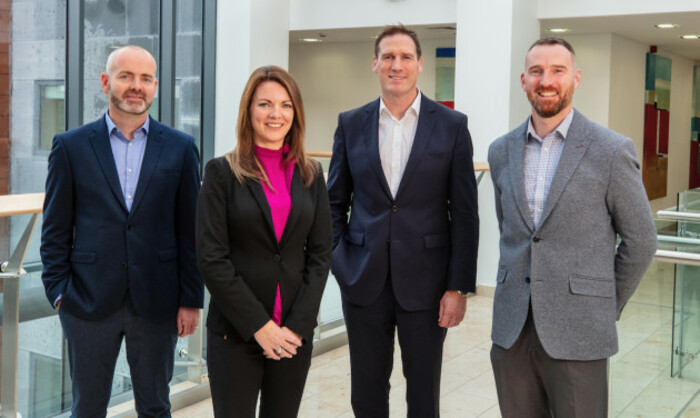 Source: Tandem.
What tool could you not do without?
Unfortunately, my smartphone. I have it to hand at all times. It's very positive in one sense – you've got that connection to email and I'm always a phone call away from any of our team and any of our clients. But it does keep me connected 24/7, which is a downside and needs to be managed. 
Get our Daily Briefing with the morning's most important headlines for innovative Irish businesses.