A top ticket reselling firm says banning touts would lead to more black market trade
New laws have been put before the Dáil – but resellers claim they won't be effective.
A PROPOSED LAW banning the sale of concert and sports tickets for above their face value or capping prices on the secondary market won't work in Ireland, according to major ticket reselling website.
In an interview, StubHub's global head of public affairs, Aimee Campbell, said there will always be people selling tickets at higher than face values no matter what legislation is brought into place – and that targeting the initial distribution of tickets would create a better and fairer environment for those wanting to buy.
StubHub makes a 15% commission on the final sale price for any ticket, so it comes as no surprise that it does not wish for price caps to be introduced on ticket resales – a suggestion that has been put forward by members of the Oireachtas.
Recent checks on its website shows how tickets for Ireland's game against England at Twickenham this weekend can cost up to €5,100.
The higher the price, the more commission StubHub makes on the transaction. Users can choose the prices for any tickets they put up for sale.
When asked if she thought the high prices were fair on Irish or English fans wanting to attend the game, Campbell said: "This is an insanely exceptional circumstance. It's Ireland against England on St Patrick's Day.
"But what I would say is that you see that ticket there still because nobody will pay for it. We want the market to correct itself. We feel that if nobody is willing to pay for it then the seller will be forced to drop that price."
Fine Gael TD Noel Rock has been a vocal critic of reselling websites. Ticket touting has become an increasingly prevalent problem in Ireland, with the Competition and Consumer Protection Commissioner undertaking an investigation into the matter.
Along with Fianna Fáil's Stephen Donnelly, Rock introduced a private member's bill that would make touting illegal in Ireland during 2016.
Rock said: "I always wonder what these companies have to fear from a touring law being implemented. They've put an awful lot of effort into talking one down. Could it be that it puts their sky-high commission at risk?
"The reality is that companies like Viagogo and StubHub do incredibly well for themselves at the expense of real fans while currently getting no real scrutiny. We need to bring real transparency and accountability to these markets and I intend to do that."
Rock has said he was disappointed with how slowly his bill is moving through the Oireachtas. He said that he is still committed to ensuring it passes and that tighter regulation will be enforced.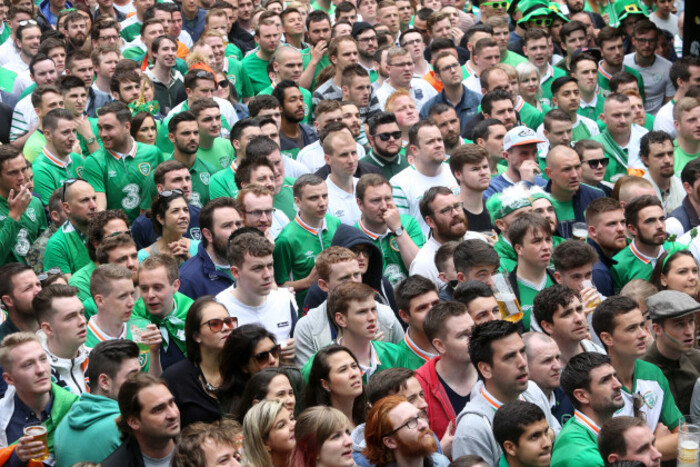 Source: Sam Boal via RollingNews.ie
However StubHub's Campbell argued that touting will always exist in one form of another, while her firm at least guarantees that buyers get the tickets they've paid for or don't lose their money if a ticket is cancelled.
"The proposals to cap prices will create more of a problem than the problem it is trying to solve. If you cap markets, it drives trade elsewhere," she said.
"If people are willing to pay a higher price, they will find somewhere to purchase it – it's the same with those selling. If supply is too low, price will always go up."
What's the solution?
Instead of legislation that would ban the resale of tickets at a higher price, StubHub said Ireland should introduce legislation similar to that enacted in the UK last year.
This law outlawed the misuse of so-called bots, which allow touts to purchase hundreds of tickets at once.
Campbell added: "We've always been against them. For us it makes the most sense this way as it increases the number of tickets that can be bought by genuine buyers. But once again, a law is only good if it is being enforced. Without that it has no point."
Rock said he took on the touts to highlight the scale of touting.
"Fundamentally I disagree with ticket touting. It stops fans like you and me from going to matches and concerts at the price we should be going to them for.
"The IRFU disagree with touts, the GAA disagree with touting, the FAI disagree with touting, but the law doesn't disagree with touting.
"That's why I've proposed a bill to change the law and make sure that above cost ticket selling will no longer take place. The law has passed the first stage in the Dáil but it still has a bit further to go."
Written by Garreth MacNamee and posted on TheJournal.ie