How doodling could stop you dozing off at conferences
Cork firm Think Visual helps companies make meetings more fun by drawing the minutes.
IT'S USUALLY RUDE to doodle while someone is talking, but Naomi Fein does it all the time – in fact, she has made a living out of it.
The founder and chief executive of the Cork-based communications firm Think Visual has helped multinationals like Google create a memento of their meetings and conferences by drawing the minutes as cartoons.
It works like this: a drawer sits in on a keynote address or panel discussion. During the 30 minutes or so, they doodle pictures on their iPad that illustrate the most important topics. The images are projected onto a screen at the front of the venue.
By the end of the session, they've created a finished picture that captures the gist of the discussion in one image that's then sent to the delegates either through email or as printed posters, magazines or post cards.
Fein calls it 'graphic harvesting', but the technique goes by many names.
"Graphic recording, visual note-taking, sketch-noting, visual-scribing – there's no consensus," she tells Fora.
The craft originated in the community sector, which used graphic harvesting as a means of capturing "the energy, the takeaways, the inputs" at their workshops and meetings.
A "veteran doodler", Fein has always drawn little sketches to help her remember things.
"I have a very short attention span and I have really bad memory so if I wanted to remember something in class when I was a student, I had to doodle it," she says.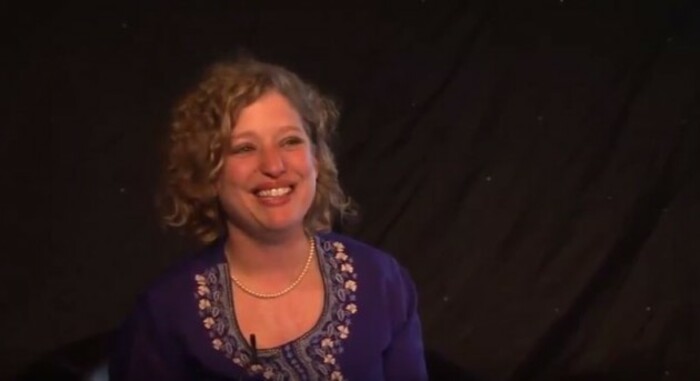 About four years ago, Fein spotted an opportunity to bring graphic harvesting out of the non-profit sector and into the corporate world after doing a graphic harvesting workshop with her friend, Eimear McNally.
Combining her training in graphic design with a background in communications consultancy, Fein set up Think Visual at Cork IT to offer meetings facilitation services and creativity workshops.
Three years on, the company now employs 10 people, including storytellers, animators and artists, and was profitable in its first year of operation.
According to its latest accounts, Think Visual made a modest profit of just over €11,500 in the year that ended 31 December 2015.
Large organisations
The bulk of Fein's clients are multinational companies and government agencies.
The company has worked a lot with the HSE's chief information officer, Richard Corbridge.
Most recently, it graphic harvested a forum for 70 managers from soft drinks and snacks giant PepsiCo, the parent of Pepsi, Walkers crisps and other well-known brands.
Fein says large organisations like to use doodles as a "learning material" so they can more easily recall ideas they picked up at conferences and share them with colleagues.
"The fact that it is a rich picture form and not just text makes it easier for people to translate it into a different language or different culture," she says.
"We're so overwhelmed with information and data that it's really hard to … put it into a tangible artefact."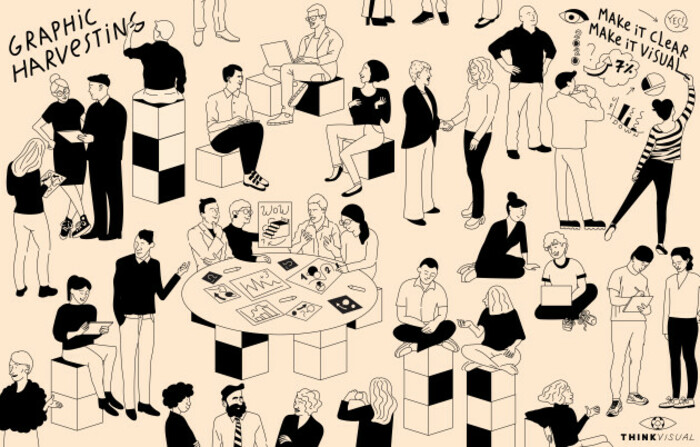 Source: Think Visual
Click here to view a larger image.
Doodle lab
Fein says harvesters themselves learn the most at conferences because they are listening carefully to everything that is said.
[embed id="embed_2"]
For that reason, Think Visual has set up 'doodle lab ' workshops to teach business people how to doodle during meetings so they can absorb more information. She also says it makes meetings more productive.
"A lot of meetings finish without any next steps," she says. "What I'm graphic harvesting is the next steps.
"I might have a few areas on my page that show patterns or categories emerging. Because I'm drawing … I can see that we spent a lot of time on one topic and we didn't touch another. It's like a dance. You're responding with an improvisation."
When asked why the same couldn't be achieved using text, Fein says it's easier to see everything in one go when its compiled as a picture.
"When you have only text, you can't categorise (topics). It's much, much harder," she says. "The brain makes sense of the graphic form much quicker than the textual form."
Fein says you don't have to be a skilled artist to be able to be able to doodle.
"You need to listen, you need to make sure that you understand (what has been said) and you need to make connections with the knowledge you already have."
She says everyone can draw by using the "doodle alphabet", which consists of a dot, a line, a triangle and other rudimentary shapes.
Fein hopes that graphic harvesting will some day be taught in schools and colleges.
"I think that in a few years, there's going to be a course in university and people will learn how to do it," she says. "It might be a specialised one. For example. we'll have a graphic harvester with a PhD in nanotechnology."
As the traditional conference becomes more and more redundant and companies opt for creative get togethers like hackathons, Fein reckons demand graphic harvesting skills will be in higher demand.
"The corporates are picking it up fast," she says. "It's a gimmick, it's an art form – but it's also educational and actually engaging."
read more on