Theya Healthcare is using bamboo to make better medical garments for women
As part of our weekly Startup Spotlight series, we profile the Dublin company.
CIARA DONLON'S EARLY CV may not suggest that she would end up in a career in healthcare garments.
She was previously head of online channels at Vodafone and Ulster Bank before founding Theya Healthcare.
The startup designs lingerie products made from bamboo for women that are recovering from treatments and procedures such as breast cancer surgery or radiotherapy.
It got its start from Donlon's initial foray out of the corporate world when she opened her own lingerie shop in Ranelagh, which specialised in maternity and nursing wear.
"I had a lot of ladies coming into me post-surgery who wanted to buy my maternity and nursing lingerie because they couldn't find anything that was comfortable and supportive and pretty, which kind of shocked me," she says.
The experience ultimately planted the seed for what would become Theya Healthcare.
Donlon found that many of the products on the market were made by manufacturers that were "pretty much engineering companies" with little thought put into design and comfort.
After receiving a market research grant from Enterprise Ireland, Donlon decided to test the market for interest in something better.
"I used the money to interview breast cancer survivors in Ireland and in the UK to see whether my hunch that they needed something different was true. Overwhelmingly it was." she says.
"When I was doing the research with the breast cancer survivors, they were all talking about itchy, scratchy, uncomfortable bras that they had to wear and they were in them 24/7 for up to eight weeks."
Cotton is the most commonly used material, she says, but during the research she discovered bamboo.
However, she was still not entirely convinced it was the "miracle material" it claimed to be.
"Bamboo says that it is a lot of things including being naturally anti-bacterial, highly absorbent, sustainable, thermal regulating and super soft," she says.
Donlon needed to some hard data to justify the high cost of sourcing bamboo from China and using it in the manufacture of Theya's bras.
She teamed up with Dr Amanda McCann, a cancer biologist in UCD, and oncology nurse Claire Kelly to test the claims.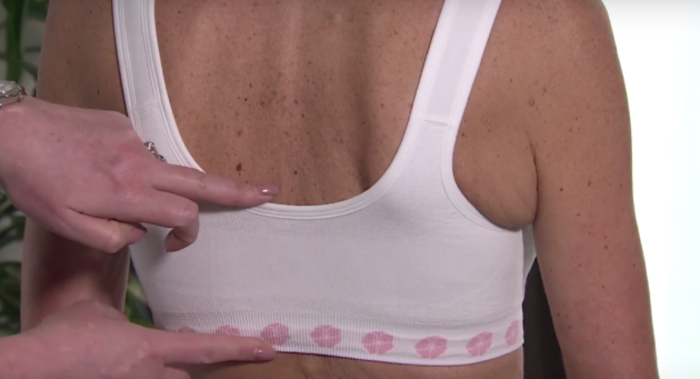 Source: YouTube/Theya Healthcare
The researchers grew the two most common bacteria found in breast wounds on cotton and bamboo.
"The cotton was destroyed and our material resisted the growth by between 93% and 97%, which means it's highly bacteriostatic," she says, referring to tempering of the spread of bacteria.
"I can't say you won't get an infection wearing our products but what I can say is that the chance is massively reduced."
The company officially started trading in 2015. It secured an EU patent for its product last November and is currently securing similar approvals in the US.
Sales
With hard data on its side, Theya has gradually expanded its business from Ireland into the UK and is dipping its toes into the US.
Theya's products are manufactured in China while Donlon works with a designer in the UK – "I couldn't find a lingerie designer in Ireland, I really tried, I really wanted an Irish designer but there are none."
The company operates largely on a business-to-business model.
It is now selling directly into medical groups, which accounts for more than half of its sales, with much of the rest being in retail stores.
"I used Ireland as our test market. I found it quite easy, to be honest, to get into the Irish market," she says on selling into hospitals.
"(In Ireland), every lady who has had breast cancer gets two bras from the state every year for free, which is highly unusual," she says.
"We're the only country that I've come across that does it, which I think we should be applauded for. It's nice to be ahead of the curve for a change."
On the customer-facing retail front, its products are in Arnotts and a number of mastectomy lingerie retailers around the country.
"I want the women to be able to reach us once they've left the hospital. I want them to have an avenue to us."
US market
The startup recently secured €665,000 in funding from private angel investors and Enterprise Ireland to help finance its push into the US market.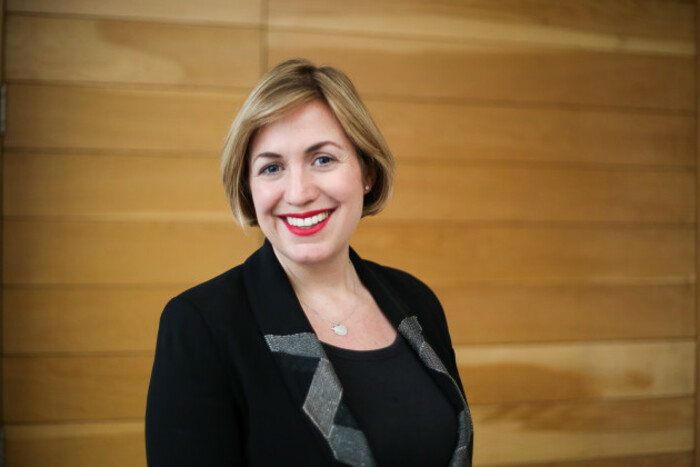 Source: Dee Organ
It recently inked a deal with Greenhealth Exchange, a purchasing co-operative for hospitals that focuses on sustainable products.
The deal will provide Theya a gateway to providing its lingerie to 11 major healthcare groups in the US including Mayo Clinic.
[embed id="embed_3"]
"They're trying to change the buying process for hospitals within the North American market, which is difficult," Donlon says.
"We had to jump through a number of hoops. We had to get our products tested, we had to assure them that there's no harmful chemicals or dyes in the production.
"That now gives us access to the US medical market and what I'm going to be focused on now for the next 18 months is to convert all of their hospital group members to Theya Healthcare customers."
As well as the Greenhealth partnership, it has also secured a deal with Walmart to sell its products online.
Both deals are "going to smooth out our entry into the US market massively", she says.
With seven employees in Ireland, Theya plans to hire three more people here and two staff in the US over the next year.
"We hadn't planned on focusing on the US until the end of this year but Greenhealth Exchange and Walmart have accelerated our entrance into the US market, so the funding came at a good time."
Get our NEW Daily Briefing with the morning's most important headlines for innovative Irish businesses.