Meet the two men behind Santa empires on either side of the Atlantic
There is serious money to be made in donning the red suit.
SANTA'S GROTTO MIGHT not appear the most obvious of money-spinners, but there can be a good living in donning the familiar red suit and beard at this time of year.
One Irish Santa business that has been going from strength to strength in recent years is the Santa Experience, which started off in Limerick City in 2010 and has since expanded to Cork and Dublin.
Ger Clarke, who used to run part of Dell's European operation and now manages the business with his son, says his route into the Santa trade wasn't exactly a "well-defined plan".
"We started the Santa Experience in Limerick six years ago. I had been to the US lots of times and probably got engrossed in the way they did things; I had this idea of creating the real Christmas experience for children."
Clarke wore the red suit himself for the first year of the business, with a couple of hundred children visiting his grotto. Since then, through partnerships with Dunnes Stores, he has expanded the business to locations in Patrick's Street in Cork and the Ilac Centre in Dublin.
Writing the book on Santa
Another unlikely Santa is Tim Connaghan. He has been in the Santa game for a little bit longer than Clarke, but over the past two decades has spun it into a successful business in the US.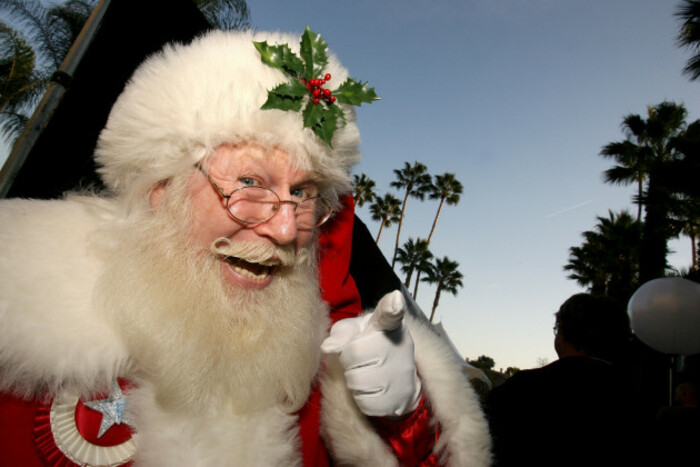 Source: AP/Press Association Images
Connaghan, who started off as Santa for his army unit in Vietnam, has since built a modern-day empire called the Kringle Group.
"Around 20 years ago I was looking at retirement, and I thought this might be a neat little avenue," says Connaghan.
"I had seen some news articles about individuals who did Santa each Christmas and they made a little bit of money. I thought I could make a little bit of income and bring fun and joy to kids."
However it has become more than some spare change on the side for Connaghan.
He has since held one of the first Santa-themed conventions – hosting 500 Santas and wives – managed the US association for Santas and written a how-to book, Behind the Red Suit: The Business of Santa Claus.
Connaghan also launched a Santa school in 2003. Courses cost $259 apiece, while a Mr and Mrs Claus duo pays $369. The school has been attended by over 3,300 Santas from countries as far afield as Brazil and Japan.
"Half of the school covered the basics like sitting with the children, talking to them, posing for pictures. The basic things you would see if you were at someone's home visiting or in the mall.
"The second part of the school was about how to find work as a Santa, how do you approach the companies that hire the Santas at the shopping malls, what are they looking for. If you're not going to do that, because some Santas can't do the 40-day schedule, I talk about how to start a home-based operation where you do the odd visit."
He also developed a Santa booking agency, helping to get other Kris Kringles work – in return for a 10% to 20% cut of the appearance fee.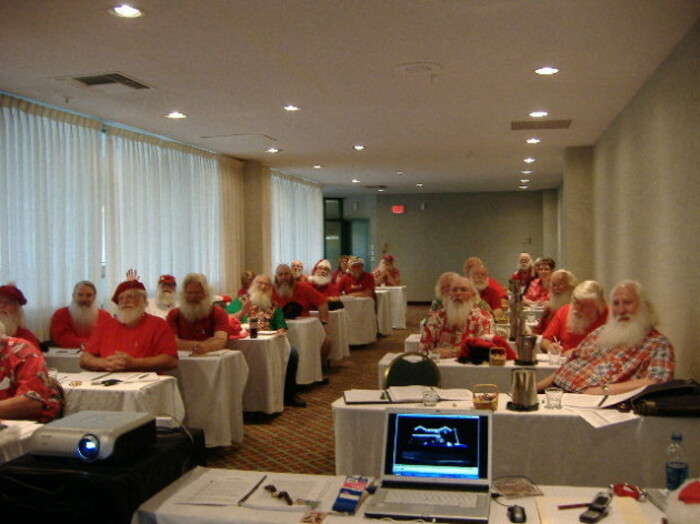 Source: Tim Connaghan
How lucrative is the business?
Successful Santas can end up working between 35 and 40 days in a row in the lead-up to Christmas and, according to Connaghan, in the US they could take in up to $15,000 during that period.
A visit to Santa in Ireland can cost up to €20, while over the US home visits by the big man in the red suit are even more pricey – costing up to $200 at some locations.
The Santa Experience charges €10 per child and €3 per adult, plus a €3 booking fee, for a visit, and this season it is expecting 16,000 children to visit its three grottos.
Connaghan, who now runs his Santa businesses as a much smaller operation in his semi-retirement, says if he was still working full-time he could make a six-figure sum each year between personal appearances and his other services.
For Clarke, the Santa Experience is still in its infancy as an enterprise, although it is increasingly becoming a full-time job.
"I've always used the rule of thumb that, irrespective of what business you're getting into, even when I was in my Dell days, it's three to five years before you're going to make anything out of a business."
Clarke supplements his earnings from the Santa Experience by also running attractions during Halloween and Easter, which helps make the business a year-round affair.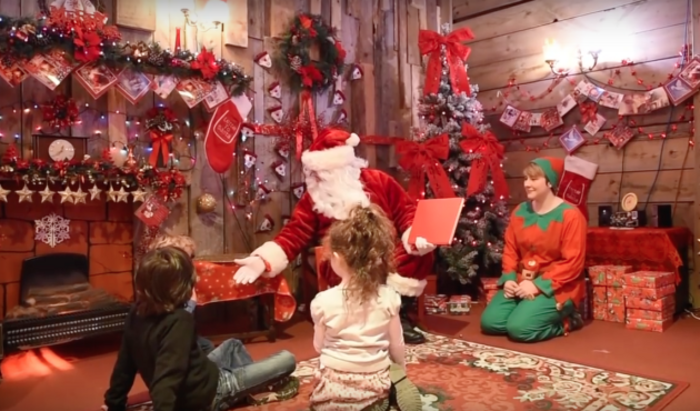 Source: YouTube
Hidden costs
While there is money to be made as a professional Santa, there are also hidden costs to think of – especially when it comes to providing those little extra touches.
Clarke said the Santa Experience was "very different to the fat man in a room", taking around two months to assemble a grotto on-site with a small crew.
"It's a large location with a post office for the kids to post their letter, stables for the reindeer, a sleigh room and then Santa's room as well.
"So it is capital-intensive, initially. That's why it's like five years before you make any kind of return."
Clarke hires a number of different Santas to work across his three locations, which brings costs down, but for a Santa out on their own there can be a lot of overheads.
He says a quality Santa suit and boots can cost in the region of $800, and he needs to go to the US to get his hands on something that looks authentic.
"The magic can be broken very easily," says Connaghan. "If a Santa has fake covers over his shoes to look like boots, if he doesn't have a real belt or has a gap on the edge of his beard, kids notice this. So the demand for real-bearded Santas has become popular."
Liability insurance is also another significant cost for Santa businesses to pay, according to Clarke. However, in the US it's usually the individual in the red suit who picks up that tab, paying Santa associations up to $200 for a $2 million policy that will cover any injuries that happen to children during a visit.
Similar to the insurance, background checks are also a big deal in the US and cost roughly $20.
Source: Santa Experience
Getting bigger
Clarke is still looking to expand his business into more locations across the country and says he is in discussions with Dunnes about further link-ups. However, he is quick to emphasise that he's not in it just for the money.
"In a business like this, you are never going to make a fortune out of it. That's the bottom line. The intention of setting it up wasn't to become a millionaire, in fact it was the opposite – it was just to bring something that was unique and different."