Tesco is launching budget brand Jack's to rival Aldi and Lidl - but it's not coming to Ireland
The UK grocery chain plans to open up to 15 of the no-frills stores for now.
SUPERMARKET GIANT TESCO today announced plans for a string of discount food stores across the UK as it comes under increasing pressure from German-owned no-frills chains Aldi and Lidl.
Tesco, which is Britain's biggest retailer, said the first two 'Jack's' stores would open on Thursday, followed by up to 13 more over the next six months.
However the company currently has no plans to introduce the concept to Ireland, where it faces even tougher competition from the two budget outlets.
Fraser McKevitt, head of retail and consumer insight at Kantar Worldpanel, cautioned that Jack's would not "make an immediate dent" in Tesco's UK market share based on the number of openings announced.
Aldi and Lidl have a combined market share of 13.1% in the UK, compared to 23.4% in Ireland, according to the research firm's latest figures.
The new discount brand is named after Jack Cohen, who founded Tesco in 1919, and the launch coincides with the company's centenary celebrations.
Tesco chief executive Dave Lewis said Jack's would sell "great-tasting food at the lowest possible prices with eight out of 10 products grown, reared or made in Britain".
The grocery chain said the outlets would also stock "a unique own-brand range", while operating a "low-cost business model that is designed to keep costs low and prices down".
A spokeswoman for Tesco Ireland told Fora that the company had no plans to bring the concept here.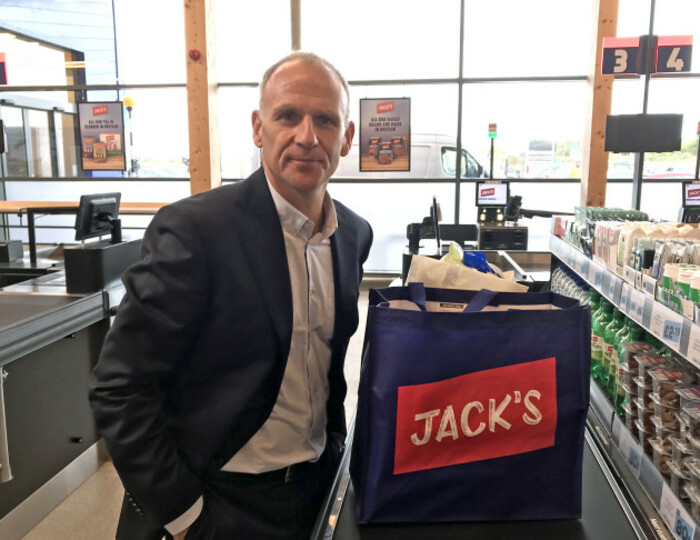 Source: Sam Russell
Discount direction
Data group Euromonitor International noted in a recent report that the German "discounters continue to shape the direction" of the UK grocery market.
"Consumer demand for low prices, driven by food price inflation in the wake of the Brexit referendum, as well as real wage stagnation, are part of the reason for this," it said.
The market research provider added that consumers were "not simply trading down" for lower prices.
"The UK's discounter operators have invested heavily in making their outlets a credible alternative to the traditional chains, improving fresh food and wine as part of strategy to build a middle-class consumer base," Euromonitor's report said.
Tesco has been the fastest-growing supermarket chain in Ireland in recent months, increasing the value of its sales 4.8% in August compared to a year earlier, according to the latest Kantar Worldpanel figures.
That came despite it being the only one out of the biggest three chains to experience a reduction in the average price per item during the period.
The UK grocer has been battling indigenous firms Dunnes and SuperValu to be market leader for several years.
Nevertheless, Aldi recorded the biggest increase in shopper numbers, pulling in an extra 40,000 customer through its doors over the 12-week survey period when compared to a year earlier.
Reporting by AFP and Peter Bodkin.
Sign up to our newsletter to receive a regular digest of Fora's top articles delivered to your inbox.