The Kildare company trying to improve farm animals' health with an algorithm
As part of our weekly Startup Spotlight series, we profile Terra Liquid Minerals.
PADRAIG HENNESSY HAD only planned to help his brother out when his sibling was starting a new business – he didn't anticipate that he would end up leading the company.
The 38-year-old is now the chief executive of Terra Liquid Minerals, an ag-tech company based in Moone, in south County Kildare.
The startup has built a largely automated dispensing system to feed mineral nutrients like magnesium, iodine, copper, zinc or cobalt to farm animals.
These minerals are important components in maintaining the health of animals like cattle, however farmers need to keep a close eye on the quantities of each they are deploying.
Terra Liquid's system dispenses the minerals in a highly accurate way, the company says, to ensure animals get the right amounts in their feed. However the roots of the company lie elsewhere in the farming industry.
Hennessy's brother Tom started the venture by installing underground water piping on farms. Through laying these pipes, the brothers found that there were a lot of problems with how minerals were being dispensed in water systems.
"Anecdotally we knew there was a problem but it was actually one day on the farm where we saw a cow go down with a condition called grass tetany," Hennessy says, referring to a magnesium deficiency that can affect livestock.
"She can go into spasms and die very quickly. We saw a cow die within 30 minutes on that farm."
After talking to the farmer, they found that he was frustrated with how he was supplying minerals to his livestock.
"That was our eureka moment that we knew that we could do this better," Hennessy says.
Existing methods of supplying the nutrients, such as lick buckets or feed that includes mineral supplements, are ineffective, he adds. One of the most simple current methods is farmers mixing the minerals in with water for animals by hand.
"The problem with that though, in this country, is on wet days or dry days, cows' consumption can change from 10 litres up to 70 litres," Hennessy says.
The "crux of the idea", he adds, was to help farmers administer the right amount of minerals regardless of how much animals drink.
Terra Liquid Minerals has built a computer controller that connects to water meters that lead to troughs and drinking tanks and controls the dosage.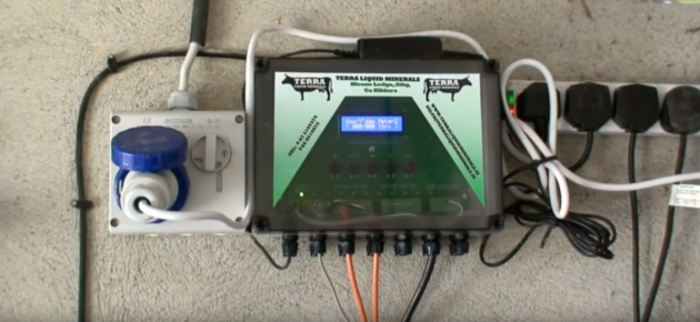 Source: YouTube/Terra Liquid Minerals
"On the controller, you put in the exact amount of animals you have, the exact dosage rate of minerals you need, so it's constantly monitoring every single meter that's going out to the herd," Hennessy explains.
"On a wet day, when a herd isn't drinking as much, it recognises it and uses an advanced algorithm that we created, and it alters the concentration accordingly to make sure that cow number 99 will get the same as cow number one."
The company consulted with vets and nutritionists as well as data scientists to build the system. According to the company, better monitoring of mineral dispensing will ultimately reduce the need for visits from vets and overspending on feed.
Data
For its next steps, Terra Liquid Minerals plans to increase the functionality of its system with a particular focus on data.
It is building a new iteration of its controller that will be rolled out in the coming months. The system will include an app to help farmers make sense of the information and make better management decisions.
"It allows us then to really start getting into the big data piece, start monitoring exactly what's going on on the farm," Hennessy says.
"Data, as far as I'm concerned, is only as useful as how easily you can interpret it. It's all very well having a horrid complicated table that you need to sit down with a calculator and a ruler. We need to get it very simple."
Hennessy adds that he's keen to explore the potential of artificial intelligence in its system too.
"Ideally, eventually it will be completely automated – we'll know exactly what's going on and we can change our algorithms automatically; it can be hands-off for a farmer."
Global expansion
The controllers are manufactured in Ireland by companies in Kildare and Carlow.
"We lease the controller to the farmer, we cover all monitoring, all maintenance of the controller and when upgrades come available we install them for the farmer," Hennessy says.
Terra Liquid has garnered 250 customers in Ireland to date who all pay a €300 annual fee to lease the controller. It also supplies farmers with the minerals.
The company is hoping to expand internationally and has lined up appearances at trade shows in Germany and the US in the coming months in the hopes of flaunting its wares. To get this ball rolling, it will be seeking outside funding for the first time.
"We self-funded from cash flow, bank loans and grants until now," Hennessy says.
Source: SON Photographic
Terra Liquid Minerals recently took home top honours at the Google Adopt A Startup contest, winning €10,000 worth of Adwords credit and access to the Google Cloud Platform, which Hennessy says will alleviate some of the costs for developing its app.
"We're engaging now with Enterprise Ireland about potential funding and with potential other investors in order to facilitate international expansion."
Sign up to our newsletter to receive a regular digest of Fora's top articles delivered to your inbox.