Limerick's Teckro has secured $25m to bring clinical drug trials onto its digital platform
The funds will be used to bolster the company's international plans.
TECKRO, A LIMERICK startup developing a digital platform for running clinical trials, has raised $25 million in a new funding round.
The company develops a platform for medical professionals to manage and conduct their clinical drug trials and provide some transparency to patients.
It uses machine learning to retrieve information about the drug being tested and to improve the speed and accuracy of the trials.
The series C round, which brings Teckro's total funding to $43 million, was led by biotech and medical investors Northpond Ventures along with US firm Founders Fund, Sands Capital Ventures, Section 31 – the fund led by the former head of Google Ventures – and Borealis Ventures.
Chief financial officer John Sexton said the fresh funds will be invested in further product development and expanding its business into international markets.
It will be hiring in functions like engineering, product development and clinical operations as well as sales and marketing.
"We're going to ramp up product development for the next phase of the product so it will be engineers, product people on one side of it," Sexton told Fora.
"On the other, we have onboarded a lot of customers and we'll be looking at expansion and acquisition of further customers."
"Right now we're predominantly in the EU and the US. I think what we're looking at right now is expansion into Asia, probably within the next 12 to 18 months," he said.
Along with its Limerick headquarters, the company has an engineering base in Dublin and an office in Nashville with 100 employees spread across the three locations.
Teckro's customers are pharmaceutical companies, but the users of the platform are the doctors and nurses carrying out the clinical trials.
Sexton added that it has no customers in Ireland with little activity by end users here as "Ireland isn't a huge participator in clinical trials".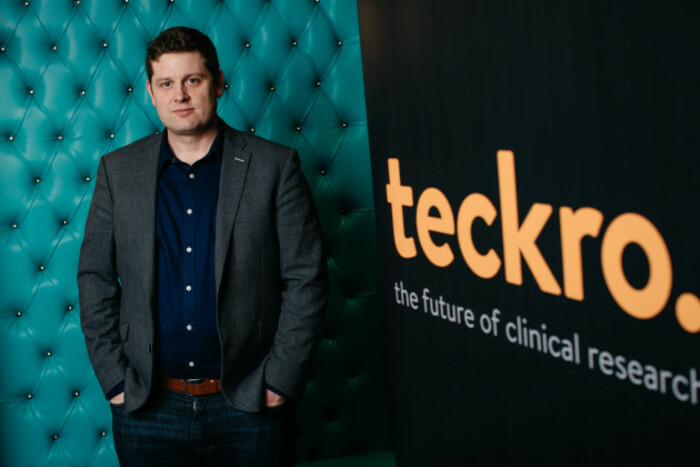 Source: True Media
Teckro customers are spread across 80 countries, but the company declined to disclose the number of paying clients it has.
Regulations
Teckro operates in a tightly regulated sector, but Sexton said its founders' backgrounds have been a major help.
The company was founded in 2015 by brothers Gary and Nigel Hughes and Jacek Skrzypiec. The team previously founded medtech firm Firecrest, which was acquired in 2011 by clinical research giant ICON.
"It is a very highly regulated market. (Firecrest) was in the same regulated market. I think there's the experience in that we understand the regulations. We know how to make a pharma company very comfortable with what we're doing," Sexton said.
He added that regulation compliance is a big cost but is "just part of doing business with a pharma company".
"For us, there's quite a long onboarding process with vendors. They expect to see certain things in place."
Get our NEW Daily Briefing with the morning's most important headlines for innovative Irish businesses.