TeachKloud wants to do away with paperwork in creches and pre-schools
In our weekly Startup Scout series, Fora picks out the most promising companies emerging from Ireland.
Founder: Wendy Oke
Elevator pitch: Management platform for creches and pre-schools
Funding: €750,000 from Frontline, Folens and others
Status: Launching in the UK this year
TEACHKLOUD FOUNDER WENDY Oke has been immersed in early childhood education for years, having completed a degree followed by a master's and PhD in the field.
The spark of a business idea formed through Oke's interactions with educators while doing her PhD.
"They would literally have a room dedicated to lots of different files and paper forms because there are some forms in pre-schools like accident forms that they have to keep for 21 years, it's crazy. They had so much paper," she said. 
Putting her experience and expertise to use, the Cork entrepreneur founded TeachKloud, a cloud-based management platform for creches and pre-schools.
Creches and pre-schools are highly-regulated and given the amount of information at play, it can become a very cumbersome process to manage.
For Oke, who is passionate about the importance of a strong early-stage education, it was a natural progression to go from her studies to founding TeachKloud as a way to solve this problem. 
She set out to create a solution that streamlined the way creches operated, but like many startups in the early days, it faced a chicken and egg problem with securing its first investment.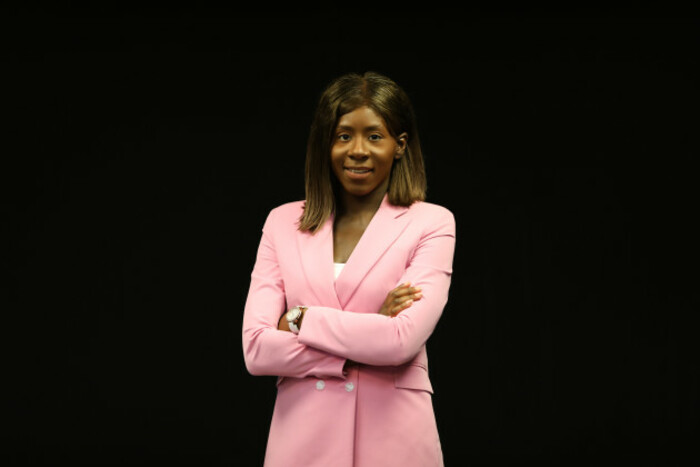 Source: TeachKloud
At this point, the product was still just an idea. Oke needed money to build a prototype but investors are only interested in something that has proven it can gain traction and customers.
"On LinkedIn, I started writing about early childhood education, the struggles, the paperwork and the differing standards and needs of children," Oke said. "Randomly an investor from the UK saw one of my posts."
The investor was taken by Oke's ideas for TeachKloud and invested £50,000 in it.
With a vital influx of cash, TeachKloud was developed in its nascent phase in 2017 while Oke was juggling her PhD but she still managed to attract 30 customers.
Paperless
The software platform has been built to simplify the admin and communications, in one location, for teachers and managers at creches and pre-schools.
For example, creches are required to fill out accident forms whenever a child has an accident, which needs to be signed by the parents.
These forms need to be kept on file until the child turns 21 – that can mean a lot of files. TeachKloud is trying to do away with paper as much as possible, Oke said.
"You do the accident form on TeachKloud, send it to parents and the parents can sign it. You can do everything from attendance to child observation."
The platform creates an eagle-eye view of everything that happens in the creches from managing attendance to tracking the curriculum. Parents can sign up to receive communications directly through the platform as well.
TeachKloud has 150 creches and pre-schools in Ireland that are now customers. It operates a software-as-a-service (Saas) model, charging €1 per child per month.
In January, the startup raised €750,000 from Dublin venture capital firm Frontline Ventures and educational book publisher Folens.
It has hired 10 people recently and will be investing the funds in improving usability as well as marketing efforts.
This year Oke said she wants to gain a firmer market share in Ireland as well as enter the UK market in the coming months.
"At the start, I had a lot of interest from the UK but the product wasn't ready," she said.
Oke has a view to raising a further round of between €2 million and €4 million in the next year.
TeachKloud is not without competition either. There are some notable rivals in the field such as Canada's HiMama, which offers communications and reporting solutions for child care.
Oke said that TeachKloud has differentiated itself with a particular focus on regulatory compliance.
"The compliance piece and the learning journey and also the fact that I'm an early childhood educator myself. I have experience in the field, I understand what they need."
Get our Daily Briefing with the morning's most important headlines for innovative Irish businesses.