When it comes to Ireland's sustainable energy, creating simplicity could prove complex
The government has some ambitious targets for 2030 – but industry has plenty of work to do.
ON THE SAME day that Leo Varadkar stood up to address the UN Climate Summit in New York, former Communications Minister Alex White took to the stage of the Round Room at Dublin's mansion house.
While many watched on as Greta Thunberg's delivered an impassioned address on Monday about the planet's future and the Taoiseach put forward his vision of Ireland as a green country, White opened the IIEA's Live Electric conference as the room focused on exactly how we might go about designing a low-carbon future. 
Speaking to an audience that included many of those who will implement such a future, White, the chair of the IIEA Energy Group, said that the government's recently announced climate action plan was "a real advance", adding that "you can have your criticisms about its drawbacks" but it's an "important benchmark".
By 2030, the state wants renewable energy to account for 70% of electricity in Ireland. While this is largely seen as technically possible by industry, not all stake-holders believe it's likely.
While the government has its plan, companies like EirGrid and ESB have been hashing out how to get some of the targets over the line. This week Eirgrid announced a five-year plan and €2 billion in investment to overhaul the Irish electricity system.
One challenge to the overall plan is the growing demand for power. There are also question about how ready Ireland is to embrace wind and solar generated energy over more traditional sources.
There are "huge numbers of opportunities for businesses and for citizens here", White said. "There will be change that will involve some measure of loss and some measure of pain," he added.
"We don't like to use that word in the language of this debate but we have to face the fact that there will be a cost in different sectors."
Throughout his speech, White called for leadership and "to show that we can replace jobs with new jobs, to show that people can actually consume energy in a different way, to show people the positive course," he said. 
However, he also cautioned that we should not "take a kind of Pollyanna sense that there's not going to be any cost".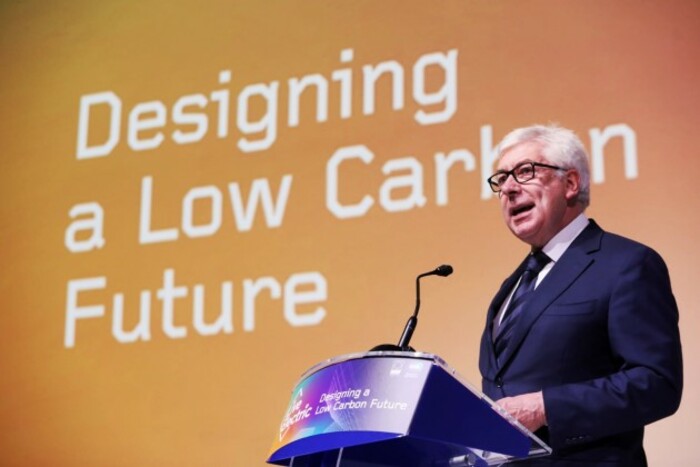 Source: Chris Bellew/Fennell photography
Feeding the power-hungry 
To achieve the 10,000 megawatts of additional renewable energy generation that the country needs by 2030, EirGrid is getting prepared for time when more than two-thirds of the power it transmits will come from renewable sources, such as offshore and onshore wind farms as well as solar. The grid operator is set to spend more than €2 billion over the next five years on upgrades. 
Right now, EirGrid can operate the grid with 65% renewable power – but it wants to reach 95% in the next decade. A key part of this strategy will be system interconnection – through the proposed North South, Celtic and Greenlink interconnectors.
The country has a surplus of power at the moment. However, with the expanding demand from data centres coupled with changes such as an influx of electric vehicles, that's likely to change in the next few years.
Another challenge is emissions restrictions, meaning power plant closures. According to the company's report on capacity from earlier this week "at a Median demand level there is not adequate generation capacity to meet demand from 2026 on" once the Moneypoint coal plant closes in 2025.
If any other plants close this could start happening earlier. This means ambitious targets for renewable sources will be expected – and needed – to bridge the gap, although renewable technology is now at a point where dropping costs for wind and solar power are changing energy economics. 
A reimagined system
At Monday's conference, ESB chief executive Pat O'Doherty said 2019 was a "seminal year for energy and climate in Ireland". 
Like White, O'Doherty stressed that "the scale of the challenge of course cannot be underestimated."
The company has been working on a transition to low-carbon electricity for over a decade. Electricity can be a "catalyst to reducing carbon" and the company is "harnessing the resources of our whole organisation to this end", he said.
According to the ESB's plans, Ireland's legacy electricity infrastructure will be redesigned to include batteries, solar energy generation, heat pumps, electric vehicles and smart meters – rather than just power plants.
This will be a "completely reimagined electricity" system with consumers at its core.
Still, transport and heating sectors "together account for over a third of carbon emissions and remain resolutely dependent on fossil fuels", O'Doherty said.
The government's climate action plan includes ambitious targets to increase reliance on renewables from 30% to 70%.
"We have a pipeline of new generation coming on stream that will include solar and offshore wind. Our target is to reduce the carbon intensity of our power generation mix by two thirds by 2030 and to achieve full carbon neutrality by 2050," O'Doherty said.
But he noted that while dependence on electricity has increased over a decade, people's approach to using it is unchanged.
"The industry has by and large taken the customer for granted and the customer has taken the availability of electricity for granted."
Excepting night and day tariffs, consumers use electricity at the same price at any time of day "regardless of cost to the overall system".
But focus groups have shown resistance from customers to the introduction of time of use tariffs – even if they smooth demand peaks.
The company is using regular focus groups, ethnographic research and behavioural economists to better understand customer behaviour.
"For the customer to buy into this we need simplicity," O'Doherty said. "However, achieving simplicity for customers is remarkably complex."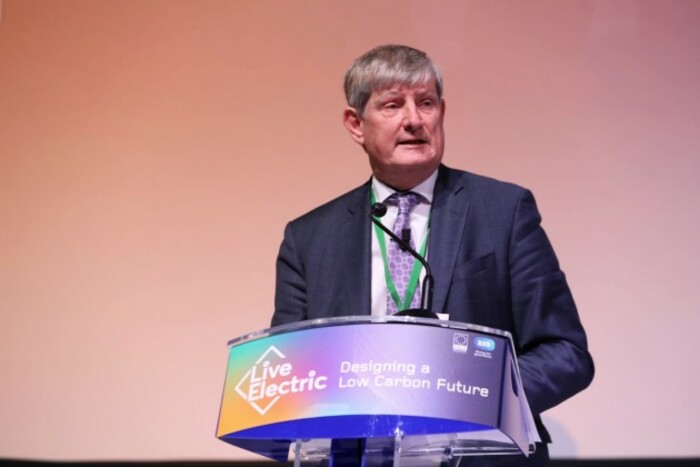 Source: Chris Bellew/Fennell Photography
Close, but no cigar
In a recent survey of 200 senior level business leaders and energy industry experts, law firm Mason, Hayes and Curran found that just 10% thought that Ireland was likely to achieve its 2030 target of 70% renewable energy sources.
Just under 60% of them said offshore wind is the most desirable option to ensure the security of energy supply for the future – 35% said an Ireland-European interconnector is the best option.
"In terms of our ability to hit that target, that requires a significant additional renewable capacity to put on the grid," Eoin Cassidy, an energy partner with the firm, said 
The government's climate action plan set out targets of at least 3.5 gigawatts of offshore wind, up to 1.5 gigawatts of solar and an increase in onshore wind capacity of 8.2 gigawatts.
But right now, the planning regime for offshore is "not fit for purpose" although new legislation is in the works to make the process more efficient.
The onshore planning environment is also getting more difficult, Cassidy said, due to the number of objectors and the fact that many applications go straight to An Bord Pleanála, which doesn't have to adhere to strict timelines.
Ironically, planning objections are actually driving up the cost of electricity – smaller and less obtrusive windmill blades mean less efficiency across the board.
There are also concerns around required upgrades to the grid infrastructure to deliver this additional non-synchronous generation, meaning energy from the likes of wind and sun which are unpredictable.
"But I think there's some scepticism in the industry as to whether or not the hurdles that need to be dealt with will be dealt with quickly enough to allow that level of capacity to be developed in the next 10 years." 
The one thing there's enough of is capital, Cassidy said.
However, the slow progress of the long-awaited RESS (Renewable Energy Support Scheme), which introduces a new auction system under which different types of energy will bid for state support, has led to some caution on matters of sustainability.
The first auctions under RESS, which replaces the renewable energy feed-in tariff (Refit) scheme, are due to take place early next year. 
"The government have consistently indicated timelines that they haven't managed to deliver on," Cassidy said. 
More certainty around permits and imposing timelines on An Bord Pleanála decision making could help us hit our targets, he said, though he doesn't know how feasible that is short term.
He also believes the government's climate action plan underestimated the potential of solar energy, which is quickly constructed and easily installed.
Despite some industry scepticism, Cassidy himself is pretty optimistic : "we will get close but I don't think we'll get there (by 2030)".  
Get our Daily Briefing with the morning's most important headlines for innovative Irish businesses.